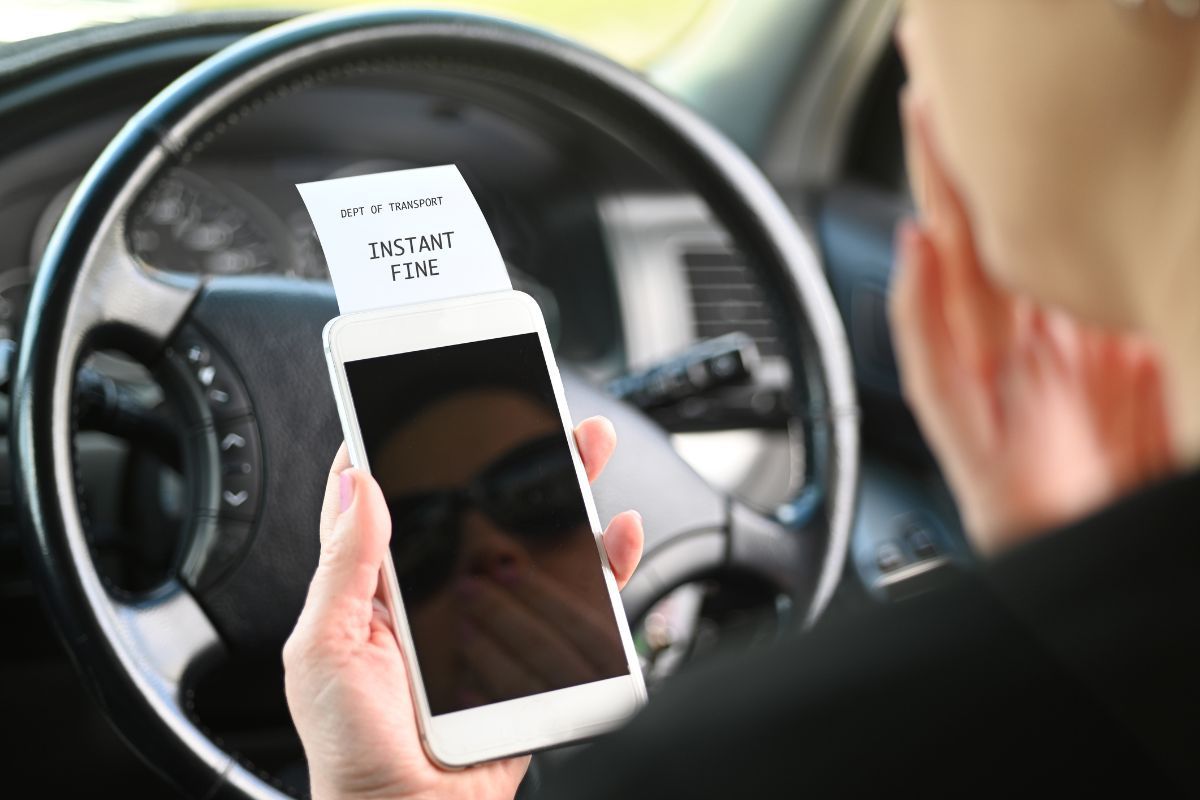 As a commercial driver's license (CDL) holder, you could be looking at a second serious offense and a 60-day driver's disqualification when you get a second cell phone ticket in CA.
The DOT FMCSA considers texting or using a cell phone while driving a CMV a "serious offense."
What Is a DOT FMCSA Serious Offense
The FMCSA CFR 49 Part 383.51, Driver Disqualifications, points to "major disqualifying and serious offenses" that will lead to a driver disqualification. Major offenses and one serious offense, an illegal railroad crossing, will lead to an immediate driver disqualification if convicted. 
"Serious offenses require a minimum disqualification of 60 days. The disqualification period of a driver is determined by the offense and the driver's record of prior convictions." A second conviction (a paid fine is a conviction) within three years of the first of the following violations will require a 60-day disqualification:
Reckless driving
Violation of state laws against cell phone use while driving a CMV.
Excessive speeding, 15 mph or over the speed limit or safe driving speed given road conditions.
Following too closely.
An unsafe lane change.
Driving a commercial motor vehicle (CMV) without a commercial license permit (CLP), CDL, or proper endorsement in possession.
Disobeying a traffic control device that leads to a fatality.
Some of these traffic violations could result in a serious offense, whether driving a CMV or a non-commercial vehicle. 
"Major and serious offenses require driver disqualification even if the CDL holder is driving a non-CMV."— FMCSA CFR 49 Part 383.51.
Always consult a CA traffic attorney to possibly avoid an unplanned two-month vacation without pay. Plus, the driver's disqualification will become a part of your Pre-employment Screening Program (PSP) record, making it difficult to secure another driving job if terminated.
How to Avoid a Serious Offense When Cited for a Second Cell Phone Ticket in Riverside, CA 
The best way to avoid a second cell phone ticket conviction and a 60-day driver's disqualification is to get the first dismissed or reduced. Since you don't know which ticket can be easily dismissed or reduced, consult a CA traffic attorney that frequently resolves traffic tickets for commercial drivers. 
If there is a dismissal of the charges, there is no record of the ticket. Therefore, the second cell phone ticket will not lead to a driver's disqualification. Always consult a traffic attorney about ALL traffic tickets. When you consult with Bigger & Harman, the initial consultation is free, and you will know how much it will cost to resolve the ticket in Riverside Traffic Court in Riverside County. 
Read "Which Are the Most Frequent CMV Serious Offenses That Lead to Driver's Disqualification" for a complete breakdown of those offenses. 
Consult Bigger & Harman, APC, about Your Cell Phone Ticket 
Call the law office of Bigger & Harman, APC, at (661) 349-9300, email attorney@biggerharmanlaw.com, or use the contact form to set up a no-obligation, free consultation.
We offer a no-cost, no-obligation initial consultation to commercial drivers in Riverside, CA—even by phone or email. We understand you don't have time to come by the office so that we can provide an initial assessment of your charges over the phone or by email.
Se habla Español (661) 349-9755.
References:
The DMV Portal CA Commercial Driver Handbook Copyright 2022.
The FMCSA CFR 49 Part 383.51, Driver Disqualifications