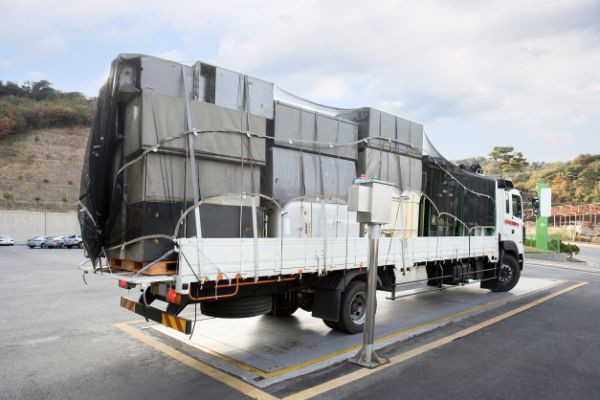 Getting caught with an overweight truck can be very expensive and if your truck is 4,501 pounds over, you could face a misdemeanor charge. Imagine paying almost $5,000 for a fine and then getting slapped with a criminal record just because you failed to check the vehicle weight before leaving the yard. Although a slightly overweight truck will net a base fine of $20, typically, you will pay $1.00 per pound overweight.
You can curse and cuss the people at the shipping dock all you want, but it is your responsibility to ensure your vehicle meets CA Vehicle Code (CVC) 35550, Axle Weight. The code is very specific, "…the gross weight upon any one wheel, or wheels, supporting one end of an axle, and resting upon the roadway, shall not exceed 10,500 pounds." Likewise, the weight on one axle cannot exceed 20,000.
Exceptions for an Overweight Truck
These traffic codes do not prohibit you from delivering your load. What it does mean is that because an overweight truck will cause more damage to the highway than a truck that meets the standard, you must obtain a permit. Some loads cannot be broken down. However, some oversized loads are not permitted during specific holidays.
You must ensure your truck, and its cargo gets marked correctly with flags, banners, and warning lights per Caltrans regulations before proceeding. You can find resources to mark your truck properly, and information on how to obtain permits are available on the Caltrans website.
Ask a Law Firm Who Regularly Handles Tickets in Roseville Traffic Court
We handle only traffic law. That means we spend the time in traffic courts across California. Call Bigger & Harman at (661) 349-9300 when you need advice and counsel about an overweight truck ticket or any traffic ticket. Se habla Español (661) 349-9755.
What We Can Do for You
Below is a list of some of the legal services we provide taxi and limo drivers, CDL holders, and non-commercial drivers:
Overweight or overlength
Speeding tickets
Camera-enforced red-light tickets
Following too closely
Unsafe lane change
Logbook (elogs) violations
Wrong routes
HAZMAT violations
Bad or missing equipment
DMV Hearings for Exposure Exemptions
DMV NOTS Hearings
Failure to Appear or Pay (FTA/FTP)
Cellphone tickets (particularly for CDL holders whose civil penalty can be $2,175 from FMCSA)
This list is not all-inclusive but covers many of the services we provide. Give us a call or email to discuss your specific situation. The initial consultation is free.
Send us an email, attorney@biggerharmanlaw.com.
References:
The 2019 CA Commercial Driver Handbook.pdf
CVC 35550
Caltrans Permits website
The Caltrans Holiday Restrictions and banner requirements website