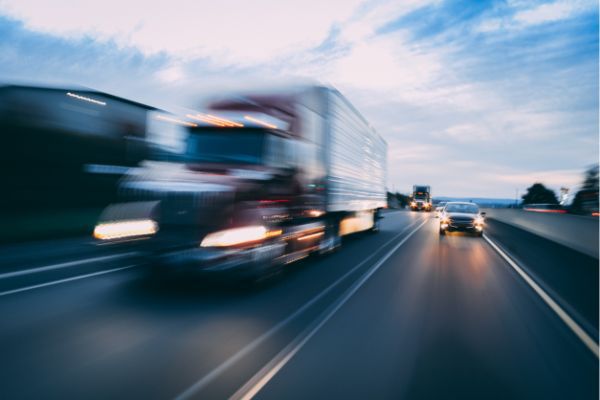 Many truckers heading to the port in Oakland are unaware of the statewide California 55 mph speed limit for trucks and buses. Actually, the CA Vehicle Code (CVC) 22406, Speed Laws applies to several vehicles:
Motortrucks with three axles or more or when towing another vehicle,
Buses and passenger vehicles,
Farm labor vehicles with passengers,
School buses with pupil, and
Vehicles with explosive cargo.
Many visitors towing a recreational vehicle or boat do not realize they fall under this CVC until it is too late.
How CVC 22406.1 Applies to Speeding 15 MPH Over the Limit
This section of the traffic code makes speeding 15 mph over the limit a misdemeanor crime. Therefore, when the speed limit suddenly dips to 35 mph, and you keep going 50 or 55 mph, you could receive a misdemeanor speeding ticket.
Plus, 15 mph over the speed limit is a "serious traffic violation" and ten CSA severity points according to the FMCSR. A second serious offense within the same BASICs category will earn you a sixty-day disqualification, and a third a 120-day disqualification within three years of the first offense. What's more, following too closely and an unsafe lane change are in the same BASICs category as speeding.
Woodland, California's Major Exports
Interstate 5 (I-5) and 113 run through Woodland. Woodland is one of the largest cities north of Sacramento until you get to Redding. Woodland's two primary industries are agriculture and modular homes.
In fact, Yolo County, which has its county seat at Woodland, is second only to Kern County for agricultural products. Hence, many trucks come through to pick up farm goods and modular homes for transport to market.
The new Yolo County Courthouse at 275 First Street sees many truckers come through with speeding tickets. With I-5 a significant feeder, their traffic court division does a brisk business and produces substantial revenue for the county.
What's more, if you have to go down Gibson Road, the speed limit there drops to 25 mph because of Gibson Middle School. Also, on 113 between 25 and 29, there usually are three or four CHP with RADAR guns under the overpass. Although it's 65 for regular traffic, CMV drivers have to stay under 55 mph. So, be careful there.
Ask an Attorney Who Practices in Woodland Traffic Court
Call Bigger & Harman at (661) 349-9300 if you receive a speeding ticket in Woodland, Roseville, Truckee, or Sacramento. Se habla Español (661) 349-9755.
We are traffic attorneys. That's all we do. If you can't reach us at the office drafting requests for dismissal or reduced charges, we are generally in traffic court. We charge a flat fee to resolve your traffic ticket no matter how many appearances we have to make. Although we can't promise you a dismissal or reduced charge, we have earned favorable results for many CDL holders because we genuinely care about your career. Give us a call or email us to discuss your circumstances.
Send us an email, attorney@biggerharmanlaw.com.
References:
The 2019 CA Commercial Driver Handbook.pdf
CVC) 22406 & 22406.1, Speed Laws