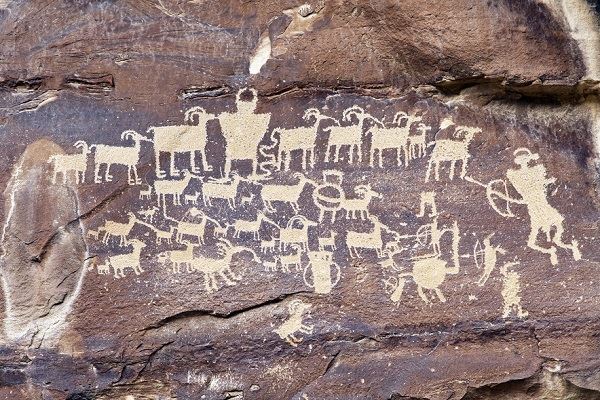 Visitors are still coming to the Little Petroglyph Canyon on the China Lake Naval Base to see pictures carved into the rock that may be over 10,000 years old, but some local Paiute-Shoshone people are not too happy about all the people coming to Ridgecrest.
For years, the city has searched for ways to expand its economic based beyond the Naval Air Weapons Station. City fathers thought they hit the mother lode when some 15,000 people descended on the area for the first Petroglyph Festival last November. But the even received mixed reviews. Officials did not ask the Paiute-Shoshone to participate, opting instead for a beer garden, car show, and other "insulting" sideshows, even though "there are a lot of people around here who've studied [the petroglyphs] for years and know the stories behind them," according to tribal representative Kathy Bancroft.
Officials promise that this year's festival will be more educational and include more suggestions from the tribe.
Federal Traffic Ticket
While we also get great results for Ridgecrest tickets in state court, you may have a federal ticket. It is not easy to view the petroglyphs, because they are on base property and federal facilities have their own rules about who may and may not come onto that property. There are special rules for traffic tickets as well. For example, all these matters are heard at the federal courthouse in Bakersfield, so drivers are in for a very long trip, especially if they came from out-of-town to the Festival. Furthermore, since the judge only hears traffic cases a few times a year, the clerks almost never reschedule the court dates; state courts are often much more accommodating in this area.
An attorney who is licensed to practice in federal court, and not many traffic ticket lawyers have this permission, can appear for you, so you can avoid the trip to Bakersfield.
Getting Legal Help
The aggressive attorneys at Bigger & Harman, APC, are committed to giving individuals a voice when dealing with speeding and traffic tickets. Call today at 661-349-9300 or email attorney@markbigger.com to receive the personal professional attention you deserve. En español, llame al 661-349-9755.