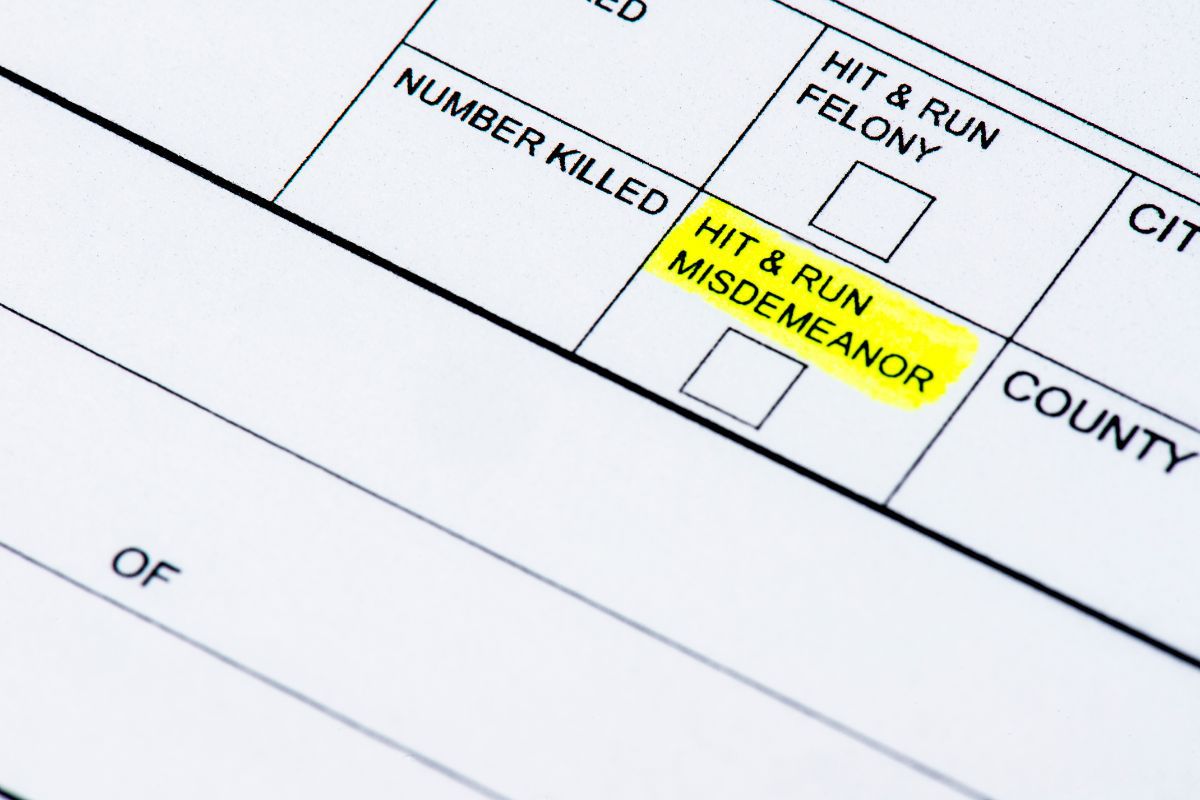 In CA, there are two types of hit-and-run charges, a misdemeanor charge is for property damage only, and a felony charge is when the accused allegedly caused injury or death. 
The Basic Differences Between a Felony and a Misdemeanor Hit & Run
CA Vehicle Code (CVC) Section 20002, Accidents and Accident Reports warns in subparagraph, "(a) The driver of any vehicle involved in an accident resulting only in damage to any property, including vehicles, shall immediately stop the vehicle at the nearest location that will not impede traffic or otherwise jeopardize the safety of other motorists."
This section of the CA traffic code does not make an allowance for the driver assuming the damage was not severe enough to warrant spending time to inform the owner of the damage.
Therefore, thinking, "oh, it's only a small scratch; it's hardly noticeable," without making an effort to tell the owner or report the damage to local police could result in the driver being charged with a misdemeanor hit and run.
Cornell Law School Legal Information Institute (LII) defines a misdemeanor violation:
"A misdemeanor is a type of offense punishable under criminal law. A misdemeanor is typically a crime punishable by less than 12 months in jail."
Likewise, CVC Section 20001, Accidents and Accident Reports, stipulates in "(a) The driver of a vehicle involved in an accident resulting in injury to a person, other than himself or herself, or in the death of a person shall immediately stop the vehicle at the scene of the accident and shall fulfill the requirements of Sections 20003 and 20004.
Cornell Law School LII defines a felony as:
"A felony is a type of offense punishable under criminal law. Many states classify felonies under different categories depending on the seriousness of the crime and its punishment."
It's essential to note that this section of the traffic code does not allow that the driver was unaware of an injury or assumed that the injury was not sufficient to file a report. 
When an accident occurs, the driver must stop and pull over as soon as it is safe. They must exchange information with the other driver if another vehicle is involved. 
CVC Section 20003, Accidents and Accident Reports, cautions drivers:
"…shall also give his or her name, current residence address, the names and current residence addresses of any occupant of the driver's vehicle injured in the accident, the registration number of the vehicle he or she is driving, and the name and current residence address of the owner to the person struck or the driver or occupants of any vehicle collided with, and shall give the information to any traffic or police officer at the scene of the accident."
When the driver causes damage to property other than an occupied vehicle, the driver must attempt to find the owner, exchange information, and report the accident and damage to the nearest police station. 
When the driver cannot find the owner, they can leave their information in a conspicuous location and report it to the local police department.  
Plus, you cannot be held liable in CA for providing emergency medical assistance or moving an injured person to a hospital or emergency medical clinic. In fact, you are mandated to do so.  
"The driver also shall render to any person injured in the accident reasonable assistance, including transporting, or making arrangements for transporting, any injured person to a physician, surgeon, or hospital for medical or surgical treatment if it is apparent that treatment is necessary or if that transportation is requested by any injured person."—CVC Section 20003.   
Where to Find More Information on Hit & Run Charges 
Read the article, "Can a Minor Hit-and-Run Become a Criminal Offense? YES — HERE'S WHY," in our August '21 flipping book. 
Likewise, our November '19 blog post, What to Do about a Juvenile Hit and Run, is informative. 
More interesting reading on the subject is our March '16 article, Something to Hide.
Consult with Bigger & Harman, APC, about Either Hit & Run Charge 
Call Bigger & Harman, APC,  at (661) 349-9300, use the online contact form, or email attorney@biggerharmanlaw.com. Remember, you have "the right to remain silent, and "you have the right to an attorney." Therefore, when notified by law enforcement in Lamont in Kern County that you are being charged with a hit-and-run, invoke those rights and call us immediately.
Se habla Español (661) 349-9755.
References:
The 2021 CA Driver Handbook English y Español.
CVC Sections 20001, 20002, & 20003, Accidents and Accident Reports.
The Cornell Law School LII definition, misdemeanor and felony.