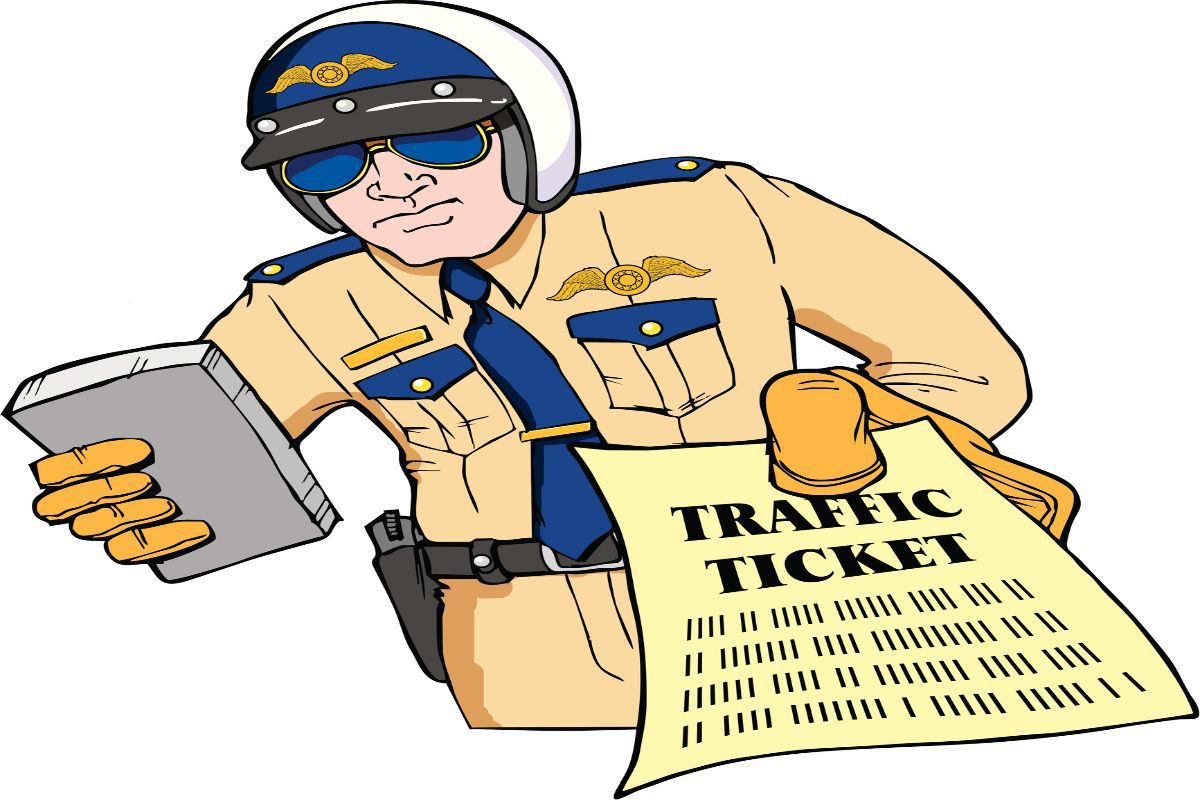 Interstate Highway 395 (I-395) travels for 557 miles in CA from Hesperia near I-15 to the Oregon border and sees its share of speeding tickets in Mono County due to many factors that will creep up on you and the scenery that will distract you.
I-395 lead you to some of the most beautiful scenery in the world, including the highest elevation in the contiguous USA, Mount Whitney, and the lowest, Death Valley. If you aren't in awe and a little distracted by nature's beauty in Mono County, CA, you might not be human.
However, all that beauty, fewer vehicles, reduced speed limits, and rural surroundings might lead a driver to believe there are fewer law enforcement officers (LEO) here, and therefore, fewer speeding tickets.    
#1—The Difference Between Traffic on I-5 & I-395 Leads to Many Speeding Tickets
The first thing you'll notice when you turn off I-15 coming from LA, or however you get here, I-395 has less traffic, and the lure of open roads might lead you to step down on the gas pedal a little more than you should. When you get a speeding ticket, as many visitors to Mono County do, you will have to resolve it at either Bridgeport or Mammoth Lakes courthouse.
It will be much cheaper to hire Bigger & Harman from Bakersfield to resolve your ticket so that you won't need to miss work and come back. They use a flat fee to resolve tickets rather than an hourly wage, so you know how much that fee is precisely, and there are no surprises. Well, you might be surprised if they were able to get a reduced non-moving violation or a dismissal.      
#2—The Quick Reduction in Speed Limit Just Outside Cities & Town Result in Speeding Tickets
The quick reduction of speed limits just outside many cities and towns that I-395 runs through requires a sudden speed reduction, sometimes from 55 to 25 mph. 
#3—The Mountain Grades, such as Sherwin Grade, Affect the Speed Limit
Another significant cause of speeding tickets in Mono County, CA, is the mountain grades like Sherwin Grade. Once again, your speed might be reduced from 55 to 35 or 45 mph due to these grades, particularly for commercial vehicle traffic, but you might get stuck behind a line of these during the hours of heavy traffic.
#4—The Rural Feel Leaves Many Drivers Thinking There Are Fewer Law Enforcement
Up here, surrounded by the mountainous beauty and less traffic than the many freeways along California's coast, you will get the feeling it is too remote to have many law enforcement officers, so a little speeding will likely not result in a speeding ticket.
That line of thinking could be expensive. If you're visiting from LA, SF, or Sacramento and get a speeding ticket, you will have to resolve it here. That means you will have to plead guilty and pay the fine, go to the expense of returning once or twice to dispute the ticket or hire a traffic ticket attorney to iron it out for you.
Believe it or not, the least expensive option if you are not eligible for traffic school because of the 18 month rule is likely hiring a traffic ticket attorney who will challenge your ticket in traffic court without your presence. If you must return and hope to represent yourself, don't do it. The missed work (possibly two days for arraignment, not guilty, and return to present your case), traveling, hotel room, and other expenses will be much more than a traffic ticket attorney. 
Plus, a traffic attorney knows the technicalities and legal language necessary to get a reduced charge and when it is appropriate to ask for a dismissal, such as when the LEO did not show up for trial with the correct paperwork. Bigger & Harman charges a flat fee that doesn't change regardless of the court appearances necessary to resolve your speeding ticket.  
#5—Scenic Distractions Lead to Speeding Tickets Because We Pay Less Attention
Seriously, who can look down at the speedometer when the beauty of the Sierra Mountains to your West blinds you, the gold-tinted arches of the Alabama Hills, and gullies from the western movie badlands spellbind you.
The alpine-like mountain peaks and arid deserts will have you gasping at their beauty as you drive along I-395 toward Mammoth. Everywhere you look, you'll spot scenes from many Hollywood movies, particularly the Westerns you enjoyed as a kid. Hopefully, you won't get waylaid from your skiing trip by a speeding ticket.
Every turnoff will fill your senses and eyes with wonder. It is best you stop and gawk, then continue to drive, then risk a speeding ticket.
You can't help but be distracted by the wonders of Mono Lake or Convict Lake outside Bishop, the Bodie Ghost Town, and many other natural and artificial attractions near Mono County, CA. If you succumb to the distractions and get a speeding ticket, call the Bakersfield Traffic Ticket Defenders, Bigger & Harman, to resolve it for you and continue your vacation.
When You Receive a Speeding Ticket in Mono County, You Need a Traffic Attorney to Challenge It in Traffic Court
Despite paying attention to your driving and not getting distracted by the natural beauty around you, you might still get surprised by a sudden reduction in the speed limit due to a mountainous grade or city limits in Mono County, CA. Contact the speeding ticket defenders of Bigger & Harman in Bakersfield at (661) 349-9300.
We have more than a decade of experience and knowledge gained by near-daily appearances in Central and Owens Valley traffic courts. Plus, we use a consistent and affordable rate that you always know before you agree to our representation. Contact us for details.
Se habla Español (661) 349-9755.
Email: attorney@biggerharmanlaw.com. 
References:
The 2021 CA Driver Handbook English y Español