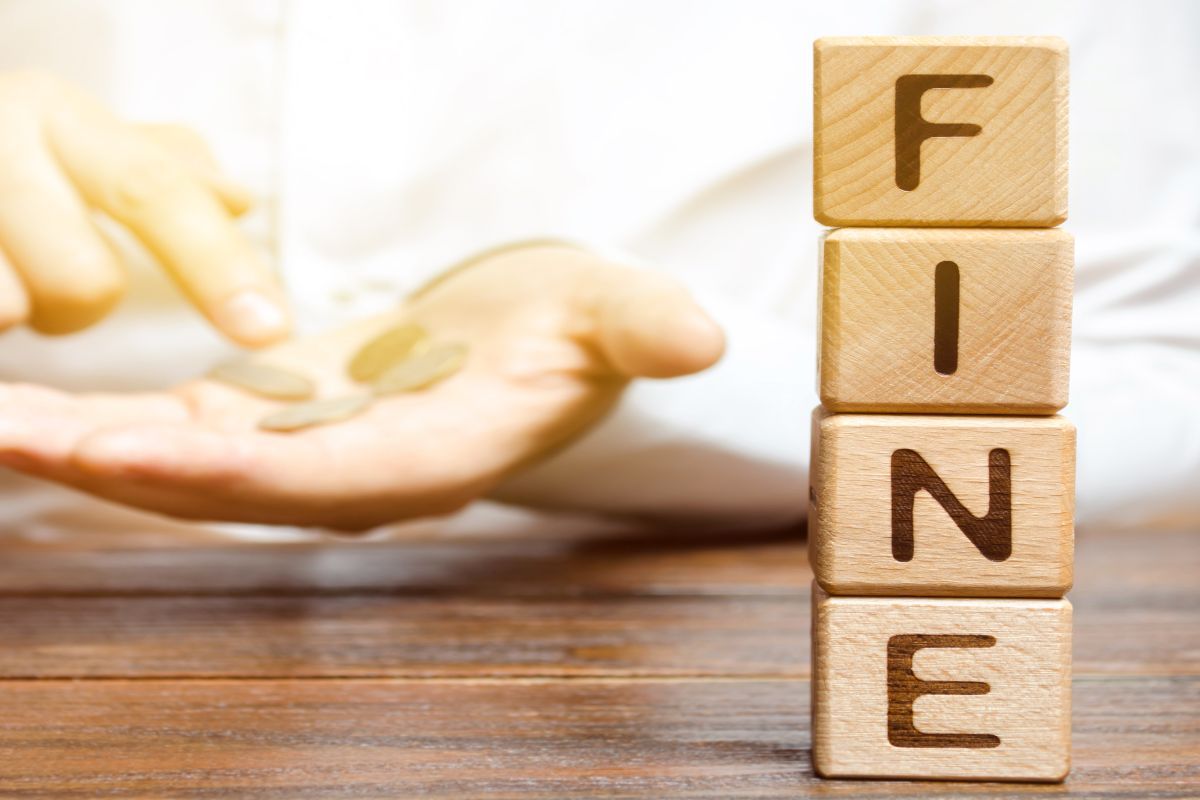 The fine for a commercial vehicle speeding conviction varies depending on how much over the speed limit the law enforcement officer (LEO) wrote on your citation.      
Penalties at State Level for Commercial Vehicle Speeding
The DMV is authorized by CA Vehicle Code (CVC) Section 12810.5, Issuance and Renewal of Licenses to assign 50 percent more negligent operator treatment system (NOTS) points to commercial drivers for convictions. 
However, the driver can get an additional allowance for increased exposure due to the amount of miles driven when they appear before a DMV NOTS Hearing. The driver could accumulate six, eight, or ten NOTS points if their number of miles driven warrants it.  
Although the CA traffic code does not require a CDL holder to have representation, it is advisable to bring a knowledgeable and experienced traffic attorney.
California has three fine levels for commercial vehicle speeding:
One to nine mph over is around $285 and 1.5 NOTS points.
Ten to fourteen mph over is approximately $500 and 1.5 NOTS points.
Fifteen mph over will probably result in a $1,000 fine, probation, and/or up to 90 days in the county jail, plus the 1.5 points and 10 federal CSA points. 
When the DMV receives the notice of conviction, the commercial driver's license (CDL) holder will get assessed the NOTS points, and it will remain on their motor vehicle driving record (MVR) in CA for three years.
Penalties at the DOT FMCSA Level for Commercial Vehicle Speeding 
First, any commercial vehicle speeding in a construction zone is a "serious offense" at FMCSA, as is 15 or more mph over the speed limit. A second conviction or paid ticket of a serious offense, such as excessive speeding, illegal cell phone use, following too close, unsafe lane change, and others, subject the driver to a 60-day driver's disqualification.
Second, a six to ten mph over commercial vehicle speeding conviction will result in four Compliance, Safety, & Accountability (CSA) points for severity under the Behavioral Analysis and Safety Improvement Category (BASICs) Unsafe Driving within the Safety Measurement System, and those could possibly double or triple depending on the most recent violation, which are called time-weight. For 11-14 mph over, they get assessed seven CSA severity points, and 15 or more over or in a construction zone is a maximum of ten CSA severity points.
The CSA points are multiplied by the time-weight to come up with a score, which is multiplied by many metrics within an algorithm to come up with the fleet's percentile. When the percentile is 75-100, every vehicle using that DOT number will get pulled into weigh stations and roadside inspections as part of an FMCSA intervention. 
Of course, in many cases, that only makes the percentile higher due to shortcomings during inspections. These CSA points are added to the driver's Pre-employment Screening Program (PSP) record and the percentile to the fleet's DOT number. This is why most fleet managers terminate drivers with a serious offense or too many (which could be one) moving violations. 
CDL holders must challenge their commercial vehicle speeding tickets in court with an experienced CA traffic attorney.  
Consult a Commercial Vehicle Speeding Ticket Attorney in Roseville, CA 
Call Bigger & Harman, (661) 349-9300 when you get a commercial vehicle speeding ticket around Roseville, CA, on I-80 heading into Sacramento. 
Email: attorney@biggerharmanlaw.com. 
Claudia on Google Reviews said, "Just received word that my ticket was dismissed! I was pulled over on my way to Mammoth Lakes. I was so worried about receiving points on my record because I drive for a living. So, I looked up traffic lawyers and I am so grateful I came across Mark! He got my ticket dismissed! Thank you Mark and everyone at Bigger & Harman! Appreciate you all!"
Se habla Español (661) 349-9755.
References:
The 2019-2021 CA Commercial Driver Handbook.pdf

CVC Section 12810.5, Issuance and Renewal of Licenses & Section 22406, Speed Laws