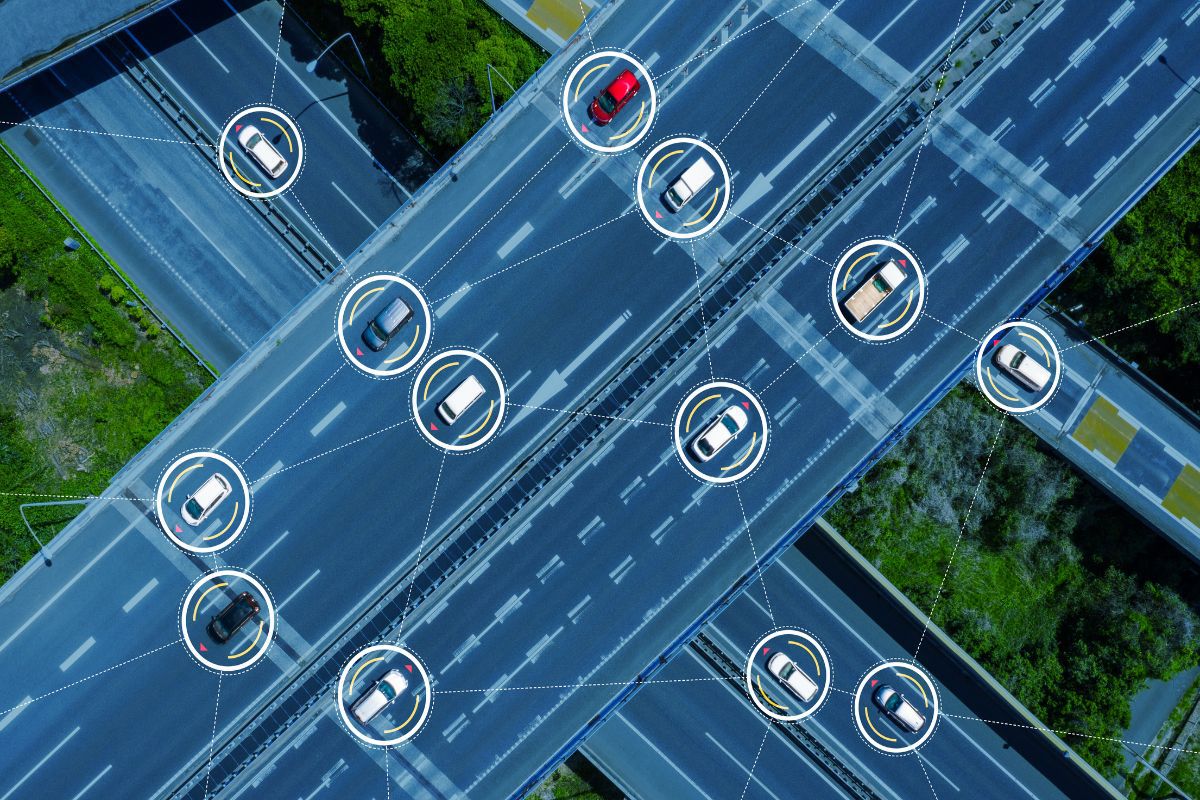 The CA Vehicle Code (CVC) Section 22348, paragraph c, Speed Laws, makes it illegal for trucks and some other commercial vehicles to use the third lane or any lane except the first two right lanes or designated lanes. The exact wording is "A vehicle subject to *Section 22406 shall be driven in a lane designated pursuant to Section 21655, or if a lane has not been so designated, in the right-hand lane for traffic or as close as practicable to the right-hand edge or curb."
When ticketed for a lane violation, CDL holders should consult a traffic attorney before they decide to pay the fine. Plus, many law enforcement officers (LEO) could mistakenly cite you under CVC Section 22107, Turning and Stopping and Turning Signals, which is California's unsafe lane change section of code. An unsafe lane change is a "serious offense," according to the FMCSA, and a second conviction will result in a 60-day driver's disqualification. 
To clarify, CVC *Section 22406, Other Speed Laws, stipulates that the statewide speed limit for commercial vehicles is 55 mph and specifies other vehicles, such as farm labor vehicles with passengers, "a passenger vehicle or bus drawing any other vehicle," a school bus transporting pupils, and vehicles with explosives that are subject to this section of code.
Therefore, these two sections of the traffic code make it illegal for many commercial vehicles with three or more axles to drive in the third or other lanes. A conviction for violating this code carries a $238 fine and one and a half (1.5) negligent operator treatment system (NOTS) points. 
Generally, commercial vehicles use the right-hand lane except to pass or overtake another vehicle, but only in the second lane, not the third or fourth. Likewise, the driver can use the furthest left-hand lane to turn left where appropriate.   
Although the fine and NOTS points might seem small, the consequences could be significant. As with any moving violation, when the DMV assesses NOTS points, that information is stored in the driver's motor vehicle driving record (MVR), sent to the employer annually via a pull notice, and the DOT FMCSA is notified of the violation. Don't take the chance, and don't go it alone. Contact a CA traffic attorney for assistance.
Typically, the FMCSA will assess Compliance, Safety, & Accountability (CSA) severity points under the safe driving category of the Behavioral Analysis and Safety Improvement Category (BASICs) of the Federal Safety Measurement System (SMS). These convictions are included in the Pre-employment Screening Program (PSP) record for the driver for up to three years unless there is a successful appeal or reduced charge, and the driver requests a review using the DataQ System. 
Drivers should review their PSP record at least annually to preclude other CDL holders' convictions or collision data from being misfiled in theirs. Commercial drivers depend on a clean driving record to get better pay, particularly from fleets that pay by the mile. Before hiring, fleet managers must look at the driver's PSP. Most fleet managers want to see a clean driving record. 
Plus, the DOT FMCSA requires commercial drivers to notify their employer of any conviction or paid fine within 30 days regardless of where they were when convicted. 
Challenge Your Lane Violation in Woodland, CA Traffic Court
When you get a lane violation citation on I-5 near Woodland, CA, call the traffic ticket defense team of Bigger & Harman (661) 349-9300.
We offer a free, no-obligation consult, even by phone or email. We understand you need to keep driving. Just send us an email with a picture of your ticket and a concise explanation of the circumstances. We'll get back to you as soon as possible. 
Gerado Gomez's comment on Google Reviews, "I am very happy to have called. I am a commercial driver and was pulled over for being in the wrong lane (1st lane on the left). They were able to clear it up and I didn't get any points on my driving record. Just had to pay my fine. Thank you."
Khaoe Smith wrote, "Got my 3rd lane trucking violation reduced to no-point non-moving violation with just a fine to pay. Very responsive and will keep you informed on your case. Thanks guys!!"
Se habla Español (661) 349-9755.
Email: attorney@biggerharmanlaw.com. 
References:
The 2019-2021 CA Commercial Driver Handbook.pdf
CVC Section 22348 (c) & 22406 Speed Laws & Section 22107, Turning and Stopping and Turning Signals
The FMCSA CFR 49 Part 383.51, Driver Disqualifications