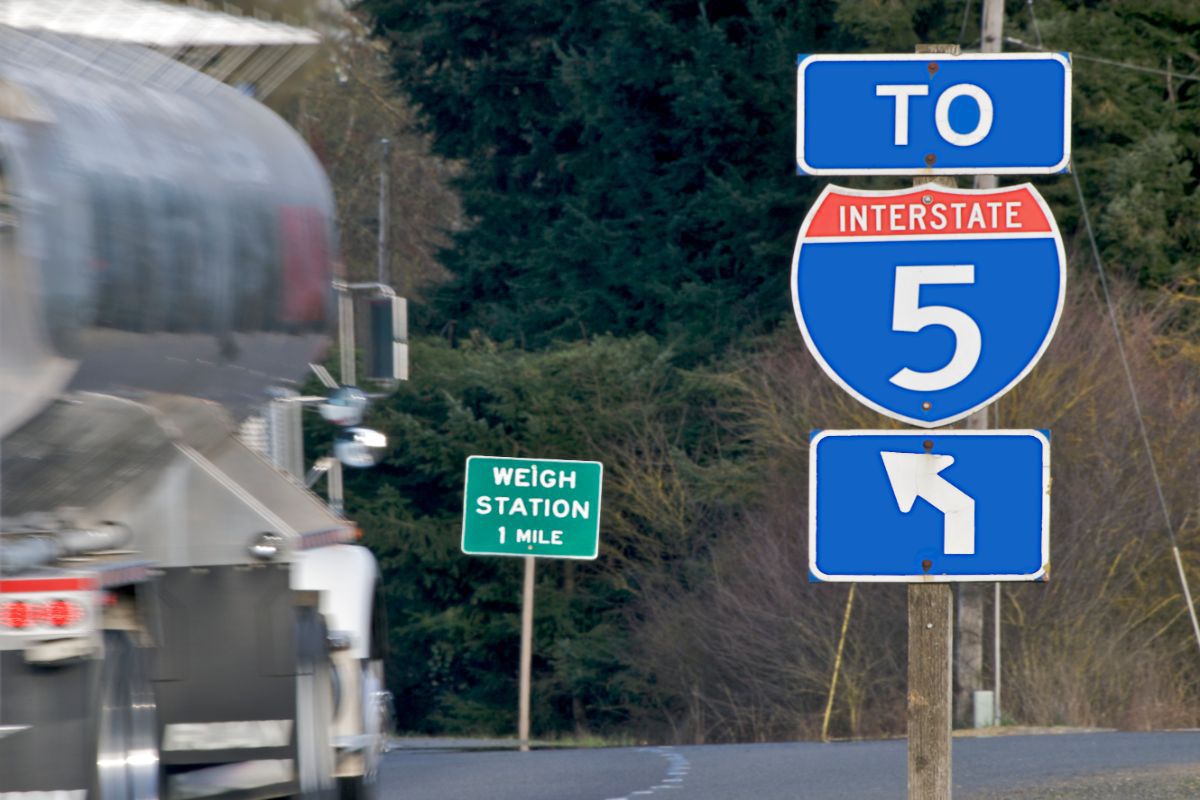 Most commercial drivers that use I-80 to cross from Nevada and get to the port at Oakland in the Bay Area know about the roadside inspection and weigh station in the Donner Pass just outside Truckee, CA.
However, what many do not know is the subtle difference in how the axle lengths and the amount of weight each axle can bear are determined, depending on the distance between axles as described in CA Vehicle Code (CVC) Section, 35551, Axle Limits, which warns, "…the total gross weight in pounds imposed on the highway by any group of two or more consecutive axles shall not exceed that given for the respective distance…" of the tables provided.   
What's more, paragraph (c) states, "The distance between axles shall be measured to the nearest whole foot. When a fraction is exactly six inches, the next larger whole foot shall be used." 
Therefore, if you weighed your truck in Nevada, and your weight was good at 37,000 pounds for 9 feet between axles, but your axle distance was actually eight feet, five inches, you are 3,000 pounds overweight by CA law. 
Overweight trucks in CA usually pay a fine of $1.00 per pound overweight without a permit under CVC Section 35784, Permits and Agreements. What's more, you will likely have to shift some of that weight to another truck or get another permit approved by Caltrans before you can move the truck from the weigh station.
However, the fine for an overweight truck without a permit in CA depends on four elements:
The number of axles on the vehicle.
The distance between axles.
A vehicle's maximum weight.
The maximum weight for each tire or axle.
We can provide an aggressive defense for all CDL tickets. 
Bigger & Harman Can Resolve Your Ticket for an Overweight Truck in Truckee, CA, Traffic Court 
When you are cited for an overweight truck on I-80 or at the Donner Pass Weigh Station, call Bigger & Harman, (661) 349-9300. Se habla Español (661) 349-9755.
We have the knowledge and experience you need to fight your traffic tickets in court. We provide flexible appointment hours, initial email and phone consultations are free with no obligation; we're here when you need us.
Email: attorney@biggerharmanlaw.com. 
References:
The 2019-2021 CA Commercial Driver Handbook.pdf

CVC Section, 35551, Axle Limits & Section 35784, Permits and Agreements