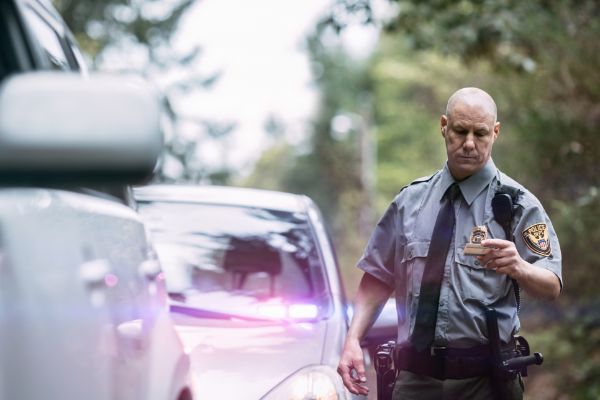 CMV speeding tickets are one of the most frequent traffic tickets issued on SR-99 or I-5 in Kern County. Don't let this be your story.
So, you got a commercial motor vehicle (CMV) speeding ticket out there on SR-99. Your home base is San Diego, but you were in town to pick up a load of organic vegetables in Lamont, CA. You knew you couldn't have been going much more than 60 mph because your governor is set at 62, but there are flashing lights behind you. It's a fact that your governed truck will not go over that speed by much unless it is fully loaded and headed down a long, steep grade. You do have to watch it on the Grapevine, the Donner Pass, and others.
At first, you figure it must be an equipment violation, but sure enough, the law enforcement officer (LEO) gives you a CMV speeding ticket for 62 in a 55 mph. It kind of lights a fuse in your brain because those four-wheelers are flying by at 85 and 90 mph. Yet, seven mph over, and you've got a ticket.
Although your blood pressure is at the boiling point, old Slocum, your driving instructor and mentor, always said about "smokey" or LEO, "Just kill 'em with kindness, it gets under their skin." So, you're nothing but nice and hand them every document they ask for, including some they don't.
Since you haven't even picked up yet, you figure it would be best to get a bite to eat and a cuppa Joe. That will allow you to cool down a bit before going to the dock, where you know you will be made to sit and wait for a couple of hours to get loaded. Waiting is much more difficult when you're hungry. Your kid said there's even a name for that now, "hangry." Imagine that.
Cooling Your Jets after a CMV Speeding Ticket
Well, you're almost to 223 Bear Mountain BLVD, so you figure to pull into that old "Mom and Pop" place off 99 on Costajo Road. It's open 24/7, the coffee excellent, and the food's not too bad. Plus, the staff is friendly enough since most have been waiting on truckers for a long time.
The place is kind of busy, so you cop a squat with an old-timer, named Jake. He starts prattling about the Weedpatch as soon as you sit down, and the introductions are done. He says, "You ain't far from that Migrant Camp you know. Some still call it the "Dust Bowl Camp," but its official name was Sunset Camp. If you're unfamiliar with the name, perhaps John Steinbeck's The Grapes of Wrath would ring a bigger bell with ya." I nod and say, "Is that so." I try to play it off, but I remember my dad talking about that when I was a kid. He always said Henry Fonda was supposed to be the star, but Ma Joad was his favorite.
The old fella started up again, "You know that camp was the backdrop of many scenes in the 1940 movie. They've even restored some of those buildings out there. If you get time, you should go by and have a look. It's just a few minutes from here on Sunset Boulevard."
The old guy said, "You've been pretty quiet, something on your mind?" I told him about my speeding ticket, and he said, "You shouldn't fret too much about that. Those things happen. Most of the truckers 'round here call Bigger & Harman over in Bakersfield."
My CMV Speeding Ticket
I took the old fella's advice and gave Bigger & Harman a call before I left town. I shot them an image of my ticket by email, they gave me a reasonable price, and I agreed. They kept me up-to-date on the ticket every step of the way, by phone and by text.
Then, one morning as I was headed out, Paul gave me a call and said the ticket had been dismissed. Now, I know why the old guy said local truckers call Bigger & Harman.
Challenging Your CMV Speeding Ticket While Staying on the Road
Getting a CMV speeding ticket on SR-99 or I-5 is the number one concern of truckers and other CDL holders. It's also our top concern. Contact Bigger & Harman, (661) 349-9300, to get a free consultation. We can talk about your options on the phone or by email.
We know you're busy and need to log the miles, so give us a call or email, attorney@biggerharmanlaw.com. Then, leave the rest to us.
Se habla Español 661.349.9755.
You don't have to take our word for it. There are more than 120, mostly favorable, reviews on Yelp. Here's one from Rigs R. from Clovis, "I'm a commercial driver who had a moving violation citation and looked up traffic lawyers on YELP and I'm so glad I did!!! There's a reason why Bigger & Harman have FIVE STARS and have AWESOME reviews, they DELIVER!!!!!!!!!!!!!!!!!!
My case was settled within 28 days with NO POINTS on my record. Mark Bigger personally called me and gave me the great news. I just wished I found them earlier on other cases."
We can't always get your ticket dismissed or get you a reduced no-point conviction, but our record does show we do a great job. When you need a local lawyer to handle your CMV speeding ticket, we'll have your back. We know truck drivers must keep their record clean to stay employed.
References:
The 2019 CA Commercial Driver Handbook.pdf
The Official Historical page of the Sunset Camp