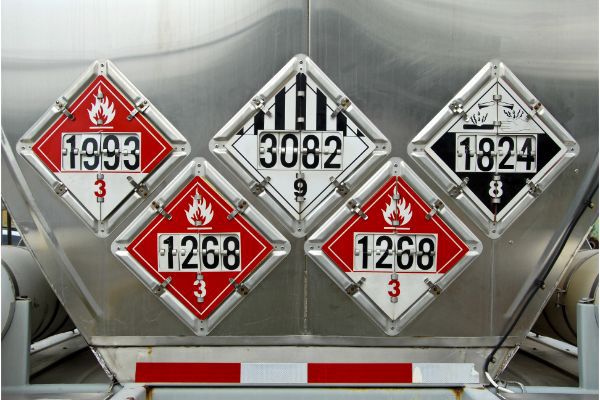 Hauling Hazardous Material (HazMat) is one of the most profitable jobs as a trucker. HazMat and flatbed trucking. It's also one of the most dangerous. Beyond being perilous, it is the driving profession most likely to get you a criminal record. That's right. There are more than 350 misdemeanor HazMat violations in the FMCSR. 
The California Highway Patrol (CHP) is the enforcement authority for all things related to moving hazmat in CA. Before you can move anything related to hazmat, you must have a CHP-approved map of your route. These maps have approved stops. 
Don't even think about stopping for coffee on your route at a place that's not approved by the CHP.  That cup of Joe could cost you $4,175 and a criminal record. Once that hits your Pre-employment Screening Program (PSP) record, it'll be tough finding another trucking job.  
Therefore, if you get a ticket for a hazmat violation, you should contact a traffic ticket attorney immediately, whether or not it is a misdemeanor.    
What Is HazMat
HazMat is any cargo that poses a health or safety threat to the driver and the public while in transit. This often includes explosives, combustible or flammable gases, solids, and liquids. These include all cargo items listed in CFR Title 49, Hazardous Materials Regulations (HMR). However, the shipper could deem the cargo as HazMat even though it doesn't appear on the HMR list.   
CA HazMat Endorsement
Each driver must have a commercial driver's license (CDL) with HazMat endorsement. The DMV in CA is responsible for testing and endorsing drivers. No driver with only a commercial learner's permit (CLP) will transport HazMat, nor will the DMV test a driver in a vehicle placarded or containing HazMat if it has not been purged.
Section 9. Hazardous Material covers the HazMat driver's roles and responsibilities in relation to transporting such cargo on CA highways. All the information required for a CDL holder to get endorsed by the CA DMV is in section 9 of the CA Commercial Driver Handbook.
Transportation Security Administration (TSA) Background Check
A CDL holder may apply for new or renewed HazMat endorsement by first paying for and getting the TSA background check. The HazMat endorsement must get renewed after three years. Drivers are advised to contact the DMV for requirements before proceeding.  
Are There Additional Requirements for Highway Route Controlled Quantities (HRCQ)?
HRCQ materials are typically radioactive Class 7 materials. These materials and their transportation are also restricted and controlled by the CHP. The CHP will allow transport of these materials along routes and times that have been deemed "safest" or which pose the least risk to the public. 
Before transporting any such materials, contact the CHP for route restriction and necessary permits. When permits are needed, the carrier must acquire the permit from Caltrans, which is usually valid for one trip.  
HazMat Transportation Violations
Although transporting HazMat is a dangerous occupation, many truckers successfully execute these tasks daily. When the vehicles are placarded correctly, endorsements, permits, and route maps are acquired and carried, and cargo stabilized as required, the transport of these materials becomes safer for all involved. 
Despite all our precautions, we are only human, and humans make mistakes. When you make a mistake or commit an error transporting HazMat, it can be costly and hazardous to your driving career. If you do get ticketed, consult a traffic attorney.
Consult a Traffic Attorney about a HazMat Violation in Barstow, CA
When you're transporting HazMat along I-15 in and around Barstow, CA, and you receive a ticket from the CHP, call Bigger & Harman, APC, (661) 349-9300. Se habla Español (661) 349-9755.
Our traffic attorneys are knowledgeable about HazMat transportation regulations and have experience in Barstow Traffic Court.
John M. from Long Beach, CA, left this review on Yelp, "Mark Bigger was able to have my commercial vehicle 68 in a 55 in Hanford court reduced to a non-point infraction. They were professional, kept in touch throughout and Mark even called me to let me know the outstanding disposition. I am fully satisfied and heartily recommend Bigger & Harman to those in a similar situation."
Although we cannot always get a no-point reduced charge, we do our best to give commercial drivers the results they deserve.  
Send them an email, attorney@biggerharmanlaw.com.
References:
The 2019 CA Commercial Driver Handbook.pdf
CFR Title 49, Hazardous Materials Regulations
Cornell Law Legal Information Institute text article, Requirements for Motor Carriers and Drivers