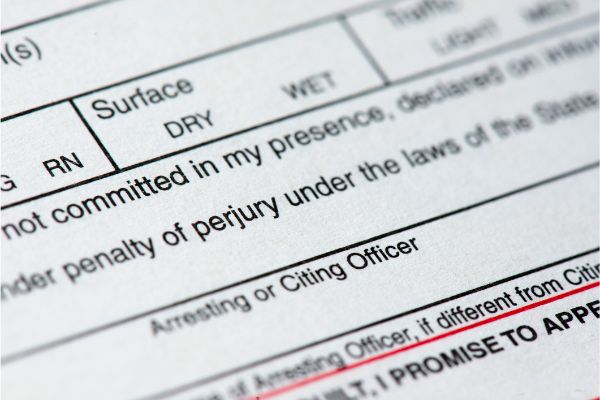 Many CDL holders wonder if they should tell their employer about a speeding ticket. They also want to know if it makes a difference if they were speeding in their CMV or private vehicle? Furthermore, what happens when there is an appeal?
There is much misinformation online, and drivers should be prudent to discuss the exact circumstances of any speeding ticket with a traffic law professional.
In this article, we will take a look at what the FMCSA says about this. We will also look at CSA points, NOTS, the Pre-Employment Screening Program (PSP), the CA DMV Employer Pull Notice (EPN) Program, and the Driver License Compact (DLC), and how each of these could affect your CDL.
The FMCSA Title 49 CFR Part 383.31
Part 383.31, Notification of Convictions for Driver Violations explains that commercial motor vehicle (CMV) drivers must notify their employers of any conviction for traffic tickets other than a parking ticket. Also, "The notification must be made within 30 days after the date that the person has been convicted."
Two essential elements should be pointed out to clarify this information. One, there must be a conviction. And two, "in any type of motor vehicle." That means if you are on a family vacation out-of-state, you get a speeding ticket in your private vehicle, and you then pay the fine before leaving that state, you have been convicted of a moving violation. Paying the fine is an admission of guilt, and thus, a conviction.
Furthermore, if the commercial driver's license (CDL) or commercial learner's permit (CLP) holder is not currently employed, they must notify their state licensing authority, or in the case of CA, the DMV. The following information must be provided:
Driver's name (Last, First, MI)
Driver's license number
Conviction date
The specific offense and whether any suspension or revocation resulted from the conviction.
Indicate whether in a CMV or private vehicle
Location and signature
Furthermore, Part 383.33 stipulates that when a conviction results in a suspension, cancellation, or revocation, the CDL holder must notify their employer within 24 hours.
Appeals to Speeding Ticket Convictions
You must notify your employer regardless of an appeal of the speeding ticket conviction. However, a successful appeal or reduction of the original charge can result in the FMCSA withdrawing or reducing CSA points. A successful appeal should result in all CSA points getting removed from your PSP. Reduced charges should get reduced to one severity point.
If this removal or reduction does not occur, you must initiate a Request for Data Review (RDR) on the FMCSA DataQs page. Contact a traffic attorney for assistance in getting DMV and court documents.
CSA Severity Points for Speeding Ticket Convictions
Compliance, Safety, and Accountability (CSA) severity points are assessed for violations of the FMCSR while driving a CMV and affect both drivers and carriers. Although CDL holders must notify their employer of convictions for speeding tickets in their private vehicle, no CSA severity points will get assessed.
There are four levels of severity points assessed for speeding in a CMV. The least severe speeding ticket conviction of 6 to 10 mph over will get assessed four severity points, seven for 11 to 14 mph over, and the most severe gets assessed ten severity points. It is also an FMCSA "serious offense" for driving 15 or more mph over the speed limit or any speeding conviction in a construction zone.
Any driver who gets a speeding ticket in a construction zone should consult a traffic attorney. The law in CA is specific that drivers must be alerted to the construction by signs and warning within a precise distance, and workers must be present during the time of the stop. A knowledgeable and experienced traffic attorney will investigate the conditions surrounding the stop.
The FMCSA PSP
The FMCSA PSP places violations, convictions, and accidents on the driver's CDL record. This assessment of severity points will then get matched against any previous breaches in the same BASICs categories within the last two years.
The Safety Measurement System (SMS) divides violations into seven categories, Unsafe driving, Crash indicators, Hours-of-Service (HOS) Compliance, Maintenance, Controlled substances, Hazardous Material (HazMat) compliance, or Driver fitness.
When a second violation within zero to six months from the last, the severity points get multiplied by three time-weight points. A violation within six months to a year gets multiplied by two, but points assessed for 12 to 24 months remain at face value. These points stay in the system for up to three years for drivers but only two years for carriers.
The Driver License Compact (DLC) & Speeding Tickets
The DLC is a cooperation between states and some Canadian provinces where the state sends a report of conviction or failure to appear (FTA) to the driver's home state (the state or province where licensed). In the case of an FTA in CA, it is a misdemeanor crime according to CA Vehicle Code (CVC) 40508, Release Upon Promise to Appear. Therefore, out-of-state drivers must contact a CA attorney to resolve their ticket.
The CA DMV, NOTS, & Speeding Ticket Convictions
The CA DMV is authorized by CVC 12810 & 12810.5, Issuance and Renewal of Licenses to assess Negligent Operator Treatment System (NOTS) points to drivers for convictions and at-fault accidents, regardless of CSA severity points assessed by the FMCSA.
Typically, conviction of infractions and at-fault accidents are assessed one NOTS point. Except when the speeding ticket was more than 100 mph, which gets the driver two NOTS points. Although CDL Holders typically do NOT get these convictions in their CMV, a conviction for 100+ mph in their private vehicle could lead to immediate termination by fleet management.
However, according to CVC 12810.5 and CVC 1801.1 the DMV can assess 1.5 times the number of points for CDL holder convictions in a CMV. Thus, a speeding ticket in your CMV gets you 1.5 points, nearly halfway to the four a driver can accumulate within twelve months before a suspension. So, truckers must consult a traffic attorney about any speeding ticket.
Who Can Handle My Speeding Ticket in the Sacramento Area?
Call Bigger & Harman at (661) 349-9300. Se habla Español (661) 349-9755.

On Yelp, in December of 2017, James G. left the following comment about Bigger & Harman's legal service. "I'm a truck driver that was speeding doing 55/35. Now that's 20 mph over the speed limit and you truckers know how this can affect our license and our scores plus chances of getting​ into a better company. Well at first I was going to take the hit or just pay one of those ticket agent at a TA to take care of it but by the advice of some people I decided to fight it and I'm happy I did fight it because Bigger and Harman saved my JOB/CDL he was able to get my speeding ticket dismissed in exchange for a plea to a non-point infraction."

Although we cannot guarantee the same plea deal will be available for your speeding ticket, we have had success in getting dismissals and non-moving infractions for CDL holders in the Sacramento area.

We can handle speeding tickets for Woodland, Truckee, Roseville, Placerville, or South Lake Tahoe Traffic Courts.

Send us an email, attorney@biggerharmanlaw.com.

References:

The 2019 CA Commercial Driver Handbook .pdf

FMCSA Title 49 CFR Part 383.31, Notification of Convictions for Driver Violations

The FMCSA page, PRE-EMPLOYMENT SCREENING PROGRAM (PSP)

The CA DMV Portal EPN Program & NOTS Program

The Traffic Resource Center brief, The Driver License Compact

The Trusted Employees Learning Center article, A Quick Guide to Truck Driver Pre-Employment Screening

CVC 40508, Release Upon Promise to Appear & CVC 12810 & 12810.5, Issuance and Renewal of Licenses