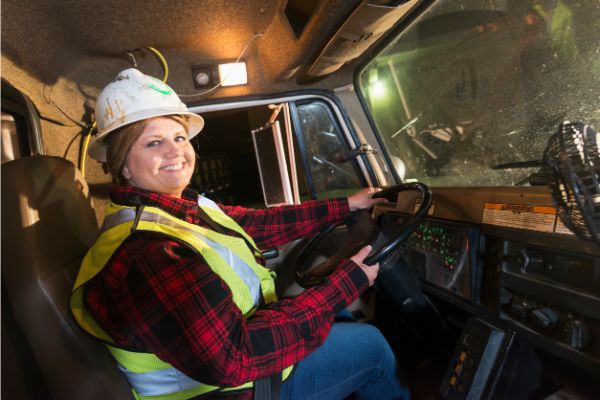 Many women are accepting the challenge of working the tarps, bungees, and chains associated with flatbed trucking. And with good reason, the flatbed industry is seeing more female drivers because of the challenge and/or higher pay than other transportation jobs.
Women have the competency required, a passion for learning, and a history of results. There's nothing wrong with driving a flatbed, but you must know flatbed trucking pays more for a reason. The FMCSA has no less than 360 misdemeanor violations that apply to flatbed trucking. These laws protect you, other drivers, and pedestrians on our nation's highways. A flapping tarp is a red flag for law enforcement, and on a flatbed it is obvious.
Building a Career in Flatbed Trucking
Women not only have the desire to drive but have proven they can get it done. Women are finding jobs by getting the right training and applying those learned skills, but being a woman won't make it easier. The work is challenging for both women and men.
The heavier cargo, its exposure to the elements and the safety standards require specialized training. There's a financial promise to reach for, but there are also risks involved. Kristi Williams, Lone Star CFO says, "Women truck drivers, like women in other fields, want to earn more money and respect in their careers."
Avoid Simple Mistakes When Flatbed Trucking
You can build a promising career if you're cautious. You need to know about the work and why doing it safely within regulation is necessary. Let's cover the steps to take each time before setting out to drive.
Meet the Performance Standards
Complete your daily vehicle inspection report (DVIR) from bumper to bumper. Any damage or malfunction should sound the alarms. Make a report, talk to your maintenance team or fix the problem. Never use your equipment if it doesn't meet its "set-performance criteria." Tie downs, bungees, and wire ropes must get examined. Tug, move and lift them to see what you're working with to ensure these are serviceable. Yes, these are effective and sturdy tools, but they can still malfunction, especially with age.

Proper Use and Care of Equipment
Follow regulations, avoid "doing your own thing" and keep things consistent. The pieces of equipment you use are those that you learned about in your training. You know how they work. Follow these guidelines. To avoid an at-fault accident or spills due to malfunctioning equipment, inspect your cargo securing equipment carefully before use.

Staying Up-to-Date on Changing Standards
Take any changes on major and minor standards seriously. Follow them even if they break the routine that you frequently use. You will generally find working with a new rule is easy if you are open and acceptable to change.
What to Do When You Find You Need Legal Assistance
Asking for help is wise if it will lower your consequences. You can often avoid a misdemeanor with harsh penalties by preparing adequately. If you get charged, a traffic-ticket attorney can inform you of your options. A serious mistake can lead to immediate termination, and you will find it very difficult to find new work with a serious conviction. Get help to prevent convictions, speak with an attorney when you have a violation. If it is a misdemeanor, do NOT make a statement until you have talked to an attorney.
Driving a flatbed can be very rewarding. Be sure to protect your CDL, use caution, know the laws, and always use a traffic lawyer to challenge tickets. Safeguarding your career will eliminate a lifetime of regret.
Consult with a Kern County, CA, Traffic Ticket Attorney
Bigger & Harman are the traffic ticket defense team to call in Kern County or anywhere in Central Valley, 661-349-9300. Se habla Español (661) 349-9755. We value our CDL holder clients and their driving privileges.
When you get ticketed or have violations from a roadside inspection for bad equipment, worn tarps, an overweight truck, or form and manner violations you need the assistance of an experienced traffic ticket defense team. We only practice traffic law and we are familiar with the FMCSA, CFR and CA Vehicle Code as it applies to CDL holders.
Contact us by email today, attorney@biggerharmanlaw.com.