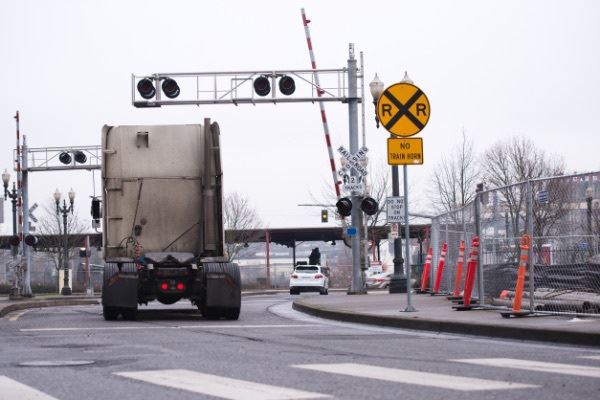 There are three things all CDL holders need to know about railroad crossings. Those are: railroad crossing violations are a serious offense with the FMCSA; these convictions carry significant fines; and how CA traffic law gets applied to railroad crossings.
Unlike their non-commercial driver counterparts, there is no chance to mask or hide a conviction in a commercial motor vehicle (CMV) with traffic school. Therefore, their employer will get notified by the DMV of the conviction through the Employer Pull Notice (EPN) Program. Even when out-of-state, a CDL holder must report to their employer any conviction in their CMV.
Their only hope is to challenge the ticket to get the ticket dismissed or reduced. In many cases, due to the number of cases, judges will accept the request of a traffic attorney for a no-point violation. The same is often true for correctly worded requests for dismissal. Traffic court judges also know these convictions can lead to a driver's termination of employment, which also causes severe problems finding a new driving job.
The record of conviction goes on an interstate CDL holder's Pre-Employment Screening Program (PSP) with the FMCSA. However, the DMV usually does not send anything to the FMCSA until after a conviction. When there is no conviction; there is no record. Therefore, it is essential to dispute every ticket, and if you were convicted, consult a traffic ticket attorney and appeal if the attorney thinks it appropriate.
Traffic ticket attorneys also know what's at stake. Often novice CDL holders hire a lawyer from another area of law and get convicted because many in other law areas do not wholly understand what's at stake. Other lawyers might not consider the importance of pre-trial motions for dismissal and reduced no-point pleas. It would be best if you had an attorney experienced with traffic court.
Let's take a look at the three conditions every CDL holder should recognize about railroad crossings before paying a fine.
#1 — FMCSA Serious Offense for CDL Holders
The FMCSA and the Safety Measurement System (SMS) use the Compliance, Safety, & Accountability (CSA) point system to measure compliance. Every conviction or crash gets assessed severity points between one and ten. These points are recorded and entered in one of the seven Behavior Analysis and Safety Improvement Categories (BASICS) determined by the SMS.
Each violation at a roadside inspection, traffic stop, or collision is assessed severity points. The record gets kept for two years for carriers and three years for the CDL holder. If you get CSA points in the same category as another in the previous six months, it gets multiplied by the time weight of three.
Convictions within six months to a year are multiplied by two and then kept at face value for an additional year. If no other points get assessed in that category after two years, it disappears from the carrier's record and after three years for the driver.
Those seven BASICs are:
Unsafe driving
Fatigued Driving
Driver Fitness
Drugs and Alcohol
Vehicle Maintenance
Cargo-Related
Recordable crashes
Therefore, since speeding and following too closely are both unsafe driving violations, a conviction for speeding 15 or more mph over, and then a following too closely conviction would lead to a 60-day disqualification with a second conviction within three years of the first, and a 120-day disqualification with a third.
However, a conviction of a railroad crossing offense will result in a 60-day disqualification on the first offense, 120 for a second, and one year for subsequent convictions. This is not the time to try to represent yourself or save money by hiring "Cousin Vinnie" to defend you. Consult with a traffic ticket defense lawyer.
Once the severity points get multiplied by the time weight, the points get converted to a percentile and then a complex formula to determine exposure is used. When this percentile is between 75 and 100, the carrier and its drivers are selected to participate in additional inspections by the Inspection Selection System (ISS). The driver at roadside weigh stations and the carrier at their headquarters look at policies and procedures.
#2 — California Traffic Law & Railroad Crossings
The CA Vehicle Code (CVC) 22450, Special Stops Required states, "The driver of a vehicle approaching a stop sign at a railroad grade crossing shall stop at a limit line, if marked, otherwise before crossing the first track or entrance to the railroad grade crossing."
Also, the CA DMV 2019 CA Commercial Driver Handbook has additional information and restrictions for CMVs in Chapter 2.15 on page 2-39. Some of this information might be required to pass the commercial learner's permit (CLP) test, so warn your apprentice drivers.
Watch this YouTube video of a tractor-trailer hung up on the tracks. Luckily all occupants got out of the truck. One thing that should be obvious to viewers is how long it takes for the train to stop after it plows through the truck's trailer.
Figure 1 Video courtesy of WJHL in Chesterfield County, VA
A driver should not try to get over the tracks when they know there is a train coming even when the protective arm does not get lowered. It takes the standard tractor-trailer 10-15 seconds to get across the track. And just as in the video, what if you get hung up? Additionally, the FMCSR Section 392.10 states, "The driver must not shift gears while crossing the tracks."
#3 — Significant Fines
According to CVC, the base fine for a railroad crossing violation conviction is $100. However, the base fine does not include the ten county and state surcharges, assessments, and fees. The state legislature approved ten additions to the base fine, so even though the CVC might say "not to exceed," they all do.
The fine winds up being between $490 and $500, plus the DMV will assess 1.5 Negligent Operator Treatment System (NOTS) points, which will stay on your motor vehicle driving record (MVR) in CA for three years.
Those are the CA penalties; the FMCSA can also assess civil penalties for convictions by CDL holders. The fine for the driver could be $2,750, and the carrier proved to condone such action can get an $11,000 fine.
Ask a Bakersfield Traffic Attorney
When you need traffic ticket assistance in Kern County Traffic Courts in Bakersfield, Delano, Mojave, Ridgecrest, Lamont, or Shafter traffic court, call Bigger & Harman at (661) 349-9300. Se habla Español (661) 349-9755.
We practice only traffic law and extend a free initial consultation to all CDL holders without obligation. We have extensive expertise fighting for dismissals and reduced no-point tickets. Give us a call to discuss your specific situation without obligation or fee.
Contact us today by phone or email, attorney@biggerharmanlaw.com.