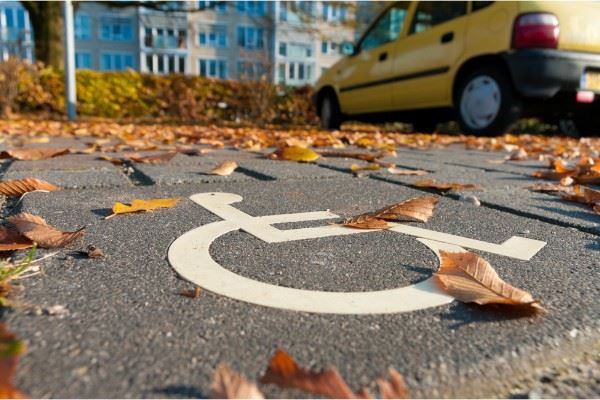 Abusing disabled parking permits is no laughing matter in California. Disabled parking permits are to be used by persons with disabilities or those transporting disabled people. It makes it easier for those who use walking aids and wheelchairs, and for those who walk but have an "impaired mobility" as certified by a medical professional.
Many unauthorized people make the unwise decision to take advantage of the parking zone when not in use by authorized permit holders. The laws are very strict, and the consequences can be harsh.
If You Aren't Authorized, Keep Looking
Some think that just because a spot is open, they can park there. They rationalize their actions with, "Well, I was only going to be a minute." Or, "No one was using it, and they have five handicapped spots in front of that building." No matter how tempting it may be to use a disabled parking space when you are not authorized a disabled parking permit, it is illegal.
A 2016 DMV audit found that 26,000 Californians over 100 years of age had disabled parking permits, yet there are only about 8,000 residents over 100. How many of those do you think are still driving? The placards allowed these people blue stenciled stalls at the front of store parking lots and parking at any street meter for free all day.
California is putting a dent in the vehicle numbers that are assigned a disabled parking permit by having the DMV check the Social Security Administration's "death file" and making sure that the placards are canceled for deceased drivers.
When Authorized by Medical Personnel or VA
When authorized a disabled parking permit by medical personnel, and you have not applied in CA previously, use Reg 195, Application for Disabled Person Placard or Plates. If you are authorized by the Veterans Administration (VA) as a 100% disabled Veteran (other conditions exist for getting a placard, follow the instructions on the form), use Reg 256A, Miscellaneous Certifications, and add the supporting documentation from VA.
Authorized users are:
Not allowed to lend the disabled parking permit to anyone including family
Allowed to use the placard even if they do not drive
Cautioned to present the placard and ID when requested by a law enforcement officer (LEO) or anyone authorized by the State of California to enforce parking and traffic laws
Not allowed to alter, falsify, or counterfeit a plate or placard or face up to three years in prison. Those who intentionally falsify a placard for profit can receive an additional civil fine up to $4200
The next of kin is cautioned not to use the disabled parking permit and to turn it into DMV within six months of the death of the authorized user
Not allowed to possess more than one permanent placard
Not allowed to park in the "crosshatched area" adjacent to a handicapped parking space as these areas are used to facilitate wheelchair access
Allowed to park in metered stalls free of charge
These requirements are set forth to ensure people with actual disabilities have authorized access.
What California Law Dictates about the Illegal Use of a Disabled Parking Permit
CA Vehicle Code 22511.55, Stopping, Standing, and Parking requires the temporary placard to get hung from the rearview mirror. The placard issued for a two-year period expires on the 30thof June. Permanently disabled parking permits are renewed every six years without supplying further proof of disability.
CA traffic law stipulates the fines and penalties for illegal use of disabled parking permits. This is not a mere parking ticket; illegal use is a misdemeanor crime. A conviction will result in a fine of $250 to $1000 with the added state and county surcharges and fees, which could bring the total to more than five times that amount. If you are a professional such as a doctor, attorney, nurse or insurance broker, etc. the judge has the discretion to impose a steeper fine of $1,500. Additionally, the judge could order those convicted up to six months in county jail or both fine and imprisonment.
A second conviction of the illegal use of disabled parking permit could lead to a fine of $10,000 and a year in jail or both.
When someone parks illegally using a disabled parking permit, they can get ticketed. They may have only parked for a short moment, but the consequence will be the same. Getting a conviction for this action could involve lost time from work and require an attorney to challenge the ticket.
You Need a Traffic Ticket Lawyer to Fight the Ticket
It is never wise to go to court without legal representation. No matter how large or small the case may seem. In this case, it is very serious. It is a misdemeanor crime. Traffic lawyers are experienced and knowledgeable in challenging these types of tickets and protecting your driving privileges and your criminal record.
Traffic lawyers can get tickets reduced or dismissed. Although everyone should be aware of parking laws, a lawyer knows how to build a strong case even for those who sometimes act irresponsibly. Protect your record and driving privileges by consulting with an experienced traffic ticket attorney.
Consult with an Attorney Who handles tickets in Los Angeles Traffic Courts
You need the assistance of a knowledgeable traffic ticket attorney, call Bigger & Harman, (661) 349-9300. They have helped hundreds of clients challenge traffic tickets in Los Angeles County Traffic Courts.
Se habla Español 661.349.9755.
We frequently assist drivers with tickets for illegal use of disabled parking permits and can help you too. Give us a call to discuss your specific situation or send us an email to attorney@biggerharmanlaw.com.
References:
The 2018 CA Driver Handbook .pdf
The 2018 California Superior Court Bail Schedule for Infractions and Misdemeanors.pdf
CVC 22511.55, Stopping, Standing, and Parking