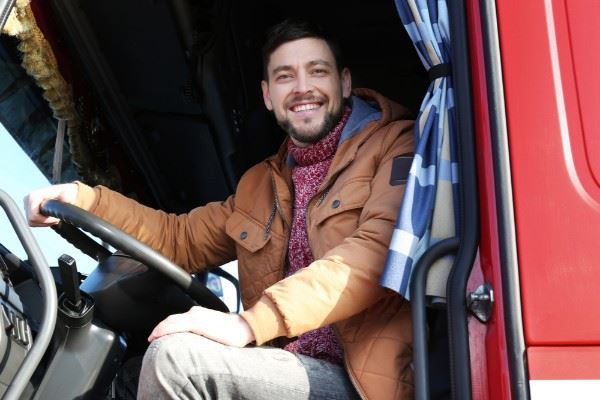 For those trying to decide on a career in the trucking industry, figuring out what direction the business will take in the next five, ten, or even twenty years down the road could be difficult or downright impossible. Questions about driver shortage, driver turnover, over-regulation, autonomous trucks, e-commerce, Uberization, etc. can make your head ache. However, we believe there are five solid justifications for starting a career in trucking right now despite the uncertainty and hours away from home.
We are going to do this countdown "Letterman-style." If you don't remember or never saw Late Night with David Letterman, we will start with the least compelling reason and work our way up to the most irresistible rationale.
#5 – The Efficiency & Comfort of Modern Trucks
New trucks are more efficient and more comfortable than ever. Not only do these trucks have sleepers with many of the amenities of home, but they're aerodynamic and fuel-efficient. These modern trucks move freight profitably (often getting ten mpg) and quickly. The introduction of electric trucks will make short-haul trucking very efficient and less expensive.
#4 – Trucking Innovations
Innovations such as electric trucks and even autonomous trucking, like other changes in technologies, will bring more opportunity and more money to the industry. Independent and owner-operators who prepare for it will look for those new opportunities, embrace the changes, and will be poised to take advantage of the changes, not fall victim to those innovations.
Niche trucking is one example of the way owner-operators and small trucking firms can take advantage of these changes. These firms find small manufacturers who need goods transported to the same store or mall and give them a discounted price to take their goods on a regular basis. This practice is more convenient for the driver and more profitable for the fleet owner. The driver knows the loaders, the route, where to schedule their break, and what time they will finish.
#3 – Career Security
With developments in e-commerce and online ordering, we are probably just seeing the beginning of growth in this area. Trucking is a necessary part of that transition to a global economy. More and more online orders will mean more opportunities for trucking. 2017's record tonnage and transport orders prove the industry will continue to grow as more people use internet orders. Trucking is not going away.
Despite your inability to control fleet management or their rationale for trucker turnover, trucking appears to be headed in the right direction. However, if you can sock enough money away to put a down payment on your own truck, you could soon be an owner-operator, independent of those firms who believe they can avoid a rise in their fleet insurance by terminating that trucker or bus driver who had a speeding ticket in their personal vehicle.
Many fleet managers believe they can dodge a bullet by dismissing a driver with an otherwise perfect commercial driver's license (CDL) record who was convicted of an infraction in their private vehicle.
It doesn't make much sense, does it? It's kind of like throwing away a perfectly good apple because it might get rotten. Most seasoned CDL holders know to avoid infractions in their commercial motor vehicle (CMV).
#2 – You Could Soon Get Paid for Sleeping
An October 2018 ruling in a Fayetteville, AR District Court could affect how CDL holders are paid while on the road overnight. An ongoing lawsuit by truckers claiming wage discrepancies received a surprise ruling from the court. The court stated that any hours spent on the road is compensable, which means at some point trucking firms may be required to pay drivers at least the minimum wage for overnight stops and other mandatory breaks.
This ruling goes against the common practice by trucking firms of not paying drivers while in a sleeper berth. They claim if they are sleeping, they are off-duty. However, federal labor laws require payment if you are on-call, so isn't that the same? The court seems to think it is. They denied a trucking firm's contention that sleeper time is off-duty. DOT FMCSA hours of service (HOS) regulations require they only drive for 11 hours or work 14,"This Court believes those DOT regulations have little, if any, bearing on the matter at hand they are a different set of regulations from the DOL regulations under discussion … concerned with different policy aims."
This ruling is likely not the last word on this controversy as there will probably be an appeal.
Just as David used to say, "and, the #1 Reason…" You Should Start a Career in Trucking is Because Trucks Are Safer
Everything about trucking is safer than it was even ten years ago. Advancements in technology, self-adjusting brakes, collision avoidance, forward crash alerts, and several other sensors that reduce truck jackknifing make operating a CMV safer than at any time in history. Furthermore, every indication points to better technology at affordable prices for the foreseeable future. These technologies are not just more affordable initially, but because they reduce injuries, crash costs and lost time, they get CMVs back on the road sooner, which adds to profits.
Whatever rationale spurs you to choose a career as a driver, you should be aware that you are only as safe as you are careful and diligent.
Consult a Traffic Ticket Attorney in Kern County
When you receive a traffic ticket for overweight, bad equipment, no permit, or any other trucking violation, you know you must challenge the ticket. You also know you need assistance. Call Bigger & Harman, (661) 349-9300. They are a trucker-friendly firm who has represented many CDL holders in LamontTraffic Court.
Se habla Español 661.349.9755.
We can assist you to resolve a ticket without your presence in the courtroom so that you can keep driving as if nothing happened. You are only required to notify your employer of a conviction. If we get the ticket dismissed, there's no conviction.
Send us an email with your questions, attorney@biggerharmanlaw.com.
References:
The 2018 CA Commercial Driver Handbook .pdf
The 2018 California Superior Court Bail Schedule for Infractions and Misdemeanors.pdf
The trucking info.com article, Five Reasons There's Never Been a Better Time to Be in Trucking
The Trucks.com article, Court Ruling Could Require Driver Pay for Hours Spent Sleeping by Cyndia Zwahlen, 22 October 2018