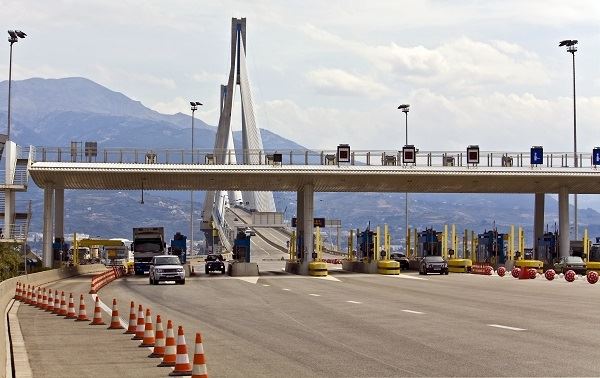 A PrePass is like an EZ-Pass for commercial motor vehicles (CMV). For some, it is combined so that the company or owner-operator is sent the bill rather than paying the toll in cash. A PrePass violation occurs when a commercial vehicle does not stop at a weigh station when they are required to stop. This includes rental trucks such as U-Haul, Budget, Ryder, etc. However, pick-ups are not required to stop unless it has a box bed.
PrePass®is owned and registered to Heavy Vehicle Electronic License Plate Inc. (HELP), a not-for-profit organization. California has used this system since 1994, and there are 35 stations in operation. You can find a list of bypass stations in CA here, such as the one on Northbound I-5 in Castaic, Los Angeles County. If you need information on other state locations, click here.
Before getting to the weigh station or "chicken coup," there are two sensors mounted on signs over the road. The first, known as an Automated Vehicle Identification or (AVI) reads the PrePass sticker, called a transponder, mounted on the truck's windshield. The "Weigh-in-Motion" (WIM) system is a scale built into the road, so they know your truck's weight without you having to stop. WIM can be an excellent time-saver for the trucker in compliance. WIM also allows Caltrans to gather statistical information.
If your truck is good, meaning it is underweight and within size restrictions, and all safety requirements are met to bypass the weigh station, a second sensor over the roadway sends a signal to the transponder. A green (LED) light comes on along with audible signals that beeps to let the driver know they can keep going.
If the truck must stop for a random check or is overweight, a red light will flash on the transponder and a different audible signal lets the driver know they must pull in for weigh-in and/or inspection. Additionally, if there is no light or audible signal; the vehicle is not registered with PrePass; or you are hauling HAZMAT, the driver must pull in if the station is open.
Note:HELP Inc warns that you should have only one transponder and you should notify PrePass customer service before changing it to another vehicle.
Is It a Pre-Pass Violation if I Do Not Stop?
Yes, it is a PrePass violation if you do not stop when directed or there is no signal and the weigh station is open. Pay attention to the signs and always stop when you are not given the green light to by-pass a weigh station. Keep an eye on the other CMVs, and if they are all in the right lane, chances are there is a weigh station ahead.
By-passing a weigh station without stopping could be a violation of CVC 21400, Official Traffic Control Devices, if the CHP officer is feeling generous,or a violation of CVC 2813. Frequently, the CHP will chase you down and make you return to the weigh station, at which time, they may ticket you and/or put you through an inspection. Usually, how thorough the check will depend on the driver's attitude.
A PrePass violation, if convicted, will lead to Compliance, Safety, and Accountability (CSA) points assessed by the Federal Motor Carrier Safety Administration (FMCSA). California CDL holders who fail to stop when required are guilty of a misdemeanor according to CVC 2813, Administration and Enforcementand they need a traffic ticket attorney.
Talk to a Traffic Attorney for Los Angeles County
Bigger & Harman frequently represent truckers and other CDL holders in Los Angeles County traffic courts including Santa Clarita. Call Bigger & Harman, (661) 349-9300, when you need advice about any traffic ticket, and particularly when you have been charged with a misdemeanor PrePass violation. They will provide straightforward advice about your options. Se habla Español 661.349.9755.
Bigger & Harman always use a flat rate to resolve traffic violations, so you know exactly how much you will pay. Regardless of how many hours or how many appearances it takes the fee is the same.
Send an email, attorney@biggerharmanlaw.com, describing your situation and enclose a scanned copy of the citation. They will reply with an email or a phone call if you leave a number.
Visit their Facebook page. Read their bio, feedback, and endorsements on Avvo and Nolo, two prestigious attorney lawyer referral sites. Or, check Yelp for reviews when you need further assurancefrom other CDL holders about the service they received.
References:
Pre-Pass Driver Information Guide.pdf
The 2017-2018 CA Commercial Driver Handbook .pdf
The Caltrans PrePass® Weigh Station Bypass website