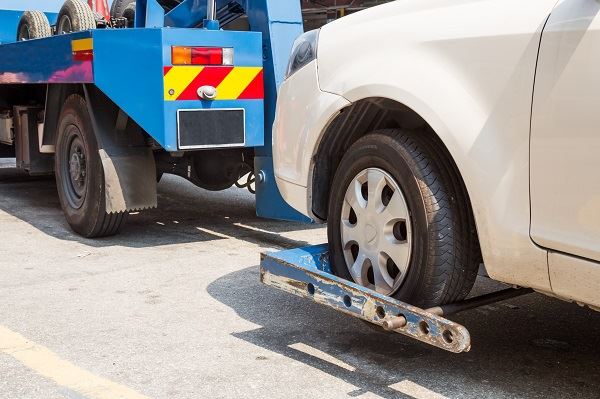 The three items the law enforcement officer (LEO) asks to see when they stop you are the key to getting back your impounded car. Your license, registration, and proof of insurance are documents required for all drivers. CA Vehicle Code (CVC) 14602.6, Violation of License Provisions, allows a law enforcement officer (LEO) to impound a vehicle when:
a driver's license (DL) has been suspended or revoked,
an out-of-state driver has attained residency more than ten days earlier,
a driver never had a DL, or
a driver is driving outside their DL restriction or without an ignition locking device (IID)
The on-site LEO has the option of immediate arrest (although an arrest is very rare) and vehicle impoundment at the scene of an accident or ticket stop. "A vehicle so impounded shall be impounded for 30 days."
According to CVC 4000, Vehicles Subject to Registration, and CVC 22850.5, Removal of Parked and Abandoned Vehicles, a vehicle driven or left parked on a CA public roadway, where the registration has been expired for six months or more is subject to impoundment.
CVC 16020, Financial Responsibility, stipulates that when a vehicle is involved in an accident or traffic ticket stop, where financial responsibility cannot be determined, the on-site LEO can have the car impounded, regardless of damage.
Although the impounding agency is required to notify the owner of an impounded car within two days, you can find out where your vehicle is by calling the local Police Department's non-emergency number.
How to Recover Your Impounded Car Before the 30 Days Are Up in Bakersfield, CA
An owner of an impounded car can recover the vehicle before the 30 days are up for a variety of reasons, such as when an owner lent a vehicle to someone with an expired license. They must simply provide their DL, registration, and proof of insurance. The owner must first get a vehicle release order from the local police, and the owner is still responsible for paying the towing and storage expenses to the garage and the $120.00 release fee to the city regardless of their knowledge of the other driver's DL status. However, if your impounded car was stolen or involved in a crime, you will need to speak with the investigating officer to find out if your car can get released.
The owner must bring the vehicle registration or a pink slip (with the previous owner's release), the DMV completed registration form, and a picture ID. If the registered owner of the impounded car does not have a valid DL, they must be accompanied by a licensed driver.
If you disagree with any portion of the towing, storage, or release fee, you can request a post-storage hearing in person or in writing. You must request the hearing within ten days of the impounded car's release. The owner or agent of the impounded car must pay in full the towing and storage, plus the release fee, any portion of which could get refunded depending on the outcome of the hearing.
Bakersfield Traffic Ticket Defenders
In Bakersfield, CA, call Bigger & Harman, (661) 349-9300, when you have questions about fees for your impounded car, you require assistance getting it back, or legal assistance at an administrative hearing. Cars and trucks impounded by LEO generate significant revenue for California towing companies, cities, and counties, making it a big business.
Bigger & Harman are traffic ticket defense lawyers and only practice traffic law. Whether you need assistance with an administrative hearing, a DMV Hearing, or a traffic ticket; they can help. They regularly appear in traffic courts across the Central Valley and are knowledgeable and experienced in handling impounded car disputes and hearings.
Alternatively, send an email, attorney@biggerharmanlaw.com with the details or a pm to their Facebook Business page, providing a summary of your complaint. They will reply with your options and a flat fee quote for resolution as soon as they receive the message.
Visit these Avvo, Nolo, or Yelp websites for further assurance of their legal qualifications. While there, you can read client comments, endorsements, and recommendations.
Se habla Español 661.349.9755.
References:
The 2018 CA Driver Handbook .pdf
CVC 12500, Drivers' Licenses; CVC 14601 & CVC 14602.6; Violation of License Provisions; CVC 22850.5, Removal of Parked and Abandoned Vehicles; CVC 40508, Release Upon Promise to Appear; CVC 4000, Vehicles Subject to Registration
City of Visalia PD, Vehicle Release Information Sheet