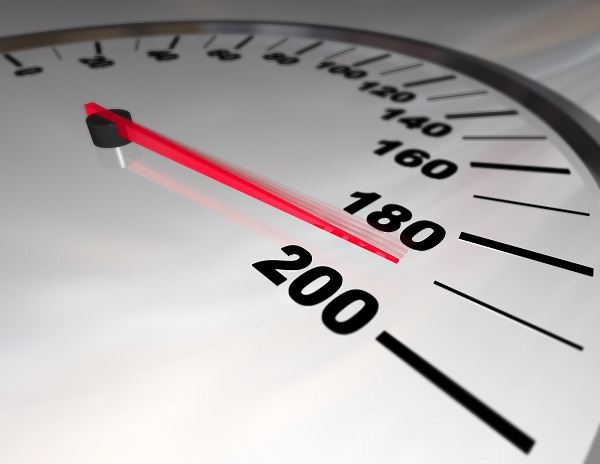 Getting a speeding ticket is never a positive experience, especially if convicted or just paying the fine without challenging the ticket. On top of having to pay the fine, your auto insurance company will likely raise your premiums. If you receive a speeding ticket, there are a few options available. Consult with a traffic ticket attorney to possibly avoid significant fines, Negligent Operator Treatment System (NOTS) points, and increased insurance premiums.  
Four Levels of Penalties for a Speeding Ticket
The graphic below shows the four levels of penalties you can expect when convicted of a speeding ticket:

Traffic School
You can use a DMV-approved traffic school to mask a traffic ticket conviction once within an 18-month period. The time goes from citation date to citation date and not attendance. Traffic school is a defensive driving course officially called a "traffic violator school,"designed to remind drivers of traffic law and strengthen their knowledge of how to react to road hazards. The DMV has authorized hundreds of traffic schools both online and in-classroom courses around the state. You can check for an approved school here. There is a lot of competition for these schools, so look around. The price for an online course starts at $6.00, but some hide the fact you must take a proctored final exam, which they might charge you for, making it more expensive than other schools, so beware.
Your court-issued courtesy reminder will state if you are approved for traffic school and give you a deadline to complete the course. The school will send the completion certificate to the DMV, but keep a copy for yourself in case it does not get posted in your MVR. 
On the courtesy notice it might state you are eligible for traffic school even for a "fix-it" or non-moving violation ticket (such as a cellphone ticket) but attending will have no benefit unless you have never been. In this case, you might get an insurance discount. Although anyone can attend a defensive driving course, you cannot keep a conviction confidential if any of the following are true:
You have a valid CA driver's license
You were driving a commercial motor vehicle (CMV) when ticketed
Mandatory court appearance is required
25 mph over the speed limit 
Less than 18 months since you used traffic school to mask a ticket
Alcohol or drug-related
Misdemeanor or felony
Remember, it's up to you to complete the course before the court-ordered date and use traffic school wisely. If you have two or more closely spaced tickets, it would be beneficial to consult a traffic ticket attorney because you can only mask one conviction and your auto insurance could consider one a higher risk than the other. Likewise, it may not benefit you at all and just cost you more money and time spent.    
How to Prevent Getting a Speeding Ticket in Kings County
You can usually avoid getting a speeding ticket by obeying the speed limit. It is the best way to keep your driver's license clean and avoid NOTS points on your MVR. When driving, always look for speed limit signs, especially in new areas you are not familiar with throughout Kings County. Unless posted for 70 mph, the speed limit on freeways in CA is 65 mph, except trucks, buses, and vehicles hauling trailers, which are restricted to 55 mph statewide according to CVC 22406 & 22407, Speed Laws. CVC 22407 gives Caltrans and local authorities the right to reduce the speed limit for these vehicles even further due to road conditions and grades.
CA Vehicle Code (CVC) 22350, Speed Laws prohibits any driver from driving faster than is "reasonable or prudent" because of weather, road width and condition, or visibility. The law enforcement officer (LEO) on the scene does not need to use radar or any other speed measuring device to determine the driver's speed. The LEO must state how fast he thought you were going above the safe speed and if you are convicted that is the basis for your fine and penalties (see the chart above). Traffic court judges usually accept the opinion of experienced LEOs who determined your speed to be excessive for the road conditions. This is particularly true when the driver does not have legal representation. 
Kings County Traffic Attorneys
If you were unable to prevent receiving a ticket and you are unsure of what to do next, consult with a traffic ticket attorney. While it may not seem affordable to hire an attorney to fight a speeding ticket, working with a traffic ticket attorney is a way to reduce financial strain through reduced penalties or to eliminate those altogether. With the rising costs of traffic tickets, hiring a traffic ticket attorney is more affordable than the fine and increased insurance. Attorneys who specialize in traffic tickets help reduce the risk of increased auto insurance rates depending on your driving history. 
If you've already used traffic school for a ticket within the previous 18 months, just one conviction for speeding could cost more than $2000, depending on how fast you were going over the speed limit.
If you have a speeding ticket and court date in Hanford Traffic Court in Kings County, CA, call Bigger & Harman, (661) 349-9300. Bigger & Harman represents Kings County drivers using a fixed price, so you always know how much it will cost.      
Email attorney@biggerharmanlaw.com, include a scanned copy of the speeding ticket, and we will reply with our recommendation. Not all tickets are winnable. In some cases, it is best to pay the fine and attend traffic school. You won't know until you give us the opportunity to look at your case.    
Check the Bigger & Harman, APC Facebook page periodically for legal tips, reminders, and links to sites that assist with traffic laws and changes to requirements.  
Visit the Avvo, Nolo, or Yelp web pages and read client feedback and endorsements about our legal service. 
Se habla Español 661.349.9755.
References:
The 2018 CA Driver Handbook .pdf
The DMV.CA.GOV portal
CVC 22350, 22348, 22406, & 22407 Speed Laws
The 2018 Judicial Council of California's Uniform Bail & Penalty Schedule