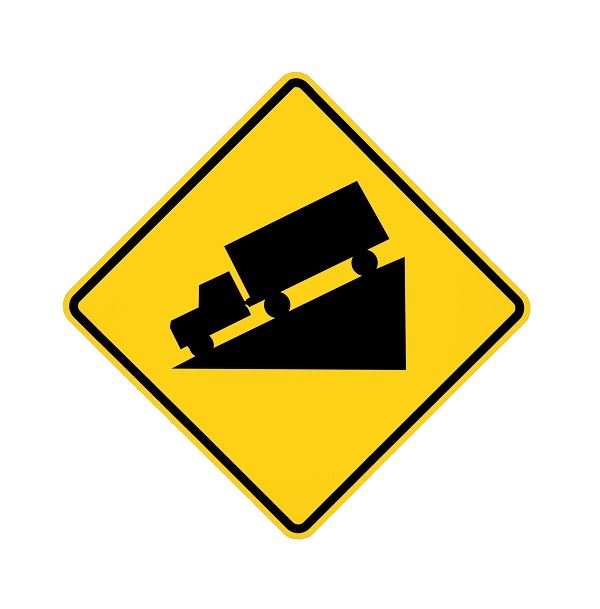 Want to see some beautiful California sights? Just don't get caught speeding. From the border with Lake Tahoe, Nevada south to Badwater Basin and Dante's View, US Highway 395 may not be the best-known CA freeway, but if you want to see a half dozen or more National Parks and Forests, such as Death Valley, Yosemite, Kings Canyon, Sequoia, and others, route 395 just east of the Sierra Nevada mountain range is the road to use to get to those places.
Highway 395 takes you near some of the highest highs (Mt. Whitney) and the lowest lows (Badwater Basin) in the continental US and you could veer off 395 and head out to Bodie, a real miner's ghost town. Some say it has real ghosts. Or, further south you can visit Ancient Bristlecone Pine Forest with some of the oldest trees on earth at around 5000 years old.
Speeding 105 MPH on US 395
Rolling down one of those higher highs headed toward one of those lower lows, you just don't realize how fast you can get going until you hear that siren behind you. It was a beautiful day, the weather was clear, and you can get going pretty fast coming down those mountains without realizing it. My speedometer read 105 mph as the siren wailed.
The law enforcement (LE) officer was very nice and ticketed me for speeding, going 105 mph in a 65-mph zone. Without really knowing what I should do, I signed the citation and promised the LE I would be at the arraignment the next day.
An Even Bigger Mistake (Almost)
Bridgeport is about 300 miles from LA, so I grabbed a hotel room and went online to see about a lawyer. As I poured through several Yelp ads and reviews for lawyers who work in south-central CA, I came across several reviews for Bigger & Harman. It stated that Bigger & Harman, APC has an Avvo rating of 9.4. Even an "Average Joe" like myself knows that's excellent, but most of the reviews stated that these guys were easy to talk to and got awesome results in traffic court.
I still felt leery about calling a lawyer for a traffic ticket, even though I knew I would have to pay a huge fine and get two points on my license. I had never had a ticket before and now I was facing an increase in my insurance premium for the next three years or more.
I decided not to call Bigger & Harman. I felt I was wrong and I should go to court the next day plead guilty and pay my fine. But, as I sat there waited for my turn, another guy without a lawyer was convicted of speeding over 100 mph. The judge looked at him and asked him if he had his license with him. He replied, "Yes." The judge said, "Give it to the bailiff, your driving privileges are hereby suspended for 30 days."
I started to panic and wished then that I had called Bigger & Harman. Luckily, the very next lady stood up and pleaded not guilty. The judge gave her a court date a couple of months later, then I knew what I had to do.
Excellent Advice from Bigger & Harman
As soon as I got out of the courthouse, I was on the phone to Bigger & Harman. I spoke to a receptionist who told me to send a scanned copy of the speeding ticket and a brief description of what happened. She was able to tell me what type of possibilities we could get in that particular court and explain that the attorney would be there working hard to get the best result possible. She was honest and well informed and offered to put me through to the attorney who handled that court if I had more questions. I knew I was in good hands.
Yes, there's lots to see along US 395, but one of the places I wish I hadn't seen was the inside of Superior Court in Mono County. From the outside, this courthouse appears to be a beautiful historic building, but on the inside, it is hotter than hades in July.
Calling Bigger & Harman was the smartest move I made on that trip. I don't know how the rest of this will turn out yet, but just keeping me out of that courthouse again is worth every penny.
Don't Go it Alone!
In Mono County, just as in Inyo, Kern, Fresno, and a few others in south-central California call Bigger & Harman, 661-349-9300, for tough representation for speeding or any traffic violation. Or email their office: attorney@markbigger.com to make an appointment for a FREE consultation regarding your speeding ticket. Don't go it alone.
En español, llame al 661-349-9755.
---