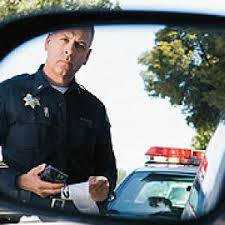 An Oregon court has ruled that flashing your headlights is free speech under the First Amendment.
In the fall of 2013, Christopher Hill, a truck driver from Klamath Falls, saw a sheriff's deputy on the road. Mr. Hill flashed his headlights to warn a UPS truck. The deputy then gave Mr. Hill a ticket for illegal use of headlights. He fought the ticket and won. Judge Joe Charter ruled in March 2014 that Mr. Hill's conduct was Constitutionally-protected free speech.
Flashing headlights is a very common practice among American motorists to warn others about a speed trap or police car.
This case is not binding in California, but can have an effect on the way the law is applied. Currently, Vehicle Code Section 25251 allows motorists to flash their lights only in these situations:
A policeman may or may not give you a ticket for flashing your lights, but officers are well within their rights to do so. Other warnings, such as activating your windshield wipers, are illegal in California as well.
If one of the recognized exceptions does not apply, a free-speech defense may be the best idea. An attorney practicing in Bakersfield can use this argument either at your trial or as a negotiating tool with the prosecutor to have the fines and/or the points reduced.