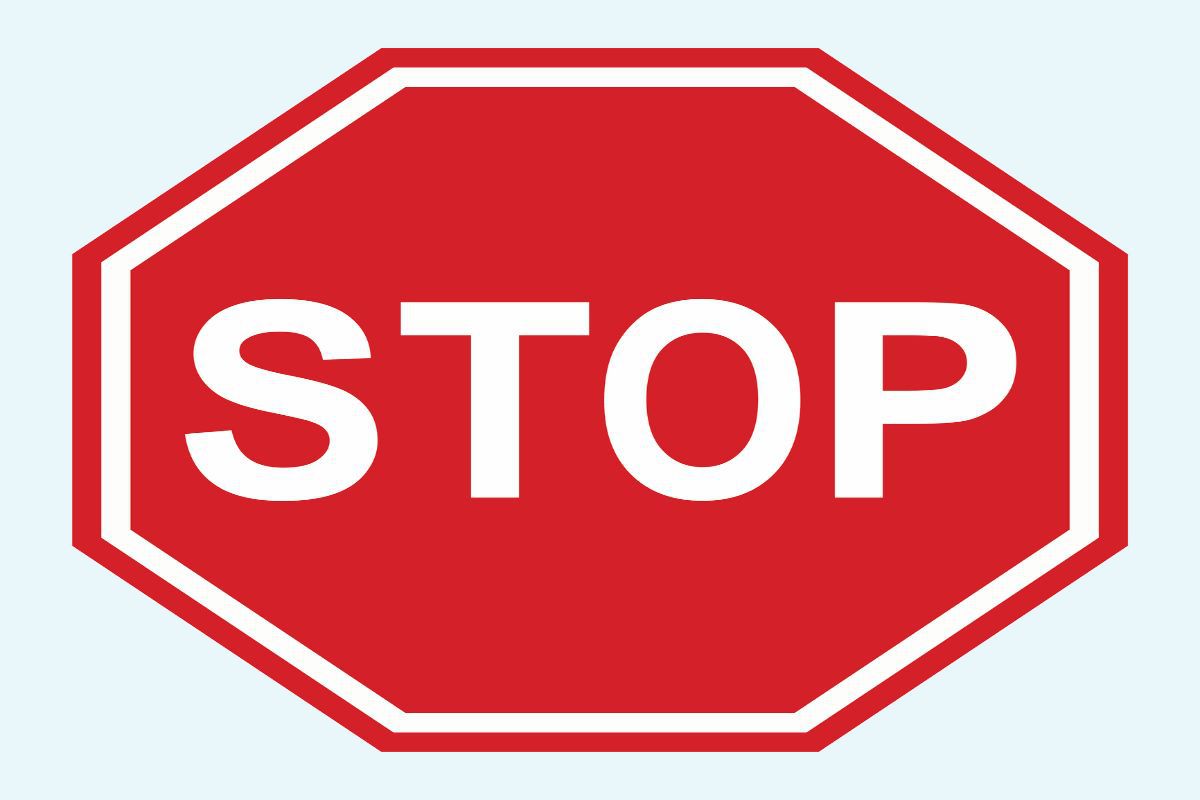 Always consult a traffic ticket attorney about your ticket; they could save you a lot of money.
The CA Vehicle Code (CVC) Section 22450, Special Stops Required, provides instructions about your actions as you approach a stop sign. It states, "(a) The driver of any vehicle approaching a stop sign at the entrance to, or within, an intersection shall stop at a limit line…"
It provides various scenarios to clarify actions if there is a crosswalk or railroad crossing. Of course, if someone is in the crosswalk and the limit line is on the other side, you must stop for the pedestrian.
Likewise, if a railroad crossing is before the stop sign or limit line, you must stop to check for an oncoming train. The CVC says, "…before crossing the first track…."
Some might say that is common sense, while others want a literal explanation of their actions.
Then the question might arise, if I stop at the crosswalk, allow the pedestrian to cross, and proceed, am I required to stop again at the limit line? To be safe, you must. Suppose a law enforcement officer (LEO) pulls up late to the intersection and doesn't see your first stop. Another question that might arise is, could you clearly see traffic coming on the crossroad to know if it was safe to proceed?
A traffic ticket for failure to stop at a stop sign might raise several questions. Did the LEO have a clear view of your vehicle before and after the stop? Could they see where the limit line was from their position? Sometimes, the limit lines are so faded you can barely see them up close, let alone from across the intersection or an angle.
We've come to understand that a rolling stop is not legal or proper. It could be dangerous. Safety should be the primary consideration at a stop sign.  
Should You Challenge a Stop Sign Ticket in Traffic Court?
There is never a clear-cut answer to whether you should challenge a traffic ticket or not without looking at the circumstances. However, consulting a traffic attorney could save you a lot of money because they have the experience and knowledge from several court cases much like yours. They can look at the circumstances and determine if you should challenge the ticket or plead guilty and accept traffic violator's school (TVS) if you are eligible.
TVS is another murky issue at times. For instance, if you have two tickets, TVS will likely not do you any good financially. In fact, it could be a waste of money, and CA Traffic tickets are already too expensive, especially when they raise your auto insurance premium. 
Some Facts About TVS & Your Stop Sign Ticket
Although the court reminder might say you are eligible for TVS, it is a generic statement. All they look at is the offense. If it were a minor infraction, they would say you are eligible. The truth could be different.
You are not eligible if you've used TVS during the previous 18 months to "mask" a traffic ticket.  Therefore, if you have two tickets pending, you should fight both of them to see if you can beat at least one and take traffic school on the other ticket. Never attend TVS for a "Fixit" or correctable ticket.
Say, for instance, you left your driver's license (DL) at home, all that is required is for you to take your license to the police department (PD) where you received the ticket, and they will fix it. The same is true for loud exhaust; get it fixed and take the recipe for repairs to the PD.
Plus, you must have a valid CA DL, you must not have been driving a commercial motor vehicle (CMV) when ticketed, and your citation must not have been for an alcohol or drug-related incident, misdemeanor, felony, or have a mandatory court appearance. 
When a traffic attorney recommends you plead guilty and accept TVS, you must plead guilty, pay the fine to the court clerk, pay the admin fee (usually $64 in Tulare County), the tuition, and complete it prior to the court-ordered date. If you do not complete these steps, your stop sign ticket will be visible to the public, and at renewal, your auto insurance company will see your conviction and your insurance rates will likely rise.
After insurance has taken your discount, they will add the 10-12 percent increased risk based on your conviction for failure to stop at a stop sign. So, if you get another ticket or don't finish on time, it could cost you around $600 a year for the 3 years the ticket will stay on your record.
Your best bet is to consult a traffic ticket attorney.
If we didn't answer your question here, perhaps the answer you are looking for is on our webpage, Charged with Running a Stop Sign?  
Contact Bigger & Harman, APC, about a Stop Sign Ticket in Tulare County, CA
Use our handy contact form for a consultation with Bigger & Harman, APC, the Bakersfield, California, traffic lawyers; call (661) 349-9300 or email attorney@biggerharmanlaw.com.
We regularly appear in Tulare County Traffic Court in Porterville and Visalia to assist drivers with traffic tickets. Contact us today with a scanned copy of your ticket.
"Hire and trust Mr. Bigger. The end result speaks for itself!" — J. Dubuque.
Se habla Español (661) 349-9755.
References:
The 2021 CA Driver Handbook English y Español
CVC Section 12810, Issue and Renewal of Licenses.
The Bankrate article, Average cost of car insurance in California for 2022.