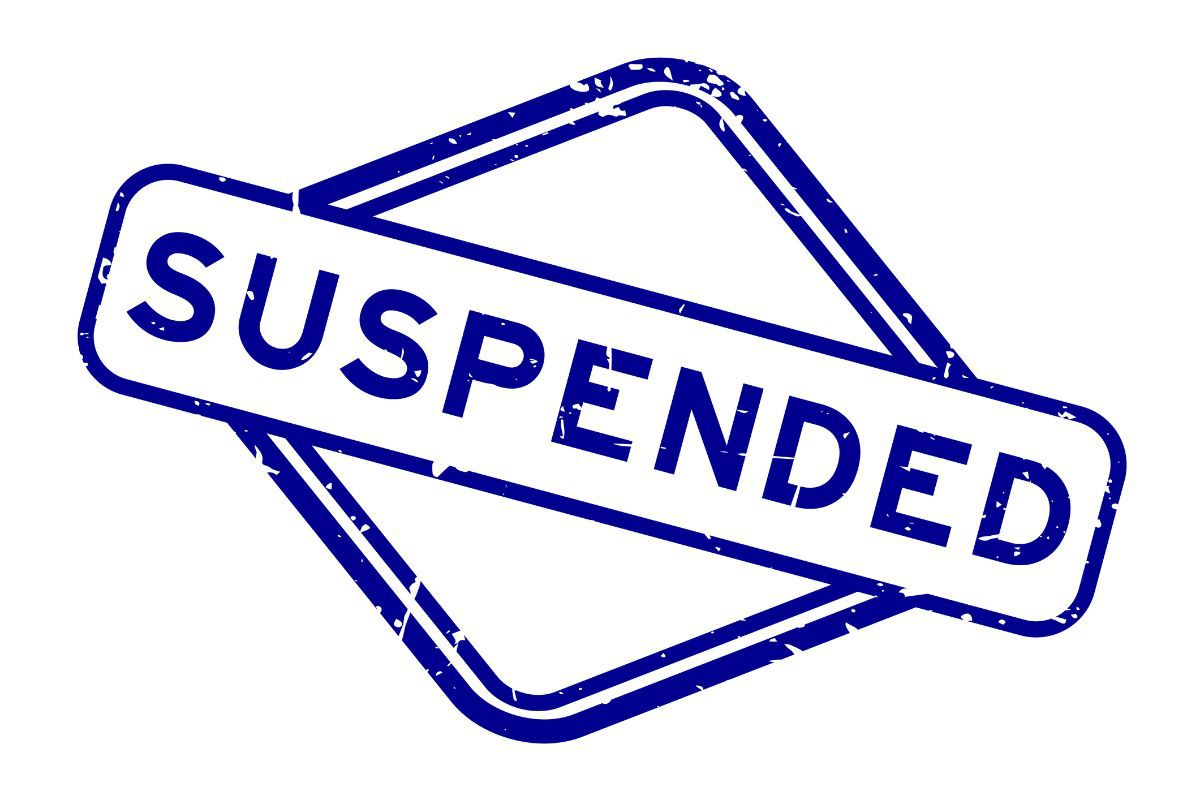 Driving with a suspended license in California is a misdemeanor crime. 
CA Vehicle Code (CVC) Section 14601, Violation of License Provisions, states, "No person shall drive a motor vehicle at any time when that person's driving privilege is suspended or revoked… if the person so driving has knowledge of the suspension or revocation. Knowledge shall be conclusively presumed if mailed notice has been given…"
Therefore, if the DMV mailed the notice to your address on file, and a reasonable length of time had passed so that it could be assumed you received it, that could be all the prosecutor needs to prove knowledge. Of course, the final determination in a jury trial is the jury or a Superior Court judge when the case is presided over by only a judge. 
However, if you moved without notifying the DMV, you might be guilty of not updating your address, but the prosecutor could not automatically assume you knew your driver's license was suspended. A knowledgeable and experienced defense attorney would point this out to the judge.
It could be considered a "wobblette." A woblette is a violation that lies somewhere between an infraction and a misdemeanor. The judge could rule that the act of driving with a suspended license was not severe enough to be a misdemeanor and agree to downgrade the charge to an infraction.
This downgrade frequently happens when the original reason for the suspension was not flagrant or egregious. Some driving violations, such as reckless driving, speed contests, and hit and run, are severe, and a violation of that suspension is mandated by code to be a misdemeanor. If convicted, these violations carry more severe penalties.
When this happens, the defendant and their attorney must agree to the downgrade because the burden of proof is more difficult with a misdemeanor; a defendant is allowed a jury trial and guaranteed all their constitutional rights, such as the right to an attorney, even if they can't afford one and others.
Three Common Defenses for Driving with a Suspended License 
These defenses often include:
The driver did not know about the suspension.
There was no suspension, or the suspension was not legal.
The defendant had to drive due to an emergency.
A knowledgeable traffic attorney with criminal trial experience will consider all scenarios presented by the driver but will choose a defense that has the highest likelihood of success.
What Are the Consequences for Driving with a Suspended License? 
The CA traffic code allows the judge to sentence the driver to up to 6 months in county jail or up to 180 days of probation, a fine of between $300 and $1,000 or both a fine and jail time, depending on which vehicle code subdivision was used.
Our blog post, "The Consequences of Driving with a Suspended License," goes into more detail about the severe consequences possible under CVC 14601, mainly when a subsequent conviction occurs within five years of the first.
Consult the Traffic Law Team of Bigger & Harman, APC, About a Driving with a Suspended License Charge 
Before making a statement to law enforcement or court officials, call or email Bigger & Harman (661) 349-9300. Remember, "you have the right to remain silent."

When you have access to a computer, use our online contact form to set up a free, no-obligation consultation. 

"Paul Harmon YOUR THE BEST!! YOU ROCK!!" — D. Samuelson, Lamont, CA.

Se habla Español (661) 349-9755.

Email: attorney@biggerharmanlaw.com. 

References:

The 2021 CA Driver Handbook English y Español

CVC Section 14601, Violation of License Provisions