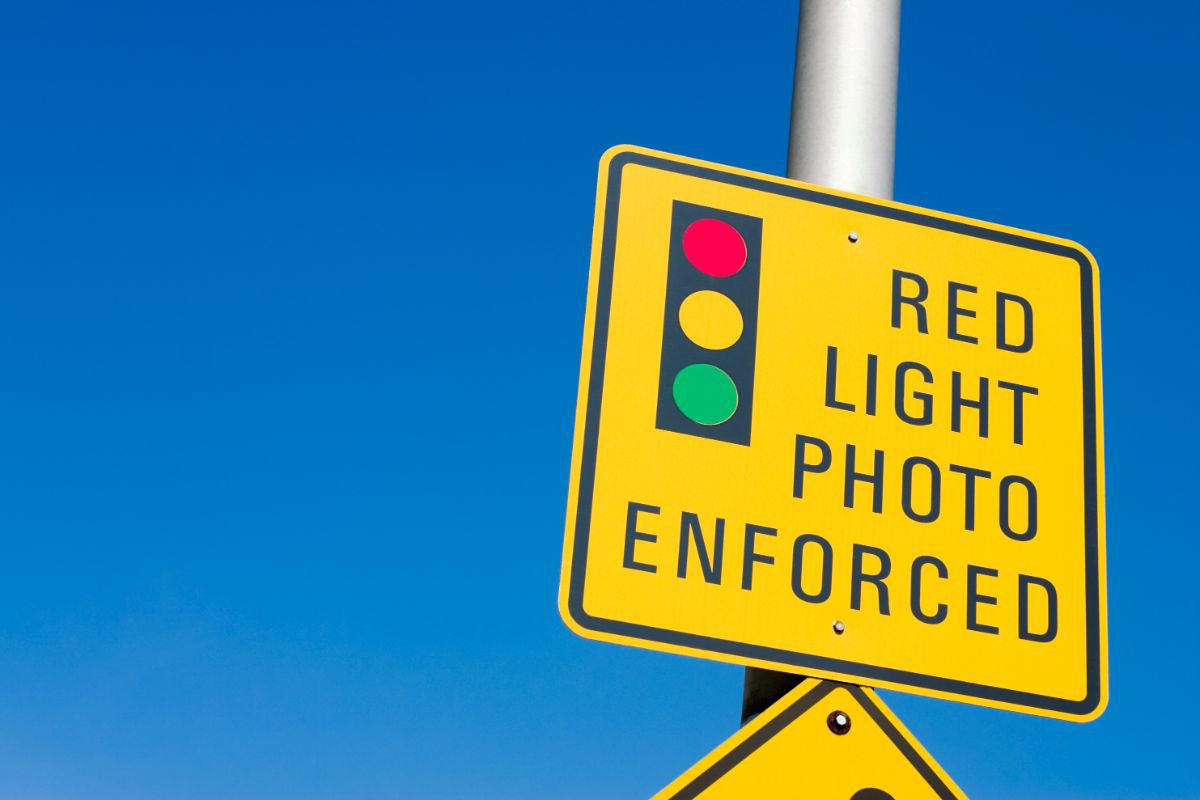 The tickets gathered from red light cameras around the state are part of a complicated system. Therefore, before you consider paying a fine, which can be $490 to $520, and one negligent operator treatment system (NOTS) point that could raise your insurance by more than $595 annually for three years—you should consult the Bakersfield traffic ticket team.
However, to answer the question Can red light cameras be hidden in Bakersfield, CA, the answer is no. CA law requires all counties using red light cameras to warn drivers coming in each direction about the use of red light cameras at the intersection. 
However, the warning sign does not need to be directly at the intersection, and in heavy traffic, you might not see the warning sign. If you get a ticket, you should check the intersection for the signs, and contact a traffic attorney. 
The City of Bakersfield even publishes the location of eight intersections with photo-enforced red lights on its website.   
Sensor-Triggered Red-Light Cameras
Bakersfield and many other cities use a sensor-triggered system run by a private company. When the vehicle enters the intersection while the light is red, it triggers the camera to snap an image and a video of the driver and license plate.
Legally an experienced traffic officer must view the still image and the video before it is sent to the owner of the vehicle. However, many police departments apparently train their officers to make this review cursory at best. Drivers who receive one in the mail are advised not to pay the fine until they speak to a traffic attorney, and never divulge who was driving. It is up to the State to prove you were driving. 
When the photo is grainy and you cannot identify the driver, typically, the judge will dismiss the ticket, particularly when skilled counsel represents the driver. 
The red light cameras are more apparent at night because you might see the camera flash. Even when you don't see the flash after a traffic officer reviews the video and image, you will receive a camera-enforced red light ticket in the mail, with the image evidence, and information about challenging the ticket. Also, there will likely be information about paying the fine.  
The Actual Cost of a Red Light Camera Ticket with a Paid Fine
However, the driver must consider what a paid fine will cost beyond the fine. No matter how affordable a $500 fine may seem, it is just the start. Unless you are eligible to attend traffic violator's school (TVS), your auto insurance in Bakersfield, CA, will likely rise by around 30% despite your previous driving record.
You might ask why that is. First, your auto insurance provider will take your "good driver's discount" of 20%, and second, they'll add the applicable risk of a red light ticket conviction. That's usually 10 to 15%. 
According to Bankrate, the average full-coverage policy in Bakersfield is $1,984 annually or $165.33 per month. Therefore, your new rate after a red light ticket paid fine will be $2,579.20 annually or $214.93 per month for three years. You will not get your good driver's discount back until the paid fine comes off your driving record, usually 36 to 39 months.
That increase could cost an average of $1,785.60 more in auto insurance premiums, plus the nearly $500 fine. Don't you think you could hire an attorney for less than 2,285.60?
For additional reading and clarification on this subject, read Living a Red-Light Ticket Nightmare in Bakersfield.
Consult the Bakersfield Traffic Ticket Team or Bigger & Harman, APC, about Your Red Light Camera Ticket.
Call Bigger & Harman at Bakersfield (661) 349-9300, use our website's contact form to set up an appointment for a consultation quickly, or email us at attorney@biggerharmanlaw.com. 
We vigorously defend traffic tickets, including red light camera tickets for CA drivers. We have been asked to represent more than 20,000 drivers in traffic court during the past decade.    
References:
The 2021 CA Driver Handbook English y Español.
The Bankrate article, Best cheap car insurance in Bakersfield for 2022.