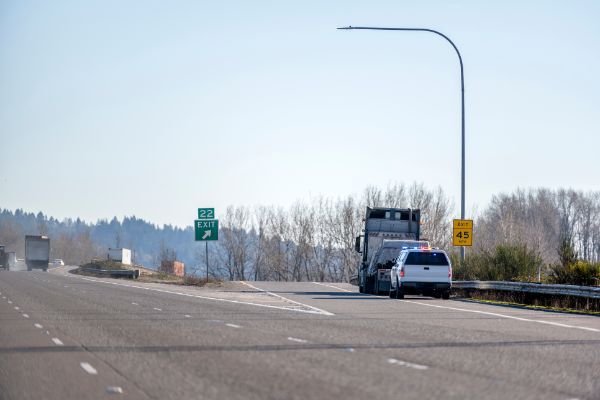 The CDL violation of speeding in a CMV can get you fired. What many novice drivers do not realize the turnover rate at large trucking firms is close to 90 percent due in large part to drivers who got too many CDL violations.
CDL Violations
Sometimes, even one violation is one too many. Look at how many CDL violations are FMCSA "serious offenses" such as:
Following to close
Railroad crossing violations
Unsafe lane change
Excessive speeding (15 mph or more over the limit or speeding in a construction zone)
Drug or alcohol-related offenses
Driving without a commercial learner's permit (CLP), commercial driver's license (CDL), or correct endorsement
Using a hand-held device while driving (texting or calling)
Reckless driving
Fatal accidents
Any of these will get you a minimum 60-day disqualification upon a second conviction within three years except that railroad crossings and alcohol or drug convictions will get you an immediate suspension.
Although it's correct that a third conviction of a serious offense within three years will get you disqualified for 120 days, it is an uncommon occurrence because most firms will not keep you on their payroll long enough. This situation typically only happens with owner-operators or independent truckers.
What's more, a conviction of one of these offenses in your private (non-CMV) is reportable. In other words, if you are convicted of any moving violation, you must notify your employer in writing within 30 days. The conviction in a non-CMV will not lead to a disqualification but could give the zero-defect fleet manager an excuse to dismiss you.
Even when you stay on after a serious offense, a second conviction will get you disqualified for 60 days. How many trucking firms will keep your spot open for those two months? Once you are terminated nowadays with the Pre-Employment Screening Program (PSP) procedures, it is inconceivable that you would get hired somewhere else.
Speeding Through a Construction Zone in a CMV
Any CMV speeding in a construction zone is a serious offense. The Cornell Law School's Legal Information Institute (LII) does a terrific job of explaining the various serious offense scenarios, periods of disqualifications, and lifetime bans.
However, if you face a specific serious offense or CDL violation in your CMV or private vehicle, you should consult a California traffic attorney.
Contact the California Traffic Law Firm of Bigger & Harman, APC
Call Bigger & Harman, (661) 349-9300 when you have a traffic court date in Roseville, CA. Se habla Español (661) 349-9755.
We offer CDL holders and other drivers a free initial consultation, and when you agree to our services, we will resolve your issue with a fixed price. Therefore, no matter who many court appearances we need to make on your behalf, the price does not change.
Email: attorney@biggerharmanlaw.com.
References:
The 2019 CA Commercial Driver Handbook.pdf
The Cornell Law School LII article, Disqualification of Drivers