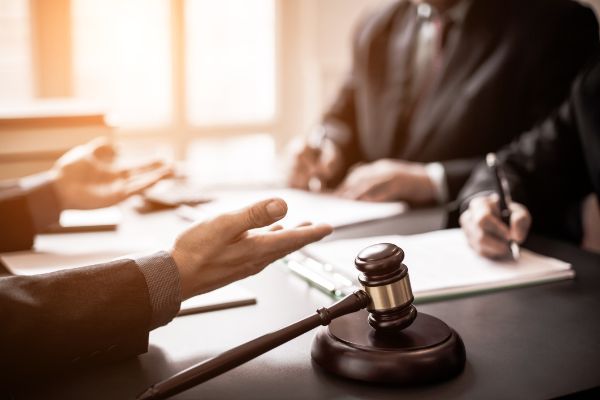 Have you received an Order of Suspension/Probation from the DMV? You must immediately request a DMV NOTS Hearing. You have only ten days to request a hearing from the date the DMV mailed your notice.
It may seem like an overdramatization, but it is not. Hundreds of thousands who lose their driving privileges never get them back. For many CA drivers, this is the beginning of a downward spiral that ends in unemployment, homelessness, and destitution.
According to the American Civil Liberties Union (ACLU), the DMV projects there are 600,000 Californians with suspended licenses.
The ACLU's Director of Litigation and Advocacy states, "No one should be forced to choose between keeping their driver's license and putting food on the table for their family. The DMV must stop punishing people for being poor."
Who or What Authorizes the DMV NOTS Hearing?
The DMV is authorized by the CA legislature and governor to administer NOTS. This authority was granted under CA Vehicle Code (CVC) 12810 and 12810.5, Issuance and Renewal of Licenses. CVC 12810 authorizes the DMV to assess non-commercial violators two NOTS points for hit and run, DUI, speeding 100+ mph, reckless driving, and other misdemeanors or felonies. Also, one NOTS point for minor infractions such as speeding, red-light or stop sign violations, and others, plus at-fault accidents. Non-commercial drivers are allowed to use Traffic Violator's School (TVS) to mask a minor infraction conviction.
CVC 12810.5 gives the DMV authority to assess 1.5 or 3 points for convictions of those same violations by commercial motor vehicle (CMV) drivers. However, a CMV driver cannot use TVS attendance to mask a minor infraction.
How Do Out-of-State Tickets Count?
The Driver License Compact is an agreement between states that directs the state with an offense by an out-of-state driver to forward the record of conviction for a minor infraction, misdemeanors, and felonies to the home state. These records should not include non-moving violations such as parking or tinted windows.
The home state should assess the same points or penalties, such as suspensions or revocations, as if the violation happened in the home state. Therefore, if you are ticketed in CA as a non-resident, you should resolve the ticket before you leave.
According to CVC Section 40508, Release Upon Promise to Appear makes it a misdemeanor crime to fail to resolve the ticket or appear in court. This violation is typically referred to as a failure to appear (FTA). You could be tried in absentia, fines ordered, and civil penalties levied.
Regardless of the other violation on which you were to appear, the record of this misdemeanor could be forwarded to the National Crime Information Center (NCIC), the FBI's electronic clearinghouse. This information can be forwarded to any law enforcement, criminal justice, or immigration authority nationwide.
Negligent Operator Treatment System (NOTS) Suspension & Probation
The DMV files the record of conviction or collision on an individual's motor vehicle driving record (MVR). There are four levels in all, but only two automated warnings before an "Order of Probation/Suspension" is sent to the driver, making them a "prima facie" negligent operator.
Cornell Law School Legal Information Institute's (LII) definition of prima facie is the Latin for "at first sight." Therefore, it could be taken to mean that you are a negligent driver until it is disproven or rebutted. The good news is these are often overturned with the help of an experienced and knowledgeable traffic attorney.
The first level is the "Warning Letter" that gets generated after the driver accumulates two NOTS points within a year, four NOTS points within two years, or six NOTS points within three years. You could receive this warning after only one traffic conviction that is assessed two points.
The second level is the "Notice of Intent to Suspend" that gets generated after the driver accumulates three NOTS points within a year, five NOTS points within two years, or seven NOTS points within three years. This notice typically means you are on the cusp of a suspension and probation by the DMV.
The third level is when "an Order of Probation/Suspension" is sent to the driver after the driver accumulates four NOTS points in a year, six NOTS points in two years, or eight NOTS points in three years. The driver must act promptly to save their driving privileges from a possible six-month suspension and a 12-month of probation.
The fourth level occurs if the DMV receives notification that the driver had another violation, FTA, or collision (regardless of fault) during the penalty period. Another six-month suspension and 12-month probation are added. Another violation could result in a one-year revocation of driving privileges.
The driver should request a DMV NOTS Hearing and call a traffic attorney. Although there is no requirement for representation at a DMV NOTS Hearing, the driver has many rights they should consider before the hearing. Traffic lawyers attend traffic court three to five times per week, where traffic court judges decide the outcome of tickets just like those you are trying to have removed from your MVR.
Bigger & Harman, APC, Can Assist You at a DMV NOTS Hearing Anywhere in California
Bigger & Harman, (661) 349-9300, work out of their office in Bakersfield and travel across the state to protect the rights of drivers at DMV NOTS Hearing. Se habla Español (661) 349-9755.

Do not allow the state to take away your driving privileges easily. Hundreds of thousands who lose their driving privileges never get them back. For many CA drivers, this is the beginning of a downward spiral that ends in unemployment, homelessness, and destitution. DO NOT let this happen to you; give us a call.

Email: attorney@biggerharmanlaw.com.

References:

The 2020 CA Driver Handbook.pdf

Cornell Law School's Legal Information Institute (LII) website

The ACLU article, Low-Income Drivers Sue California DMV for Illegally Suspending Licenses