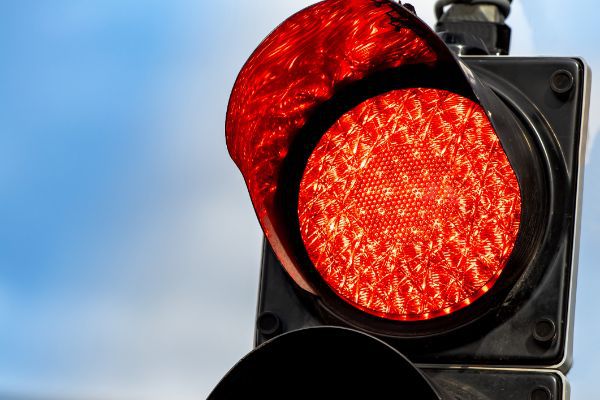 Just because no other traffic is visible does not give you the authority to dismiss a red light and go. A driver must stop before the limit line, crosswalk, or intersection when facing a red circular light or arrow when they intend to turn in the direction of the arrow or risk a red light ticket. 
The CA Vehicle Code (CVC) Section 21453, Offenses Relating to Traffic Devices within the 21450-21468 range of traffic codes, makes it an infraction to not stop at a red light. 
Although the circumstances may vary, there are two forms of red light tickets. A camera-enforced red light ticket will cost $490 for a paid fine, and a law enforcement officer (LEO) issued red light ticket is approximately $238 if convicted. The camera-enforced red-light image and video must first be viewed and approved by an experienced patrol person before it can get forwarded to its owner.
Not the Driver of a Camera-Enforced Red Light Ticket? 
If the owner was not the driver, it is typically easy to handle. Have your traffic attorney send a letter to the court clerk with a copy of your driver's license showing your picture, and ask the court to dismiss the red light ticket. It will be obvious to the court you were not the one driving.
When the court refuses to dismiss it or asks who was driving, it is not your responsibility to tell them who the driver was, but you should let a traffic attorney handle it. Practicing traffic attorneys do this regularly and know how to approach each situation.
Your Red Light Ticket & Traffic Violators' School (TVS)
Many drivers believe if they pay the fine and accept traffic violator's school, the red light ticket is forgiven or dismissed. That is not entirely accurate. 
First of all, the driver must plead guilty to use TVS attendance to mask their conviction from the public, including your insurance company. You must pay the full fine, county fee for participation, tuition, and complete the course before the court's required completion date. Unless you were driving a commercial motor vehicle (CMV), in which case, you are not eligible to attend TVS.
Likewise, you must have a valid CA driver's license. Your ticket must have been a minor infraction, speeding over 100 is a major infraction with a mandatory court date and not eligible for TVS either. Misdemeanors and felonies such as hit and run, reckless driving, exhibitions of speed, and others are not eligible. Do not use TVS for correctable tickets as these are not moving violations and do not increase insurance rates.
The Real Cost of the Fine and TVS
Therefore, when you plead guilty to a camera-enforced red light ticket, the fine is around $490, the privilege of TVS attendance is $67 in Kern County, the tuition could be anywhere from $15 or $20 for an online course to $100 for a classroom. Since the prices vary widely, check the      DMV approved class list to find a conveniently priced and located class.
One other consideration for TVS is that you can only use the class once during an 18-month period. Therefore, you should consult a traffic attorney before you decide to pay more than $600 for the fine and course. It might turn out to be a useless waste of money. This situation is especially true with back-to-back tickets. In this case, your auto insurance premium will increase about $500 per year for the three years the conviction will stay on your record. 
When you receive a red light ticket or any traffic ticket, you should consult a traffic ticket attorney with a free initial consultation to determine your options.
Red Light Ticket Attorneys Who Practice in Bakersfield, CA 
Call Bigger & Harman, (661) 349-9300. Se habla Español (661) 349-9755.
We resolve traffic issues for drivers in Kern County Traffic Courts in Delano, Lamont, Shafter, Ridgecrest, and Bakersfield, or at DMV NOTS Hearing. We use a fixed fee, so you always know how much it will cost to resolve your issue.  
Email: attorney@biggerharmanlaw.com. 
References:
The 2020 CA Driver Handbook.pdf
CVC Section 
21453
, 
Offenses Relating to Traffic Devices