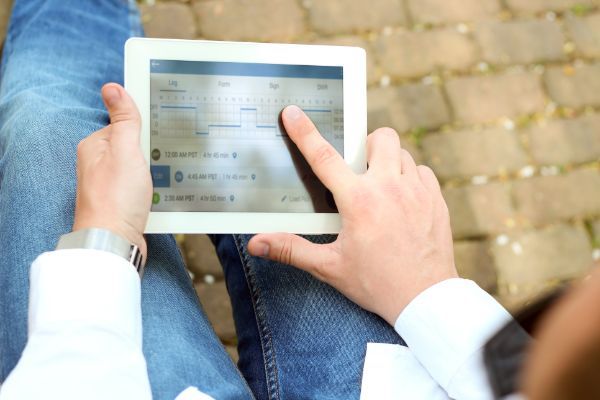 Fifty percent of those using the grandfathered Automatic On-Board Recording Device (AOBRD) plan to transition to the electronic logging device (ELD) in the fourth quarter of 2019, but the mandatory transition date is 16 December 2019. How many will wake up to idle trucks on the 17thof December because they can't meet compliance standards? Those who think you simply buy the ELD, install it, and start using it, might find out too late they should have started earlier.
If everyone waits until the fourth quarter to update, it could be like a lane closure on the freeway. There are plenty of signs, arrows, and flashers showing it's coming, but still, many drivers wait until the last minute and try to cut in front of traffic. We all know how much hassle that can be.
ELD Compliance — Over-the-Air Update or New Equipment?
Do you have an AOBRD that can simply get an over-the-air update? If not, you might need to purchase a new device. You must ensure you have an ELD compliant device. If your device is not Federal Motor Carrier Safety Administration (FMCSA) compliant, it is the same as not having one. Manufacturers are mandated to "self-certify" that their device is compliant.
A reputable service provider should be able to demonstrate that their device can perform all the required data transmissions and transfer of local data via USB, Bluetooth, or telematics.
An ELD need not be an expensive dash-mounted device. According to ELD@DOT.GOV, "An ELD can be on a smartphone or other wireless device if the device meets the ELD rule's technical specifications." For more information on the device requirements, consult the DOT FAQ page.
Time Needed to Receive and Install Equipment
When everyone waits until the last minute, it will cause a backlog on some manufacturers' ability to provide compliant machines. Even after receipt of the devices, you will need time to train drivers and staff on functionality. When a driver out on the road realizes their use of private conveyance was recorded as on-duty driving time, both the driver and fleet management must edit the log together.
Training for the AOBRD to ELD Transition
Not planning enough time for training will hamper your operations, and could cause unnecessary violations. Due to the impact on driving hours logged by the ELD, your one-day delivery could turn into a two-day trip. Taking the necessary time to work with the device will allow you to work out the quirks.
Your fleet size might determine how much time is necessary to work out the bugs with the new ELD. It will likely be less costly to do that during training than with actual deliveries. In scheduling the transition, you must consider the drivers' and customers' schedules. Likewise, what training plan will the provider have? How long will it take? Particularly if half their customers wait until the last minute.
With large fleets, driver/non-driver log-ins must be worked out. If a mechanic test drives the truck after repairs, you do not want those miles and time going against your driver's on-duty time.
How to Handle Hours of Service (HOS) and ELD Violations
Waiting could cause non-compliance or worse HOS violations. When that happens, you need reputable legal advice and counsel. Do not attempt to resolve any traffic ticket by paying the fine. Consult a traffic ticket attorney.
Traffic Tickets in SLO or Riverside County
Bigger & Harman can handle your traffic tickets from SLO or Riverside Counties, give us a call, (661) 349-9300. Se habla Español (661) 349-9755.
More often than not, we can get a result that avoids a point on your license. That's what we do. We spend the time in court so you don't have to, but we charge a flat fee, not by the hour so that you always know how much it will cost before you commit.
Send us an email, attorney@biggerharmanlaw.com.
References:
The Freightwaves.com article, Three reasons to start your AOBRD to ELD transition now