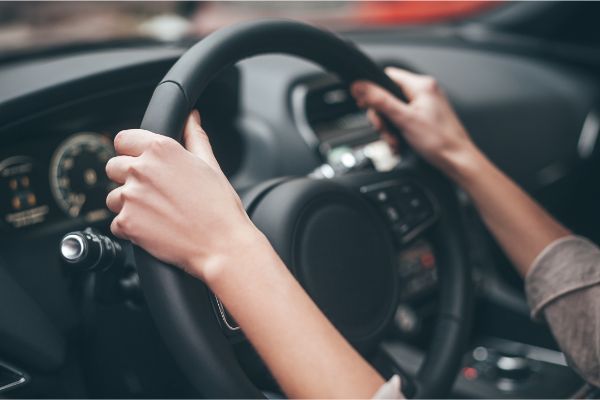 Most drivers don't think about possibly losing their driving privileges when they try to beat a yellow light. However, there are at least three excellent reasons to protect your driver's license record while driving. 
The first thing you should be concerned with while driving is protecting your driving privileges. The second, your driving record helps determine how much you pay for auto insurance. Finally, your driver's license record can make you look irresponsible to prospective employers.  
#1 — Protect Your Driving Privileges
The DMV administers the Negligent Operator Treatment System (NOTS) in California. The DMV assesses NOTS points for at-fault accidents and convictions of infractions, misdemeanors, and felonies. A minor infraction such as a speeding ticket for one or more mph over the speed limit up to 100  mph, red-light, stop sign, and other infractions for moving violations and at-fault accidents get assessed one NOTS point. A major infraction, such as speeding 100+ mph, misdemeanors ( reckless driving, hit and run with damages only, speed contests), and felonies are assessed two NOTS points.
When a driver accumulates four NOTS points within a year, six within two, or eight within three years they are found as "prima facie" negligent operators. Prima facie is Latin for "at first sight." Therefore, the DMV must look at all the facts before they suspend your license for six months and give you concurrent probation for those six months, plus six more. However, they will only do that if you request a look. You must request a DMV hearing within ten days of the issue of an "Order of Suspension/Probation."  
#2 — Your Driving Record Helps Determine How Much Your Insurance Premium Will Be
Several factors affect your auto insurance premium such as age, gender, marital status, where you park your car, how far you drive to work or school, and others. However, the most crucial factor is your driver's license record. 
When you get assessed points on your driver's license record, your insurance provider will learn of it at your next renewal. First, if you were not eligible or did not complete Traffic Violator's School (TVS), which could mask a minor infraction form your insurance company, they will rescind your "good driver's discount." 
That discount is worth 20 percent. The average Californian pays $1,960 per year for auto insurance based on the factors mentioned above. Twenty percent of that is $392, so you will pay that much more for three to ten years. Plus, depending on the infraction or crime for which you were convicted, you will get put into a higher risk category. Speeding one to fifteen mph over the limit might result in a slight rise, while speeding 100+ mph or reckless driving will cause your premium to skyrocket. It will likely double or triple.    
#3 — Your Driver's License Record Can Make You Look Irresponsible to Prospective Employers
When you apply for a job, particularly when you will have access to a company vehicle, your driving record could help you land that job. However, if you have several traffic tickets, it could have the opposite effect. 
Plus, some employers, like insurance providers, consider a recruit with multiple tickets a high risk. Even when you will not be driving a company car, some employers will take traffic tickets into account. Certainly, it might not make a difference if you are applying for a mundane, minimum wage job, but recruiters for positions of high responsibility will likely look at your driving record.  
Therefore, it is wise to protect your driver's license record by challenging every ticket with a traffic ticket attorney.
Traffic Ticket Attorneys Who Protect Your Driver's License in Kings County 
When you get a traffic ticket in Kings County, call Bigger & Harman at (661) 349-9300. Se habla Español (661) 349-9755.
We can handle a traffic ticket for you in Hanford Traffic Court. We practice only traffic law using a flat fee so that you know how much it will cost you to get your ticket resolved. We CAN ALSO HANDLE YOUR DMV NOTS Hearing if needed.
Send us an email, attorney@biggerharmanlaw.com.  
References:
The DMV NOTS Portal
CVC 12810, Issuance and Renewal of Licenses