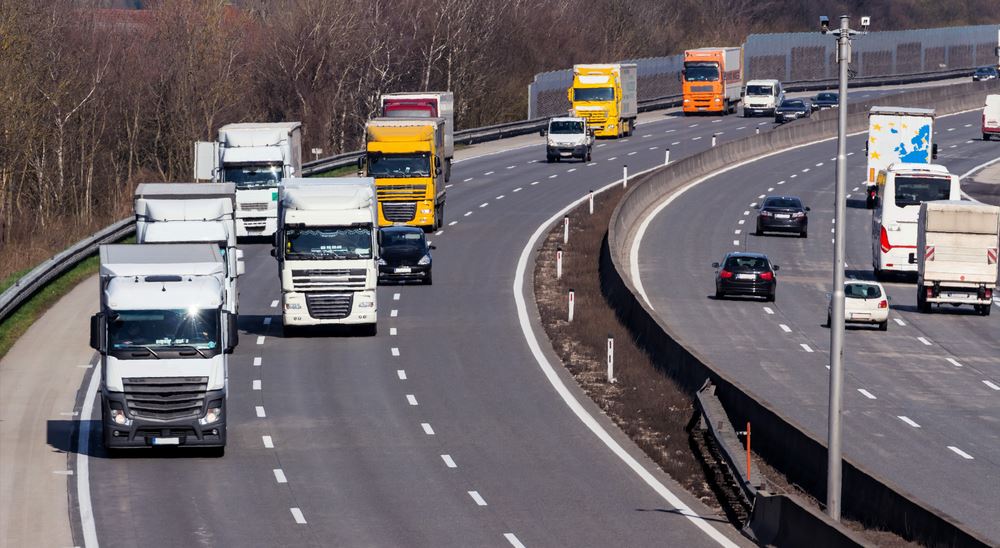 Following too closely in a commercial motor vehicle (CMV) can be costly. Not only will a conviction result in a fine, but also higher insurance, NOTS points, CSA severity points, and the possibility of termination by your employer.
CA Vehicle Code (CVC) 21703, Additional Driving Rules stipulates that a driver "shall not follow another vehicle more closely than is reasonable and prudent…" This traffic code violation is serious enough for a regular driver. A conviction has a $230-250 fine and will likely lead to an increase in auto insurance of nearly $1500 for the three years it will appear on their motor vehicle driving record (MVR) if they are not eligible or do not complete Traffic Violators School (TVS). However, a CDL holder convicted of following too closely in a CMV cannot even attend TVS to keep the conviction confidential.
In many cases, there is nothing a CDL holder can do to prevent a traffic ticket when a Class C driver pulls in too soon after passing the truck or bus. The rule according to the 2018 CA Commercial Driver Handbook .pdf is to leave a three-second gap between your commercial vehicle and the vehicle in front of you, or you might be guilty of "tailgating." But, what can you do when a driver cuts in front of you too soon?
The Compliance, Safety, and Accountability (CSA) Points
The FMCSA uses the CSA and the Safety Measurement System (SMS) to measure the potential of drivers and carriers for future crashes or collisions by using a severity point system, along with a time weight to come up with what they believe is a safe percentile for operation. Those drivers and fleets with a percentile higher than 50 will likely get pulled into the weigh station more frequently for inspections.
The system states those in the 50-74 percentile group are voluntarily scheduled for inspections at roadside inspections according to the inspectors and the Inspection Selection System (ISS). Those with 75-100 percentiles will receive more interventions such as roadside and in fleet headquarters inspections.
The system uses a complicated formula of severity points that get multiplied by three when the driver or carrier has a conviction within one of the same Seven BASIC categories, which are:
Unsafe Driving
Hours of Service (HOS)
Driver Fitness
Alcohol or Drug-related
Vehicle Maintenance
Cargo-Related
Collision Indicators
Therefore, a driver or carrier who gets convicted of following too closely, after receiving another conviction in that same category within the previous six months would get five CSA points, multiplied by three, and if it has been six to twelve months, it will get multiplied by two. These CSA points stay on the driver's record for three years, but only two for the carrier.
Turnover Rates for Following Too Closely & Other Convictions
When you consider the likelihood of a carrier's drivers getting several convictions within each category when they have 100 or more trucks or buses, the odds are very likely. That is perhaps one of the reason large firms have an 87 percent turnover rate and smaller firms around 72 percent.
Even though these are minor infractions that occur in private vehicles while off-duty and do not affect the carrier's fleet insurance, many think any moving violation is one too many. That zero-defect mentality often leads to drivers getting terminated even when there is no consequence to the carrier from the conviction in a private vehicle. When you get ticketed, you need to seek legal advice every time.
Speak with a CDL Friendly Traffic Attorney About a Ticket in Woodland, CA
When you get ticketed for following too closely on the stretch of Interstate 5 (I-5) close to Woodland, CA, just northwest of Sacramento, call Bigger & Harman at (661) 349-9300. Se habla Español (661) 349-9755.
Our priority is the driving record and individual rights of CDL holders. We practice only traffic law; therefore, we gather more knowledge and experience in traffic courts than other lawyers who accept any case they get offered. We do not claim to be better lawyers than them, just more informed about traffic law because we spend more time in traffic court than the part-time traffic lawyer. We know the judges, the clerks, and many of the law enforcement officers who appear. In traffic court, you need every advantage you can get because it is your livelihood on the line. Don't go it alone; give us a call to discuss your ticket.
Send us an email, attorney@biggerharmanlaw.com.
References:
The 2018 CA Commercial Driver Handbook .pdf
CVC 21703, Additional Driving Rules
The Balance article, A Guide to CSA Point Values and Transportation