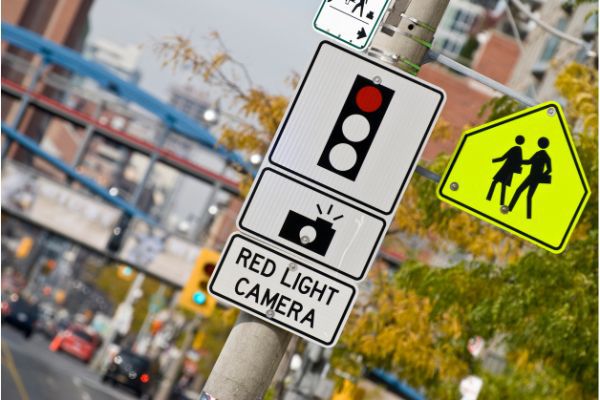 Do you want to fight your ticket? Did you run a red-light and now want to dispute it to get it removed from your record? This may become more difficult in the future as law enforcement officers in Bakersfield have active red-light cameras. You might be saying to yourself, "I thought these were not working and communities were removing them?"
CVC 21453 & Red-Light Camera-Enforced Tickets
That is correct in some places, but not in Bakersfield. The BPD enforce red-light camera tickets in traffic court. CA Vehicle Code (CVC) 21453, Offences Relating to Traffic Devices states,"A driver facing a steady circular red signal alone shall stop at a marked limit line…" There are other stipulations and regulations governing the enforcement of red-lights and camera-enforced tickets.
You should always approach a traffic ticket attorney before deciding whether to refute a ticket or pay the fine. The fine alone is nearly $500, and you will pay Kern County for the privilege to attend traffic school, plus tuition to keep your conviction confidential, or you will face severely inflated auto insurance. The average Californian pays $1500 more for coverage after a red-light ticket conviction or paid fine over the three years the violation will stay on your record.
Since 2012 many communities have removed the cameras as people believed they were simply a way to generate money. However, they are currently getting reinstalled with guidance from Caltrans on yellow light time intervals.
According to Information presented by the AAA, Institute for Highway Safety and National Safety Council (IIHS and the NSC), the purpose is to reduce accidents, property damage, and death. Reading and adhering to the council's advice can help.
Consider This Before Deciding to Fight Your Ticket
The AAA, IIHS, and the NSC have created a red-light checklist to offer drivers and communities practical guidelines for evaluating and implementing these programs. The purpose is to help communities integrate these cameras and avoid the problems that have occurred in the past. Despite the issues, studies show that red-light cameras are a proven tool to improve traffic safety for road users. When implemented correctly they help save lives and supplement law enforcement efforts.
What This Means for Drivers & Red-Light Violators
If you wish to challenge your ticket resulting from running a red-light, you will need a good traffic ticket attorney. The new red-light warning systems are considered evidence, which makes it difficult to fight these tickets on your own. You need help, so give us a call to determine if your case has a possible chance or if the evidence of the BPD will be difficult to overcome. We will provide you with straightforward advice you can trust, without legal jargon.
What to Do in Case of Injury
If you are the injured party of someone running a red-light, you should report the incident immediately after getting necessary medical aid. A timely report will give law enforcement officials time to review the footage from the cameras. You should contact a personal injury lawyer if an at-fault driver injured you.
However, if you got ticketed for running a red-light, call Bigger & Harman, APC to receive legal counsel about your ticket and to possibly avoid an increase in your auto insurance premiums. Often, the cameras produce a blurred picture so that it is impossible to determine who was driving. The state must prove you were. It is not your responsibility to tell them who was driving if it was not you.
Traffic Ticket Attorneys Near Me in Bakersfield, CA
Call Bigger & Harman, (661) 349-9300. Se habla Español (661) 349-9755. You do not have to handle an intersection red-light ticket alone. Our traffic ticket attorney services can help investigate and protect your rights. Give us a call today.
Send them an email, attorney@biggerharmanlaw.com.