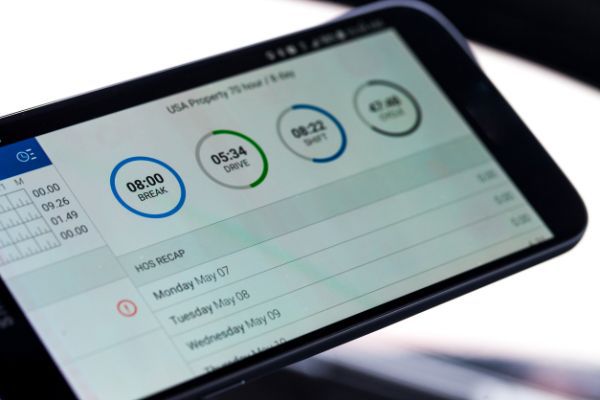 If yours is one of the fleets that has already completed the automatic onboard recording device (AOBRD) to electronic logging device (ELD) transition required before 16 December 2019, or never used the AOBRD, you can skip this article. The transfer from AOBRD to ELD must be completed before then to maintain compliance.
However, since nearly half of all trucks are still using the AOBRD, according to a recent study of Mobile Resource Management (MRM) devices competed by C.J. Driscoll & Assoc., these tips will apply to and assist the other half of independent truckers and fleets who are still working the issue. The actual numbers show 44 percent of drivers still using the AOBRD.
AOBRD to ELD: Making the Transition
If your trucks are still using the AOBRD elogs, it is time to start the transfer to the ELD. Some may think the transfer to the ELD will involve simply installing the new device, training their people to use it, and throwing a switch to activate it. Actually, that's only a small portion of what's needed.
Many of these drivers and fleets were among the first to make the switch to an elog and should be commended. However, many are not looking forward to the expense and hassle of another transition, while others assume it will be a simple switch.
Not identifying a compliant provider or implementing the necessary training required for staff and drivers could mean a difficult transition. If the December 2018 transition to ELD proved anything, it was waiting until the last minute to convert can cause a logistical nightmare for delivery and installation.
Assess ELD Providers
If the AOBRD you are currently using will not swap to ELD mode, you must buy an ELD that is FMCSA-compliant. Those who must purchase a new ELD should shop around, as there are numerous providers, many not compliant, and the warranties and services they provide with the device vary dramatically. Prices and training differ as well.
You can find information about ELD compliant machines and the required functions and features at this FMCSA website. It is essential that you choose an FMCSA-compliant ELD.
Analyze ELD Provided Training & Consumer Support
Fleet managers do not want to wait too long to initiate training; neither do independent operators. Those who have not used the ELD might discover there are vast differences and not all AOBRDs perform the same functions as the ELD. One thing neither can afford is the driver sitting in a classroom when valuable cargo sits waiting to get delivered.
Many assume it is just their drivers who need training on the ELD while the fact is, staff must get the training to assist drivers on the road with edits. If the driver used the vehicle for personal conveyance or another driver used the truck, but the driver forgets to log in that information, files sent to carrier HQ might be inaccurate. Both staff and the driver must work together to edit the error to avoid a possible hours of service (HOS) violation at a weigh station or roadside inspection.
Managers should get trained too. Whereas managers do not need to be thoroughly familiar with the device, they should know its capabilities and required reports. ELD regulations require drivers to transfer the previous seven days of logs to law enforcement when asked. If the driver cannot do it, they will need someone from staff or management to talk them through the process. FMCSA's Simple Object Access Protocol (SOAP) requires the driver to send log data to an FMCSA website so that inspectors can examine it.
Ask these Knowledgeable Traffic Attorneys Who Practice Regularly in Riverside County
When you need guidance about a traffic ticket in Riverside County, call Bigger & Harman at (661) 349-9300 for legal assistance. Se habla Español (661) 349-9755.
We handle only traffic law using a flat fee. What that means to you is that we will negotiate with court officials and submit requests for dismissal and reduced no-point violations, and you will not need to take time off to appear because we will go to court for you to resolve your ticket. Also, you will know how much you must pay us before you agree to accept our service.
We believe CDL holders deserve a professional legal advocate who understands how any moving violation can affect their PSP, and CSA points on federal systems for interstate drivers, as well as the CA DMV motor vehicle driving record (MVR).
Our law firm aims to ensure drivers get favorable results whenever possible. Our knowledge and experience with local traffic courts, law enforcement officers, and the California Vehicle Code means we will obtain the best possible outcome for you.
Send us an email, attorney@biggerharmanlaw.com.
References:
The 2019 CA Commercial Driver Handbook .pdf
The Supply Chain Brain article, Five Tips to Transition from AOBRD to ELD Compliance by David Blackwell dated 1 April 2019
The Freight Waves article, Three Reasons to Start Your AOBRD to ELD Transition Now
The Keep Truckin' article, Why It's Time to switch from AOBRDs to ELDs