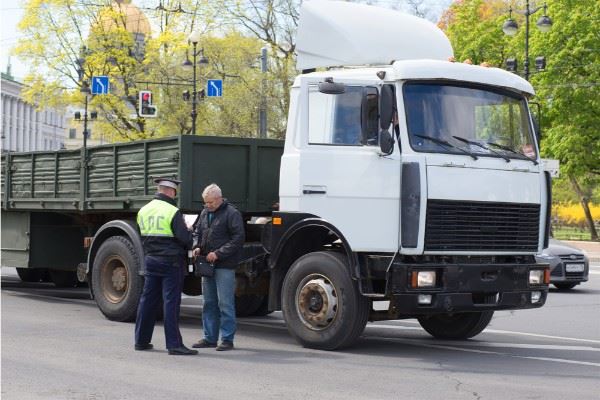 Are you a commercial driver's license (CDL) holder who drives for a living and received a speeding ticket? Well, then you must acquaint yourself with the Compliance, Safety, and Accountability (CSA), which is a branch of the Federal Motor Carrier Safety Administration (FMCSA) Safety Measurement System (SMS). Why? It is because all FMCSA regulations apply to CDL holders and carriers.
Speeding & CSA Severity Points
Most drivers are not aware of how much harm the CSA severity points can affect their CDL driving record. All convictions and even some warnings get placed on your Pre-employment Screening Program (PSP). Your PSP retains violations during roadside inspections or from traffic tickets for three years and collision reports for five years.
Also, a violation could still count regardless of whether it was a traffic ticket or a written warning. However, you can bet that if you get caught speeding in a commercial motor vehicle (CMV), you will not get issued a warning, unless it is a verbal warning, which will not get reported.
There are three levels of speeding that can earn CSA severity points, and those severity points could get multiplied by three if you have had a similar violation in the same BASICs category within the previous six months, by two within six months to a year, and at face value beyond twelve months.
The three levels are: four CSA points if convicted for speeding six-ten mph over; seven CSA points for eleven to fourteen over; and then, a ten-point maximum and an "excessive speeding" serious violation for a 15 mph over conviction. Speeding in a road construction area with workers present and posted warning signs is also a ten-point violation.
What Are the Consequences of a CDL Speeding Conviction?
How many convictions are too many? The answer could be as few as one. What does this mean for the average CDL driver? Well, you could get terminated. You will get disqualified for 60 days by the FMCSA if you have two serious violations within three years. The FMCSA considers 15 mph over the limit as "excessive speeding" or a serious violation. Another serious violation within the same three year period will result in a 120-day disqualification. Also, your personal auto insurance will increase if convicted, and you will receive a substantial fine.
The primary reason for an above 90 percent turnover rate at prestigious, high-paying trucking firms is their zero-tolerance for convictions of traffic tickets. Many of these fleet managers will terminate a driver even if they receive a conviction in their private vehicle.
There are appeals and, in some cases, convictions can get overturned or reduced, but the best method to avoid conviction on speeding tickets is to consult with and hire an experienced traffic ticket attorney before challenging the ticket. Do not risk your livelihood by accepting an offer for free representation from a relative or a lawyer from another area of law at a reduced fee. It is no bargain when your career depends on you winning.
If, however, you do win an appeal or get a conviction reduced, use the DataQ system to get your speeding conviction severity points removed or reduced. DataQs was created as a method for carriers and drivers to submit requests for correction of inaccuracies reflected on their SMS performance files.
Consult with and Hire a Local Speeding Ticket Attorney for Kern County
The first thing you should do is find a lawyer that specializes in handling commercial driver traffic violations. According to the Motor Carrier Safety Improvement Act (MCSIA) of 1999, a CDL holder can get disqualified from operating a CMV even if he has been convicted of moving violations in their personal vehicle. If convicted of a traffic violation even in your private vehicle, you must report the conviction to your employer within 30 days. Therefore, it would be wise to hire an experienced traffic ticket attorney to assist you to challenge any traffic ticket.
Traffic court moves at a much faster pace than other courtrooms. Using an experienced traffic law professional will help ensure you get heard.
So, if you are a licensed commercial driver and get a speeding ticket, you are at a greater risk of losing your commercial license even if the ticket was received while you were driving your personal vehicle. It would be in your best interest to seek out a professional attorney that handles CDL speeding tickets on a regular basis.
Call Bigger & Harman, (661) 349-9300, for a free initial consultation. We can help you resolve your traffic ticket.
Se habla Español 661.349.9755.
Send an email to attorney@biggerharmanlaw.com.
References:
The 2018 CA Driver Handbook .pdf
The 2018 California Superior Court Bail Schedule for Infractions and Misdemeanors.pdf
Careersingear.com article, What You Need to Know About Getting Speeding Tickets on Your CDL published 23 August 2016
The FMCSA MCSAC CSA Subcommittee DataQs PowerPoint Presentation