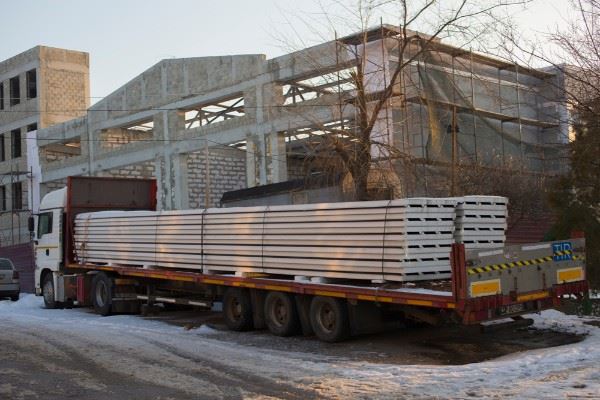 Transporting cargo, especially on flat-bed trucks requires added attention. When transporting cargo, you should make sure it is tied down securely before starting a trip. Also, recheck along the way to prevent load damage or loss to avoid roadside inspection violations and substantial fines.
Learning about Transporting Cargo
The perfect place to begin learning about transporting cargo before actually doing it (hands-on is always best) is the DMV published CA Commercial Driver Handbook. Since the DMV administers every test you need to pass to get a commercial driver's license (CDL) in CA, it just makes sense to learn from them. 
Transporting Cargo Safelybegins in Section 3, p. 3-1. Although a general understanding of securing cargo is necessary to pass your CDL test, flat-bed truckers must have an outstanding knowledge of blocking, bracing, tie-downs, other methods of securing loads and transporting cargos best-practices.   
Nothing will attract the attention of law enforcement officers (LEO) or inspection officials more than a flapping tarp. It's like waving a red flag at a bullfight; it attracts everyone's attention. Plus, loose cargo is a dangerous situation. Loose cargo could fly off and injure you or other drivers. A serious cargo dump on the highway could tie up traffic and injure or kill you and others.  
Transporting Cargo Is Always the Driver's Responsibility
No matter who actually loads the cargo, it is the driver's responsibility to ensure it gets braced, blocked or tied down securely, the driver must be able to:
Inspect cargo
Quickly spot and correct unbalanced loads or reduce an overloaded vehicle
Ensure the cargo will not block out the driver's view to the sides or ahead 
Ensure cargo placements don't cover emergency equipment or make it difficult to get to in an emergency
Before starting or continuing a trip, check the cargo to make sure everything is tied down and within weight. Then, check again after driving 50 miles and every 150 miles or three hours driving. Even when you are within the allowable vehicle weight, a load that is too top heavy or not equally balanced on each side could present a risk of rollover. Too much weight over one tire or axle is still overweight. Remember, you are responsible for the vehicle's load, weight, and balance. 
Transporting Cargo: A Delicate Balance 
Loads that are not balanced correctly make driving your truck dangerous. A balanced load is just as essential as ensuring you are not overweight. Ensure loads have the heaviest portion of the cargo distributed evenly on the lowest part of the load to equalize the vehicle's center of gravity.
Unless "fully contained" when transporting cargo, ensure the following "force ratings" are in effect by properly utilizing blocks, braces and tie-downs:  
The Forward Force must equal 80 percent while braking going straight forward
The Rearward Force must equal 50 percent when shifting gears, accelerating, climbing hills or braking while driving in reverse
The Sideward Force must equal 50 percent while changing lanes, turning or applying the brakes while turning
The Upward Force must equal 20 percent while cresting hills or rolling over bumps
Even fully containerized loads can present a risk of hands-on when not accurately balanced within the container. Although you cannot check inside containerized loads, you must ensure you are under the max vehicle weight, and the load is perfectly secured.
Prevention Is Not Always the Cure
CA Vehicle Code (CVC) Sections 23100-23135, Public Offensesstates, "Any person who willfully or negligently damages any street or highway is liable for the cost of repairing the road…" Additionally, transporting cargo that is precisely tied down and covered protects the load from inclement weather and other people from cargo spills.  
Sometimes even when the load appears perfectly balanced and within weight limits, accidents happen. When you get ticketed for an overweight truck because of an unbalanced load, a violation at a roadside inspection or when debris or cargo from the load inadvertently dumps on the roadway you need legal advice. 
Consult a Traffic Law Attorney Who Practices in Barstow, CA 
When you're transporting cargo from any of the ports at Los Angeles, Long Beach or Hueneme, the military deep-water port to Las Vegas, Fort Irwin or Edwards AFB you could get ticketed anywhere along I-15 and other routes. 
When you get ticketed at a roadside inspection station or along the highway for speeding, no permit, unsecured load or any traffic ticket, call Bigger & Harman, (661) 349-9300. Se habla Español (661) 349-9755. Remember, it is very apparent with flatbed trucking if something is not secured correctly. 
We represent ticketed drivers ticketed around Barstow, CA, and many other locations in Central Valley, Owens Valley and Los Angeles County courts like Glendale, Santa Clarita, Long Beach, Torrance, Pasadena, Inglewood and others. Drivers with traffic tickets turn to us for excellent resolution of their challenge. Although we cannot promise a dismissal or reduced no-point charge, we can pledge to give you our best.  
Email, attorney@biggerharmanlaw.com or personal message (pm) our Facebook page.   
Additionally, Avvo and Nolo, two prominent attorney referral sites on the web provide feedback from our clients to the public free of charge. Likewise, Yelp, a distinguished review service, has more than 100 reviews for Bigger & Harman's legal services.
References:
The 2018CA Commercial Driver Handbook .pdf
The Truckingtruth.com article, About the Transporting Cargo Safely CDL Exam
CVC 23100-23135, Public Offenses