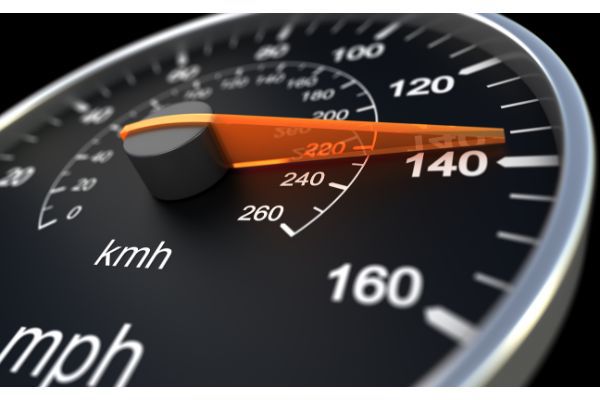 Whether you are rushing because you are late for work, or you are trying to beat your personal speeding record, driving over 100 mph could result in a costly speeding ticket. Many drivers who get a 100 mph speeding ticket consider the enormous fine, but that is only a tiny portion of the cost. Your insurance will double or triple, if the insurer chooses to retain you. 
What's more, the conviction of speeding is a major infraction that will stay on your driving record for seven to ten years. If you're like most people who must maintain full-coverage because of a new car loan, you could pay $15,000 - $20,000 more for coverage during that period. Further, if you are between 16 and 24 years of age, the "per year" premiums could be even higher. Fortunately, we have compiled a few strategies for avoiding a ticket by following the law as well as handling a ticket should you incur one.
Preventing a 100 MPH Speeding Ticket
Obviously, the best way to avoid the stress caused by a speeding ticket is never to exceed the speed limit. You can do this by making sure you budget plenty of time to get to your destination, frequently check your speedometer, and pay close attention to all traffic signs even in familiar surroundings.
Often, driving on I-15 and 40 out in the desert, you get the feeling no one is around, and you can step down on the gas a little. You're cruising along 80-85 mph, and then you pull out to pass someone just before you see the flashing lights. Too late now; you got a citation for doing 102, and the kind officer gave you an invitation to meet him at San Bernardino County Traffic Court in Barstow, CA. Which is horrible news since you live in Vegas, and you were just coming back from LA.  
How You Got Caught Doing 100 MPH
Additionally, you should always be aware of when and how law enforcement officers (LEO) determine your speed. Pay attention to when traffic around you suddenly slows as that is a possible sign that there are LEOs monitoring speeds in the area. 
They typically do this using RADAR, LIDAR, or pacing. RADAR and LIDAR operate similarly by sending out a signal which bounces of the car and waiting for it to return. The difference is that one uses radio waves, and the other uses lasers. Both are accurate if calibrated frequently and the LEO is trained on the device. Pacing is different in that it relies on the officer to follow your vehicle, match your speed for a certain distance, and determine your speed manually. 
Consequences of Driving 100 MPH or More
Driving above the speed limit at any speed could result in a speeding ticket. However, because the State of CA sees driving 100 mph or more as excessively reckless and dangerous, it comes with its own set of consequences. 
According to the California Vehicle Code (CVC) 22348, Speed Laws, the first conviction of this offense is punishable by a fine not to exceed $500. This "not to exceed" amount was before the CA Legislature approved ten additional surcharges that will turn that $500 into $900 - $2,600. Repeat offenses will incur increased penalties.
Additionally, "the court may also suspend the privilege of the person to operate a motor vehicle for a period not to exceed 30 days."
However, as stated above, the fine is but a pittance compared to the increased insurance premiums you will receive after the DMV assesses two Negligent Operator Treatment System (NOTS) points, and your policy comes up for renewal.
Consult a Traffic Ticket Attorney for Barstow Traffic Court
Because of the implications of this major infraction, if you received a ticket for driving 100 mph or more, it is in your best interest to consult with and hire a traffic ticket attorney to help you with the mandatory court appearance. 
We can represent you in court without you being there. Therefore, you will not only have experienced representation, but you will also save the expense of traveling.
Getting the ticket dismissed will save you not only from the fines and license suspension, but also the potential for doubled (or even tripled) insurance premiums. Even a reduced speeding charge can help tremendously with insurance premiums.
If the danger to yourself and others is not enough to deter you from speeding, hopefully, knowledge of the legal and financial ramifications will. By implementing these strategies, you should be able to avoid getting a ticket in the first place. But, if you do find yourself in this situation, your best course of action will be to consult with Bigger & Harman, APC today.
Call Bigger & Harman (661) 349-9300. Se habla Español (661) 349-9755. 
Send us an email, attorney@biggerharmanlaw.com.  
References:
CVC 22348, Speed Laws