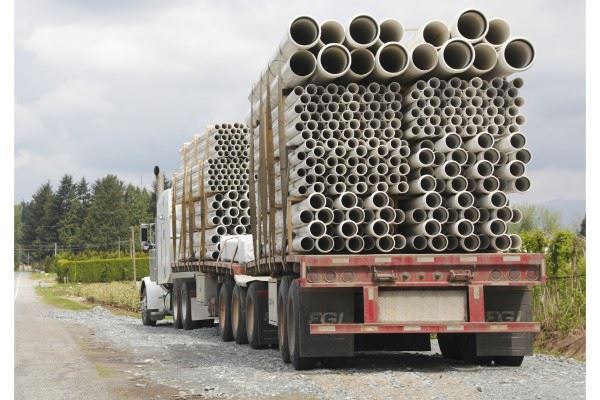 Sure, flatbed truckers make a lot more money than reefer and dry van truckers, but that's because flatbed trucking is a lot more work and a lot more trouble. Even more so, are those flatbed truckers hauling hazardous material (HazMat). When something is not right on a flatbed, it's very obvious to law enforcement officers (LEO), who don't even need to pull the truck over to know something is wrong when a tarp or cargo strap is flapping in the breeze.
What's more, flatbed truckers have three "enemies' that can scoop up that extra money. It's even possible for a flatbed trucker to lose money on a load if they don't pay particularly close attention to these three trucking factors: time, cargo, and government regulations.
Time and Flatbed Trucking
It's like the adage goes, "Time is money." All the time a driver takes to secure the load is time they're not driving, and they only make money from driving. Every load has to be securely fastened and covered by tarps to protect the cargo from the weather. Any driver involved in flatbed trucking will tell you their biggest headache is the tarp. Most will say that shippers should be made to tarp their cargo or at least help the driver tarp it.
CA Vehicle Code (CVC) 2803 and 40002.2, Public Offenses states that it is a misdemeanor crime to have an unsecured load. Also, the LEO can direct the driver to move to a safe area and reload the vehicle before the onward movement can be allowed.
Recently on I-80, an unsecured steel ladder fell off a truck and held up traffic for nearly an hour. The driver and assistant driver got charged with violation of CVC 2803, a misdemeanor failure to secure cargo. These two are probably not very popular among the 15 or so trucks they kept waiting. Along with the possible ticket of $230-250, the two face jail time. The CVC calls for a maximum of five days; however, the judge could rule it a "wobbler" offense and reduce it to an infraction.
What's not stated here is that nothing has to fall off the truck for a ticket to get issued. Drivers must periodically check their loads while in route.
Secure Cargo
Once a driver leaves a shipping yard with a load, the responsibility for the safe transport of the cargo falls on the driver. Any damage to the cargo will in all likelihood come out of the driver's pocket. Plus, it will damage their reputation and make it difficult to get new employment if terminated. Therefore, the driver must know how to load a vehicle correctly and securely. Any movement of cargo or equipment is like a red flag to LEO.
An excellent place to start is Chapter 3 and 9 of the 2018 CA Commercial Driver Handbook. Chapter 3 discusses securing and inspecting cargo, balancing the cargo, and which cargo needs special attention. Chapter 9 covers just about everything you need to know about hauling HazMat. Another source of information about tarps and bungees is the blog, Efficiently Working with Flatbed Truck Tarps onmyteeproducts.com.
Government Trucking Regulations
The FMCSA is the Federal level agency that regulates interstate trucking and Caltrans for intrastate commerce. The FMCSA has 360 misdemeanor offenses covering the transportation of cargo. Any violation of trucking regulations at roadside inspections or weigh stations will result in traffic tickets in CA. The state allows the CHP to manage the weigh stations and roadside inspections after training by the Commercial Vehicle Safety Alliance (CVSA).
Flatbed trucking opportunities, like all of trucking, is likely on the rise. 2018 turned out to be a record year both in cargo transported and dollar amounts, despite the shortage of nearly 50,000 truckers.
Flatbed truckers need to balance their loads and beware of incidents that will rob them of time, diminish their cargo safety record, or else face their biggest foes: government regulation and traffic violations.
Ask a CDL Traffic Ticket Lawyer about Equipment Violations in Placerville, CA
When you get ticketed for an equipment violation out there on Highway 50, call Bigger & Harman at (661) 349-9300. Se habla Español (661) 349-9755.
We represent all truckers, whether you're hauling cargo in a reefer, a dry van, or flatbed truck. When you get a ticket for bad equipment, loose or lost cargo, overweight, speeding, following too closely, or another, you can call us for legal advice. We offer a free initial consultation to CDL holders, without obligation. We know when you get ticketed, you must challenge the ticket.
That's why the turnover rate at high-paying trucking firms is close to 90 percent even with the shortage. Too many drivers accept the ticket and pay the fine, then wind up looking for employment at another firm. So, give us a call and let's discuss your circumstances, you have nothing to lose.
Send us an email, attorney@biggerharmanlaw.com.