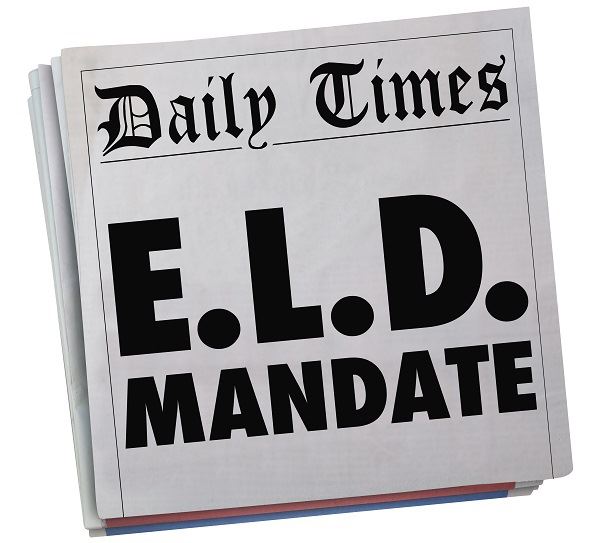 The ELD mandate has been in effect for six months; the FMCSA says it's working. Many truckers out there on the road would disagree. Will the Honest Operators Undertake Road Safety (HOURS) bill provide some relief for HOS rules? Let's take a look.
Before we go too far into discussing the truckinginfo.com article FMCSA: Numbers Show ELD Mandate Is Working, keep in mind what Plato, a Greek philosopher was quoted as saying. "A good decision is based on knowledge and not on numbers." Perhaps a more appropriate quote might be from Mark Twain who is credited with saying, "Figures don't lie, but liars figure!" We're not saying anyone is lying here, but the numbers might be a little misleading. Shouldn't the numbers be more about safety and accident reduction rather than compliance? There's not one word about either safety or accident reduction.
However, if you want to get the truckers' opinion as well, read the article and then read the comments below the article. We thought this comment by Cindy was particularly unique, "The ELDs are unsafe. They are causing distraction just like a cell phone with a stopwatch."
The FMCSA ELD Numbers
The crux of the FMCSA's justification that "numbers show ELD mandate is working" is displayed on an infographic on their website. They state, in conjunction with the graph, that of the more than a half million (559,940) inspected since full implementation, less than one percent (4,720) were not in compliance.
The graph shows a line going down from 1.19 percent since the ELD "soft rollout" on 18 December 2017 until 18 May 2018 when that percentage was .64 percent. And, if you look back one year to May of 2017 those not in compliance made up 1.31 percent of truckers and other CDL holders inspected.
Most of the period from December to April was called a "grace period" when drivers and inspectors were supposed to be getting the feel of the machine and receiving more training. Couple this with the fact that many drivers have said many inspectors don't even know what to look for with the ELD. One of the commenters on trucking info said he was asked by an inspector where his paper log was, while another said they looked at their list of compliant machines and told him he was good and the inspection was over. He said, "I didn't complain; I just put it in gear and kept trucking."
Most of us would be thrilled if the numbers indicated safety had improved or accident numbers were down, but that's not the case. All these numbers show is that most truckers have decided it was necessary to comply with the Federal mandate or find another way to make a living.
The first offender with a non-compliant ELD will be put out-of-service (OOS) for ten hours and can continue to their destination with a paper log, but cannot be dispatched again without a compliant ELD or the trucker and the carrier will face intervention.
The actual Congressional ELD mandate was a machine "capable of recording a driver's hours of service and duty status accurately and automatically…" The ELD does not automatically record a driver's change of duty status without manipulation by the driver, which still leaves that small percentage of unethical drivers a means to falsify their log. Many drivers worry that harassment to log more miles and to make quicker deliveries will continue from carriers.
Several are pushing for the Honest Operators Undertake Road Safety (HOURS) bill currently in Congress. This billwould ease hours of service (HOS) rules, mainly for livestock and agricultural truckers, and accelerate changes to the split-sleeper exemption. The American Trucking Associations (ATA), who supports this legislation introduced on 21 June, says it provides "common sense hours-of-service relief and flexibility for professional truck drivers while enhancing highway safety and supply chain efficiency."
The HOURS Act in a Nutshell
The HOURS Act will provide relief from HOS rules in four distinct areas:
Exempt livestock and agricultural drivers from the HOS within the 150 air-mile radius without concern to state harvest seasons
Provide a single set of regulations for drivers who operate within the 150 air-mile radius and finish their workday at 14 hours
Reduce supporting document requirements to those that verify the beginning and ending duty day point and time
Speed the flexibility of the split-sleeper berth rest period so that the drivers have more say about their rest periods
The FMCSA is "studying" the feasibility of returning to the flexibility of split-sleeper berths within a select group. Currently, drivers must take eight continuous hours in the sleeper berth and an additional two hours off duty before returning to driving. Although some other variations are allowed, it must total ten consecutive hours off-duty.
Another nugget to remember is the four or five hours you spent "sitting by the dock of the bay" while they loaded your truck counts toward your 14-hour duty day max.
Kern County Trucking Traffic Ticket Advocates
Call Bigger & Harman, (661) 349-9300, when ticketed for overweight, HOS violations, unsecured loads, equipment and permit violations. We know what a struggle it is to keep your CDL record clean. You must challenge every moving traffic violation or face termination by overzealous fleet managers trying to keep their insurance rates down.
Zero-tolerance of moving violation convictions, even in private vehicles, has become the norm. Even with the shortage of truckers nationwide, the top five trucking firms have a 90 percent turn-over rate due mainly to that intolerance. That's why drivers with clean records can get those better-paying jobs with large firms.
Give us a call for a free no-obligation phone consultation to discuss your circumstances.
Se habla Español (661) 349-9755.
Send them an email, today attorney@biggerharmanlaw.com.
Mark Turner wrote on the Bigger & Harman Facebook review page, "I want to thank Paul Harman for the excellent job he did handling my traffic citation. He was courteous, professional and kept me informed every step of the way. It was a great experience, and he was able to get my citation reduced from a moving to a non-moving no point violation, and as a CDL holder, my livelihood depends on my license. I was very happy with the outcome and my decision to use Bigger & Harman and would highly recommend them to anyone in need of traffic defense."
References:
The 2018 CA Commercial Driver Handbook .pdf

Truckinginfo.com article, FMCSA: Numbers Show ELD Mandate Is Working, dated June 25, 2018

Trekfreight.com article, ELD Full Enforcement Has Begun: 5 Things You Need to Know, dated April 10, 2018

TheTrucker.com article, Bill Introduced to Provide "Narrow" Relief from HOS Rules, dated June 22, 2018

HR 6178, Honest Operators Undertake Road Safety (HOURS)