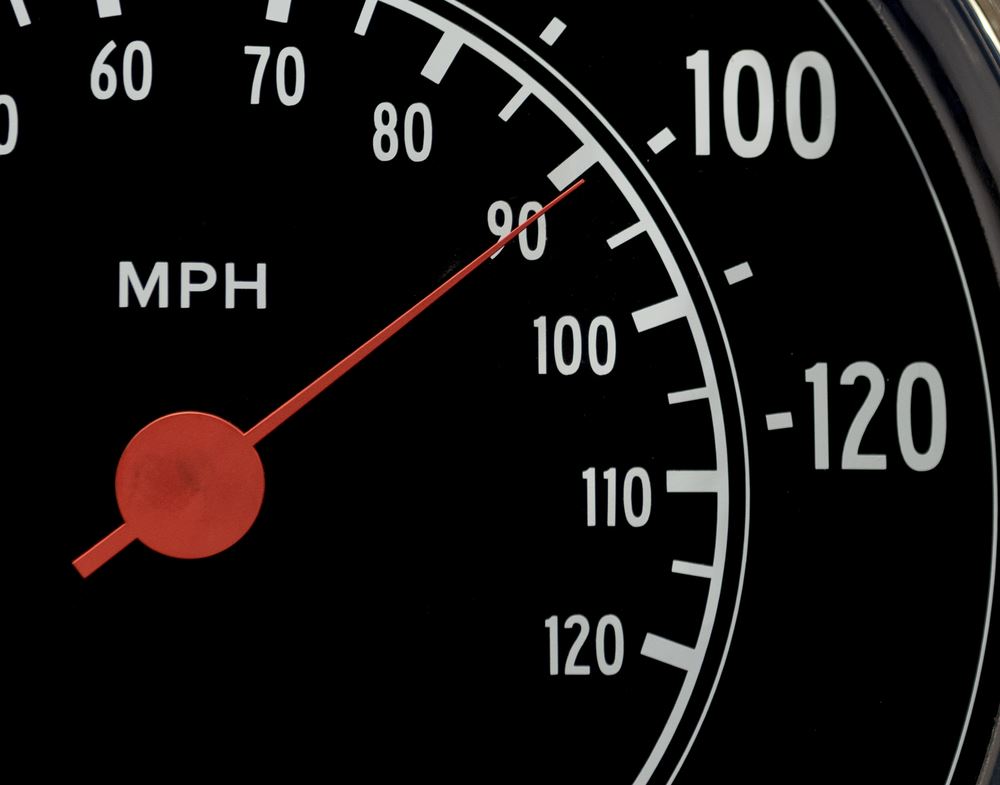 Nowhere in the California traffic code is there a correlation between your speed and reckless driving, even speeding 100+ mph. Although many believe speeds more than 100 mph are reckless, it is not legally considered reckless driving. However, the consequences of a conviction for driving more than 100 mph are severe enough without the added ramifications of a reckless driving charge.
When you get a ticket for speeding at 100+ mph, you need legal representation to resolve the ticket because it is a major infraction in CA. If convicted, you face an approximately $900-2500 fine, two Negligent Operator Treatment System (NOTS) points against your license, which will remain on your motor vehicle driving record (MVR) for seven years, a likely double or triple increase in your auto insurance premiums, and a 30-day driver's license suspension.
The Significant Fine for Speeding 100+ MPH Convictions
A conviction for speeding 100+ mph will result in a fine of approximately $900 to $2500. Although the CA Vehicle Code (CVC) 22348, Other Speed Laws prescribes a fine "not to exceed five hundred dollars ($500)," judges usually levy a base fine of $300-500, while some others add $100 for every mph over 100.
Many might ask, why the substantial difference between the $300 to $500 base fine and the amount actually paid? The state legislature wrote and passed the traffic code many years ago. Since then, they have added fees, assessments, and surcharges, which are added to the base fine. Likewise, counties add their own surcharge and assessment, which might vary from other counties making it nearly impossible to come up with the actual cost.
There are state surcharges, a state penalty assessment, a county penalty, a court construction penalty, a DNA identification assessment, a night court fee (whether you use night court or not), an EMS assessment, as well as an air transport EMS penalty (again whether you use it or not) and others. Ten additional penalties in all. In fact, these surcharges can multiply the base fine five to seven times.
A second conviction of speeding 100+ mph within 3 years allows a base fine of $750, and a third within five years of the other two or more convictions carries a $1000 maximum fine, which with penalties added could reach over $5000.
NOTS & Your Insurance
CVC 12810, Issuance and Renewal of Licenses authorizes the DMV to assess NOTS penalty points based on the conviction. When you are convicted of a minor traffic infraction or found more than 0% responsible for an accident, the DMV will assess one NOTS point. A conviction for a major infraction (speeding 100+ mph), a misdemeanor, or felony and the driver will get assessed two NOTS points.
There are four levels set up to automatically notify drivers of their standing at specific point indexes within a specified timeframe:
Level I: Generates an automatic warning letter when a driver reaches two points during any 12-month timeframe, four points in a 24-month timeframe, and six points in a 36-month timeframe. Also, a warning letter gets generated by the system with a conviction for a major infraction, such as speeding 100+ mph because you are halfway to a DMV suspension.
Level II: Generates a warning "Notice of Intent to Suspend" when a driver reaches three points during any 12-month timeframe, five points in a 24-month timeframe, and seven points in a 36-month timeframe. Also, a warning letter gets generated by the system with a conviction for a major infraction, misdemeanor, or felony.
Level III: Generates an "Order of Suspension/Probation" when a driver reaches four points in any 12-month timeframe, six points in a 24-month timeframe, or eight points in a 36-month timeframe. The CVC 12810.5, Issuance of Licenses, Expiration, and Renewal states the driver is then judged a negligent operator. Unless the driver requests a DMV NOTS Hearing within ten days and there are grounds to remove points, mitigating circumstances to remove a conviction, or the Department orders a stay, the six-month suspension, and concurrent 12-month probation will take effect after 34 days from the mailing date of the suspension order.
Level IV: Is a violation of the suspension order when the driver has a conviction, failure to appear, or accident, regardless of responsibility during the suspension/probation period. DMV extends the suspension another six months and the probation 12 more months. Another incidence of conviction, FTA, or accident will result in a one-year revocation of driving privileges. A revocation differs from a suspension because the driver must initiate a new application for a license rather than merely paying the reinstatement fee after a suspension.
Once your insurance company gets word that you were convicted of speeding 100+ mph, they will revoke your "good driver's discount," and raise your premium to match a new risk category, if they decide to retain you as a customer. Although CA is a mandatory insurance state, insurers are not mandated to insure you.
You might be wondering how much of an increase comes with a speeding 100+ mph conviction. Insurers regularly double or triple the premiums of a convicted driver. That could cost you an additional $1960 to $3920 annually for the average CA driver. Plus, that rate will stay with you for the seven years the conviction remains on your MVR, which could cost as much as $27,440. When you have all the facts, you know you need a traffic ticket lawyer, and they must be a solid court performer, call Bigger & Harman.
Traffic Ticket Attorneys Who Can Help in Independence or Mammoth, CA
Call Bigger & Harman, (661) 349-9300. Se habla Español (661) 349-9755. Receiving a speeding ticket for 100+ mph can be a "game changer," and getting convicted of speeding 100+ mph can be a life changer because of the large fine and increased costs for insurance, plus the probability of a 30-day driver's license suspension. You need legal representation that is accustomed to challenging and winning in traffic court. No one has a better reputation of success fighting 100+ mph tickets than Bigger & Harman.
We offer potential clients a free initial phone consultation. You give us every detail about the stop and we use our extensive knowledge received in traffic courts to get you the best result possible. We give you the benefit of only defending traffic tickets. When we're not in the office composing dismissal requests, we are in the courtroom.
Send us an email, attorney@biggerharmanlaw.com.
Visit our Facebook page, leave us a private message, or read comments and feedback left by clients here and on Avvo and Nolo or Yelp, where you can find comments about our legal services like this one left by Derrick H., of Coconut Creek. "Had a ticket for speeding over a reported 100 miles an hour. There are huge penalties for those kinds of tickets, but Bigger & Harman got the ticket dismissed! These lawyers are the real deal and to say I am grateful is an understatement!"
Although we can't promise every ticket will get dismissed, we have an excellent success rate with 100+ mph speeding tickets.
References:
The 2018 CA Commercial Driver Handbook .pdf
The DMV.CA.GOV website Negligent Operator portal
CVC 22348, Other Speed Laws & CVC 12810.5, Issuance of Licenses, Expiration, and Renewal