Many new or rookie drivers of commercial motor vehicles (CMV) do not realize how much of an effect a traffic ticket in their private vehicle (non-CMV) has on their commercial driver's license (CDL). Their CDL is in jeopardy of suspension or disqualification even when traveling out-of-state in a non-CMV due to the Driver's License Compact (DLC), Employer Pull Notice (EPN) Program, and the Federal Motor Carrier Safety Administration's (FMCSA) Pre-Employment Screening Program (PSP).
Unless the CLD holder has an excellent mentor to point out the multiple reporting systems and the DLC reporting cooperative, they might fail to report an out-of-state conviction or accident to their employer. Most of the truckers who didn't know about the reporting requirements are likely no longer around to tell them.
NOTE: The DLC may soon get replaced by the Driver's License Agreement (DLA), which has more stringent reporting procedures.
Even though there is a shortage of nearly 900,000 truckers nationwide, many top-paying carriers have a zero-tolerance for moving violations, even in a non-CMV. The primary reasons for the deficit are the upsurge in e-commerce and online orders, the lack of young people and females entering the profession, and hordes of independent, owner-operators leaving the vocation due to what many speculate is over-regulation of the industry by the FMCSA and the federally-mandated Electronic Logging Device (ELD).
Why Your CDL Is in Daily Jeopardy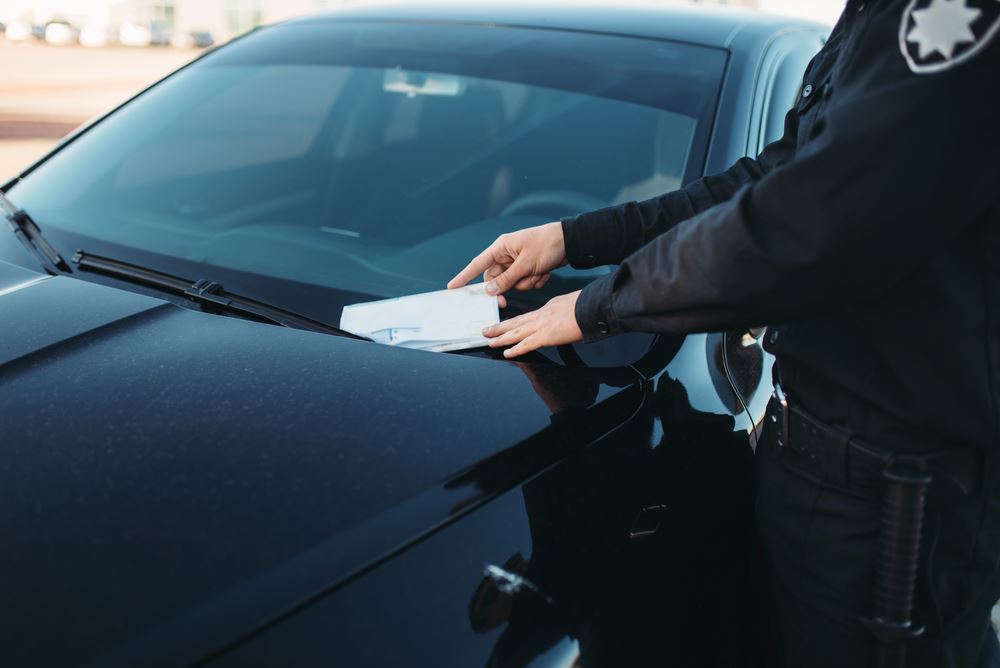 When you get a ticket in another state, even in a rental, family car, truck, or van, or other non-CMVs on vacation, you must report the conviction or paid ticket for a moving violation to your employer on DLC within 30 days. Yes, a paid speeding ticket or unsafe lane change is the same as a conviction. However, you must report a license suspension to your employer within 24 hours.
Consequently, a suspension even in another state could mean the end of your driving career with your current carrier. Plus, with the FMCSA's PSP, the nationwide CDL Information System (CDLIS), and the requirement to submit a ten-year driving history to prospective employers, they will be aware of any violations in a non-CMV as well as your CDL and Commercial Learner's Permit (CLP). That's why CDL holders find it necessary to challenge every traffic ticket even in their private vehicle.
Driving after an Out-of-Service Order, Suspension, or Disqualification
Drivers who violate an Out-of-Service (OOS) order or suspension (CMV or non-CMV), even from another state, are subject to a fine or civil penalty of $2,500 for a first offense, ten Compliance, Safety, and Accountability (CSA) points, and a driving disqualification by FMCSA for one year or three years for hazardous material (HazMat) haulers, depending on the nature of the original OOS order, suspension, or disqualification.
A subsequent violation is $5,000 and a disqualification for three years to life, once again, depending on the reason for the OOS or disqualification. Although drivers with a lifetime disqualification can get their CDL reinstated after ten years and a completed rehab program, it will still be difficult to get re-employed with a top trucking firm. You will likely have to start over and work your way up to a top-paying carrier.
Employer Pull Notice (EPN) Program & Your CDL
The EPN, administered by the DMV in CA by the authority of CA Vehicle Code (CVC) 1801.1, DMV Records of Departments is an enrollment program that sends notifications to employers upon request for recruitment, when their drivers get convicted of moving violations, when notified by another state or North American (NA) country, and annually after registration.
Employers receive a requestor code, which is unique to each carrier and gets added to each driver's CDL record. Any reportable action by a driver will generate a report, which gets mailed to the employer. Reportable actions include:
Convictions,
Accidents,
FTA or Failures to Appear for moving violations,
Suspensions and Revocations
Any of the above received from other states or NA countries, and
Other reported driving privilege actions in both CMV and non-CMVs
When other states notify the CA DMV about moving violation activities for both CA CDL holders and non-domiciled drivers employed by CA carriers, it gets reported to employers and stored on a CDL holders record. Therefore, even when a CDL holder does not report out-of-state violations to their employer, the EPN program will.
Traffic Ticket Attorneys for Riverside, CA
When you receive a traffic ticket out on I-5 or 10 in Riverside, either in your CMV or private vehicle, call Bigger & Harman, (661) 349-9300. We know how difficult it can be to maintain a clean driving record when you are on the road 60 hours or more per week. Going to court to fight what would be a minor infraction for the non-CMV driver is hard to do when you are on the road or waiting for a load. Likewise, we can represent you at a DMV Hearing to get invalid or incorrect convictions removed from your CDL record or request additional leeway for NOTS points to avoid suspension due to unusual circumstances or driving miles.
Many non-drivers and even a few CDL holders do not realize the impact of a conviction for a six or seven mph over the limit speeding ticket, including 50 percent more Negligent Operator Treatment System points, CSA points, and higher fines, not to mention the possibility of employment termination, which will affect your career for ten years.
Read what one CDL holder, Phil Winters, said about our legal services on Lawyer.com, "I got a speeding ticket in a truck in April 2018. I immediately called Bigger & Harmon. I felt very nervous about having a ticket like that on my record. I was informed that in the best-case scenario they could get the case dismissed. Another option would be the get the charge reduced to a lesser charge that would not carry points. And in the worst case, I would have to pay the ticket, and have it on my record. But the latter would be unlikely. So I hired them, and hoped for the best. Well after waiting 3 1/2 months for my case to come to trial, I was just informed that they were able to get it dismissed. You can imagine my relief. The retainer fee paid was well worth it. I could have had a ticket on my record which would affect my insurance for three years and possibly lose out on good job opportunities in the future. Way more expensive than the retainer. If you have gotten a ticket, I highly, highly suggest you hire this firm to represent you! Thanks Bigger & Harmon, and team!"
To find more comments and feedback about our traffic law service, visit our Facebook page, Avvo and Nolo, two premier national attorney referral sites or Yelp.
Se habla Español (661) 349-9755.
Send them an email, attorney@biggerharmanlaw.com.
References:
The 2018 CA Commercial Driver Handbook .pdf
The DMV.CA.GOV website EPN Program and CVC 1801.1, DMV Records of Departments
The FMCSA Non-Domiciled CDL page