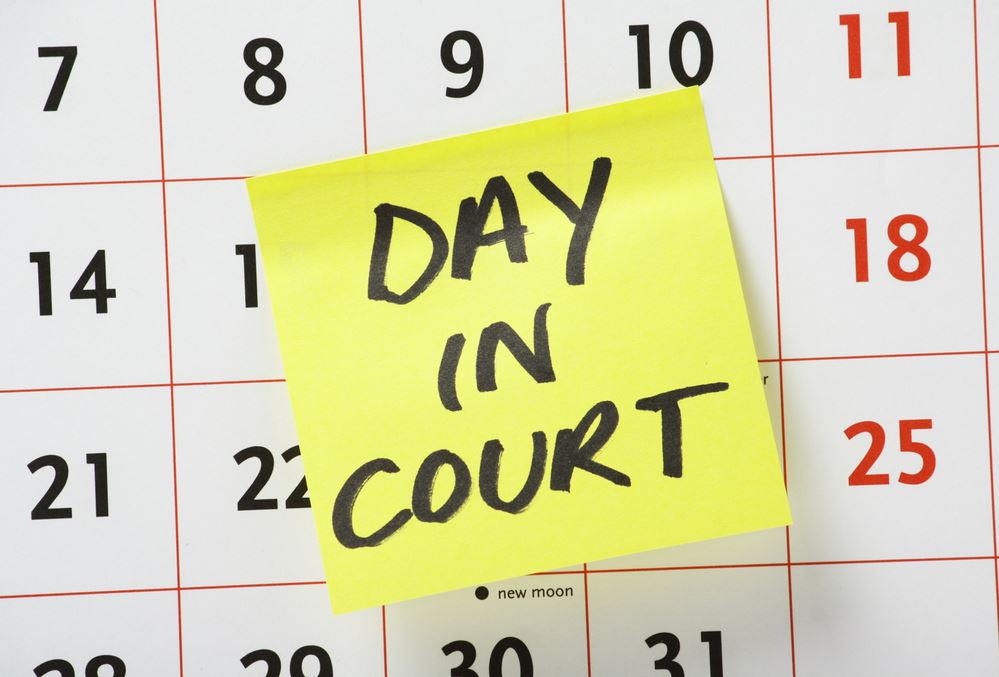 No matter what the law enforcement officer (LEO) tells you when you receive a traffic ticket, if the court reminder states that you have a mandatory court appearance, you or an attorney must appear or face a failure to appear (FTA). Many police enforce traffic laws and issue tickets for moving violations, but they may not know or understand every element of the law.
A mandatory court appearance is always necessary for juvenile tickets and misdemeanor tickets; plus in California, the major infraction of speeding over 100 mph. Also, many counties make it a mandatory appearance for speeding 25 or more mph over the speed limit.
Juvenile Tickets
Juvenile traffic tickets for a moving violation require a mandatory court appearance. Juvenile court still handles juvenile misdemeanor tickets, but infractions are dealt with by the traffic division. In both cases, the presence of a parent or guardian is necessary. When law enforcement circles the "I" it is an infraction, and the "M" signifies a misdemeanor.
Misdemeanor & Felony Tickets
The following violations have a mandatory court appearance that an Attorney can handle for you:
Hit & run tickets
Reckless driving
Driving without a license
Speed Contests
Exhibitions of speed
FTA
DUI
Plus, there are hundreds of misdemeanor tickets for moving violations while transporting hazardous materials that require a mandatory appearance.
Consult with a traffic ticket lawyer when you have a mandatory appearance. Some can resolve your ticket favorably, get a reduced charge, or dismissal without you ever having to step into a courtroom.
FTA for a Mandatory Appearance
You should receive a court reminder, which will state the fine amount or if your violation requires a mandatory appearance. When required to appear for a misdemeanor or felony, if you or an attorney are not present in court when you name is called, you are an FTA, and a warrant will get issued for your arrest. CA does not arrest or jail drivers for an infraction.
However, the judge or court officials might take other measures such as: you might be found guilty in absentia, a fine levied, a civil penalty of $300 added, and notification to a collection agency mailed. A second ticket will get issued for violation of CA Vehicle Code (CVC) 40508, Release Upon Promise to Appear. When you sign traffic tickets, you enter into an agreement with the people of CA to resolve your ticket before your court date or appear in court. Unless you receive a continuance or delay from the court, you must appear.
Use of Traffic Violators School (TVS) to Mask Tickets
Another choice is to attend Traffic Violators School (TVS), which will hold your ticket as confidential. You will need to pay your ticket, and a conviction will get entered in your motor vehicle driving record (MVR), but it will not be viewable by the public, such as insurance agencies and employers.
Accepting TVS is an important decision that you should discuss with an attorney. You can only use TVS once within an 18-month period (from conviction date to conviction date) to mask a traffic ticket, and you cannot use it when:
You have a mandatory appearance
Tickets received in a commercial motor vehicle (CMV)
You do not have a valid CA driver's license
Exceeding the speed limit by 25 mph, unless approved by a judicial officer
The court date has passed
You must pay the county a fee (about $65) to process your TVS attendance, pay the TVS tuition, complete the course before the court-ordered date (usually 60 days), pass an end-of-course exam, and the DMV must post it in your MVR. Although approved schools send the completion certificate to the DMV, keep a copy in case it does not get posted. Find a DMV-approved course here.
Traffic Ticket Attorneys Who Practice in Bishop & Independence Courts
If you have a mandatory court appearance in Bishop or Independence in Inyo County, you need legal representation you can count on to resolve your tickets. Speeding 100+ MPH or tickets for going to fast to qualify for TVS are serious situations that require expert representation to resolve. These usually require an attorney who regularly practices traffic law and knows the elements the state must prove to get a conviction.
Although a mandatory appearance is needed, it need not be you who appears. Taking time off from work can make the ticket more expensive, especially if you are not a resident of Inyo County. Visitors to the area, who came up for a Mammoth ski trip, must return for the arraignment. And, when you plead not guilty, another date might be required for trial. Hiring a traffic ticket attorney can relieve you of this burden.
Call Bigger & Harman, (661) 349-9300, to present your case in traffic court. We can appear for you or get a dismissal or secure a reduced charge without you ever going to court.
Se habla Español 661.349.9755.
Send an email to attorney@biggerharmanlaw.com.