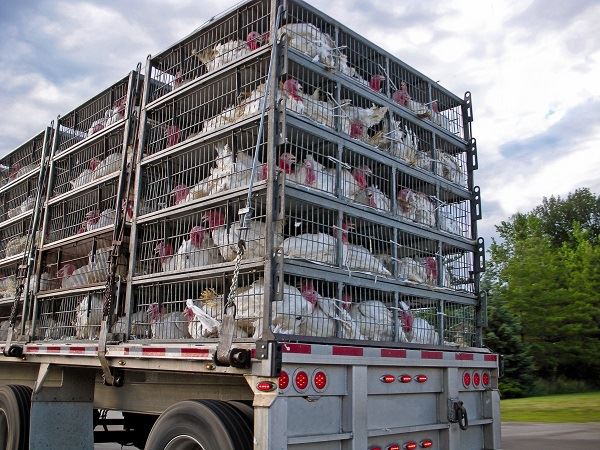 The livestock and agricultural trucking industry has been granted another 90-day extension to comply with the federally-mandated Electronic Logging Device (ELD). The industry is already on a 90-day extension that expires 18 March 2018 so that they will have until 18 June to fully comply. There is a further provision in the 2019 Congressional Spending Bill to authorize another extension until 18 September 2018. 
Logbook and load violations continue to haunt the trucking industry, but the ELD can only ease the manual logging burden for the truckers. However, many truckers, especially owner-operators and small trucking companies, see it as an additional expense that puts them at a disadvantage to the large trucking firms that already use ELD to monitor truck movements and payrolls. Additionally, livestock haulers cannot merely write an explanation for violating the hours-of-service (HOS) rules, as they have done with paper logs for years. Their primary responsibility lies in the safety of the animals they are transporting. 
The Federal Motor Carrier Safety Administration's (FMCSA) chief enforcer, Joe DeLorenzo, hopes the extension will help the ag and livestock hauling industry with the "fullest understanding of the rules and regulations," as the agency continues to work with the driving industry.
The extension applies to any trucker hauling agricultural commodities and products, which covers a wide array of processed and unprocessed goods, such as livestock, their feed, chickens and eggs, fish, sheep, cattle, and pigs, etc. However, the extension does not affect the HOS rules or restrict interstate transport. 
These HOS rules, of course, present problems for livestock truckers who cannot just pull over after 11 hours when they have live animals that need protection from the elements and could die from exposure to heat or severe cold. There is no differentiation between drivers hauling goods and those carrying livestock, and just a few ELDs allow an exemption for livestock haulers.  
Another area of confusion for ag and livestock haulers lies in the 150 air-mile exemption from HOS rules if operating within that area. The agency is considering clarifying the issue and whether to expand the radius to include 150 miles from the last load pick up point rather than the point of origin.         
Agriculture & Livestock Load Violations 
Despite Federal regulations of height, weight, width, safety equipment, and movement across interstate highways to get their load to market, many states add another layer of regulation, creating even more load violations for ag and livestock truckers. Likewise, even before People for the Ethical Treatment of Animals (PETA) existed, there were rules for the humane and safe hauling of livestock. 
When the 28-Hour Rule was first enacted in 1873, it provided that livestock must get five hours of rest after 28-36 hours of confinement (36 hours is an emergency exemption to the rule). Then, animals were shipped mostly by railroads, and as the law met with broader enforcement, more resting stops sprang up along major railways. Today, even though DOT insists the rule applies no matter what vehicle is transporting the animals, few states apply it to trucking. Additionally, those laws lack teeth for enforcement, and very few rest stops still exist. Of the 21 states that require a rest and feeding break for livestock, only five apply the law to trucks hauling livestock, though one of the five is CA. 
After 28 hours of confinement, the animals must be unloaded, fed, watered, and rested for five continuous hours. There are also rules outlining trailer conditions, laws that prohibit the use of electric cattle prods, and how long the animals are left on the truck after delivery without the enforcement of load violations. 
As the law stands right now, and if/when the use of ELD is enforced, truckers hauling livestock will have three choices. They can off-load the animals somewhere in transit before the 11 hours HOS, park the vehicle and take a sleeper break leaving the animals in place, or run illegally and protect their load while risking an HOS violation. Other suggestions have been made to the FMCSA, which is to split up sleeper berth times into smaller more manageable times for livestock haulers. 
Kern County Traffic Ticket Attorneys
Kern County is the number one agricultural county in CA, ousting Tulare from the top spot in September of 2017 with a total of $7.2 billion in agri-business. However, with Kern, Tulare, and Fresno at the top of the list, Central Valley sees a lot of agricultural and livestock products moving up and down its highways. When you get charged with overweight, HOS, or load violations while hauling livestock or agricultural products, call Bigger & Harman, (661) 349-9300. Se habla Español 661.349.9755.
Send them an email, attorney@biggerharmanlaw.com, and explain the circumstances surrounding your alleged violation and they will reply when they return to the office. They will explain your options and tell you how much it will cost. They use a flat fee, so there are no surprise fees or hourly charges, no matter how many court appearances it takes to resolve your ticket. 
Bigger & Harman's Facebook business page offers legal advice and info, road closures, and client comments. You can also read their bio, endorsements, and license information on Avvo and Nolo. Or, read some of the nearly 100 client comments on Yelp.
References:
The Overdrive Online Article, "Bills in Congress extend ELD waiver for livestock haulers" dated 22 March 2018

The 2018 CA Commercial Driver Handbook .pdf

The 2018 California Superior Court Bail Schedule for Infractions and Misdemeanors.pdf