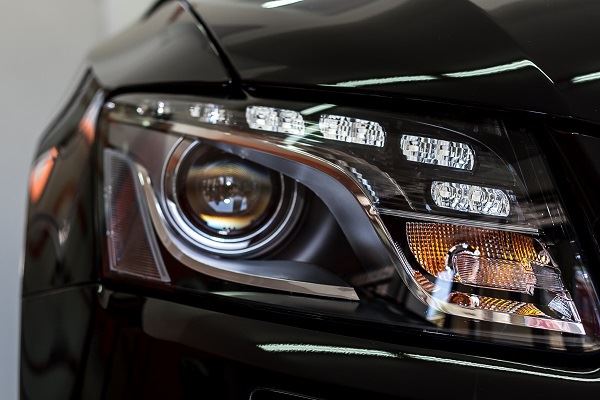 There are many arguments for and against Daytime Running Lights (DRL). Manufacturer installed DRL lamps, not as bright as headlights, automatically illuminate when the ignition is on. Safety proponents argue that these improve your chances of being seen by other drivers. Motorcyclists believe it will diminish their ability to be seen if all drivers start using DRL. Others feel mandatory use is not necessary for fair weather as cars and trucks are visible anyway. Some states, including CA, have adopted the "wipers on, lights on" stance and require headlights, not DRLs, when windshield wipers are in use.
Northern countries such as Canada, Norway, and others have used the system for years, and manufacturing guidelines in those countries mandate DRL. However, many states resisted the idea, and some states even outlawed their use. Canada's adoption of mandatory DRL made manufacturing vehicles for North American markets a little more difficult because manufacturers had to distinguish if the vehicle was for Canada or the USA. After a push by General Motors in the '90s, the government decided to make the use of DRL legal nationwide, but not mandatory.
Opponents of the idea say that their use could temporarily blind a driver and have a different impact than the intended safety aspect, particularly, when placed higher up on the vehicle as might be the case with trucks and buses. Those lights could shine down into a vehicle and hit the rearview mirror. This notion really does not pass the common-sense test, as DRL are only half as bright as headlamps and will not "blind" anyone.
Despite findings which would indicate there is no safety advantage in fair weather except in very northern states, those same findings indicated there was real harm either. Some even dispute the necessity of a headlights on/off switch. Much like safety belts that automatically engage when you turn on the engine, the lights would come on as well. Plus, there would be no more leaving the lights on and running down the battery.
The NHTSA & the FMCSA Decisions on DRL
The National Highway Traffic Safety Administration "concluded there is no evidence that DRLs provide enough of a safety benefit to require federal regulation," and have left it up to the auto industry whether they include DRLs on new vehicles.Likewise, the Federal Motor Carrier Safety Administration has not required commercial vehicles to mandate DRL. That decision is despite an Insurance Institute for Highway Safety study that found a seven percent decrease in multi-vehicular crashes by commercial vehicles that used the optional lights. It would seem like the FMCSA would take any opportunity to make trucks and buses safer. Many experts are shocked that our often "overly-aggressive" safety conscious government has not adopted mandatory use of DRLs, especially considering automakers have howled for it since the 1990s.
Despite no Federal law requiring DRL, some mountain roadways in CA require the DRL for a set number of miles so that you may see signs along those highways. These signs read: "Daylight Headlights Required Next 10 Miles" or whatever the distance deemed necessary. This is not an option, so if your vehicle is not already equipped, turn them on.
Central Valley & Tulare County Traffic Ticket Defenders
As a commercial driver, you know when you get a traffic ticket you need a reliable and efficient ticket defender to protect your rights and livelihood. So, when you need advice about traffic violations, call Bigger & Harman, (661) 349-9300. Se habla Español 661.349.9755.

Bigger & Harman have a solid reputation as Central Valley traffic ticket defenders and frequently defend commercial drivers in Porterville and Visalia traffic courts.

Visit the Facebook business page of Bigger & Harman for legal advice and information regarding vehicle registration, licenses procedures, and client comments. Likewise, Avvo and Nolo have their bio, endorsements, and client comments as well. Yelp also has nearly 100 client comments.

Email: attorney@biggerharmanlaw.com

References:

The 2018 CA Commercial Driver Handbook .pdf

The 2018 California Superior Court Bail Schedule for Infractions and Misdemeanors .pdf