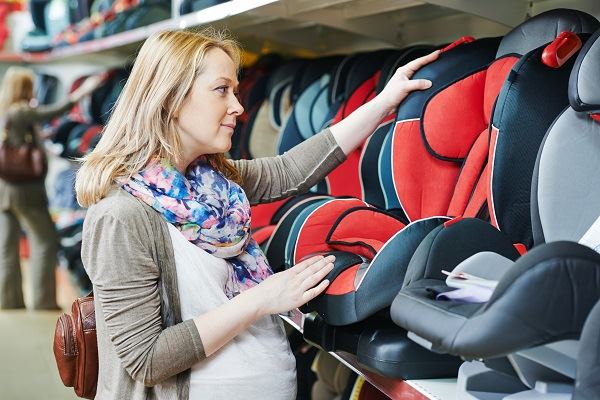 You can buy one of the best child safety seats on the market, but it will not provide the protection your child needs if it is not installed properly and used correctly. Many people believe a convertible car seat is the best and makes the most sense financially. These convertible models go from rear-facing to front-facing and can even convert to a booster seat. Explicitly designed to grow with your child from one-year through grade school, or until they are ready for a seat belt, usually at age eight. The only problem? Authorities do not recommend these for newborn babies. Secure your newborn in a rear-facing child restraint seat, which is federally-approved, until the child is two-years-old, weighs 40 lbs., is over 40 inches tall or other possible exceptions.
Front-Facing, Rear-Facing Child Safety Seats, or Booster Seats?
As stated above, a child two-years-old or younger must utilize a rear-facing restraint system. After two, until eight-year-old, a child must use a federally-approved front or rear-facing safety seat in the rear seat, except:
● When the vehicle has no rear seat
● The rear seats are side or rear-facing jump-seats
● Other children seven or under occupy all rear seats
● The child is over 4 feet, 9 inches tall
● The child safety seat cannot be correctly installed in the rear
● A child's medical limitations preclude their riding in a rear seat (carry the doctor's documentation/justification just in case)
After a child turns eight, they may use an accurately installed child booster seat, convertible seat, or safety belt, harness, or both. No child may use a rear-facing safety seat in a front seat equipped with airbags, which is almost all later-model cars.
These requirements can also be found in the CA Driver's Handbook on page 25 and in the CA traffic code. The Handbook also suggests having the child safety seats' installation checked by your local fire department or law enforcement.
CA Vehicle Code (CVC) 27363
There's a lot of conjecture about child safety seats and the law. Much of what people think are the requirements by age aresuggestions and not in the CA traffic code. In fact, the first subparagraph of CVC 27363, Child Safety Belt and Passenger Restraint Requirements states, "The court may exempt from the requirements of this article any class of child by age, weight, or size…" Therefore, the judge and the courts have a good deal of leeway in dealing with traffic tickets for child safety seats, especially when the child's medical condition or safety is in question.
For every child under 16 not properly secured, the parent can receive a fine of $475 and get assessed one Negligent Operator Treatment System (NOTS) point per incident. Therefore, it is wise to consult with a traffic lawyer before you pay the fine and take the point.
Speak with a Traffic Lawyer in Lamont, CA
Bigger & Harman have served the drivers of Central Valley for more than a decade. They are traffic ticket defense lawyers that practice only traffic law. Traffic law is different than any other type of law, in that the pace in traffic court is much faster because of the sheer numbers that must get processed in a day or night court.
When you receive a ticket for one or more of your children not being properly secured in child safety seats, you could face $1000 or more just for the fine and the NOTS point could raise your insurance premium for next 39 months, which could cost you another $500 or more per year. Call Bigger & Harman, (661) 349-9300 or email, attorney@biggerharmanlaw.com to determine what action you should take. Mark or Paul might recommend paying the fine and accepting traffic school, particularly if it is your first offense, but it would be wise to talk it over with them first. They could save you a lot of money by getting the charges dismissed.
Check their Facebook page frequently for changes to the traffic code, lane closures, and other traffic information. Additionally, you could read their feedback and reviews on Avvo, Nolo, or Yelp if you need more assurance about their services.
Se habla Español 661.349.9755.
References
CVC 27363, Child Safety Belt and Passenger Restraint Requirements
CA Driver's Handbook .pdf available on dmv.ca.gov
The Kern County Public Health website