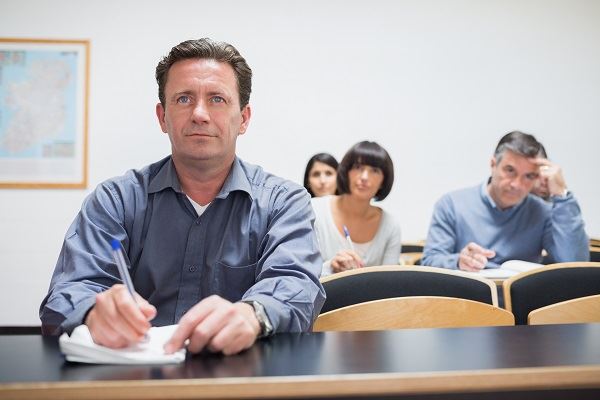 Traffic school or defensive driving school attendance can only be used once to mask or keep confidential a traffic ticket  during an eighteen-month period. It is not based on the attendance date but from violation date to violation date. Many people believe that traffic school attendance will eliminate their traffic ticket, or they won't have to pay the fine. Neither is correct.  You must plead guilty or no contest. How or when you use traffic school should be discussed with a traffic ticket attorney.
Since Assembly Bill (AB) 2499, Traffic Violator School Program,amended many CA Vehicle Code sections as of July 1, 2011, there have been many changes. Now, traffic school can only be used to mask safety-related traffic tickets. The AB states, "…a violation of a statute relating to safe operation of a vehicle, in consideration for completion of a program at a licensed school for traffic violators and order that the conviction be held confidential."  Negligent Operator Treatment System (NOTS) points will not get assigned by the DMVand the court will issue a refund of any bail or bond paid when the court or DMV receives the completion certificate, minus court costs and administrative fees, according to CVC 42005, Penalties and Disposition of Fees, Fines, and Forfeitures.
Traffic tickets with a mandatory court appearance cannot be held confidential (confidential means the information can only be used by the courts or for statistical data) by attending traffic school. Likewise, there are a few other conditions where traffic school attendance will not financially benefit the attendee, nor keep your insurance company from discovering a conviction (just paying the fine is the same as a conviction). 
According to CA Vehicle Code (CVC) 1808.7, Traffic Violator School Program, in the following circumstances attendance will serve no financial purpose, nor can it be used to mask a violation. But, the court can order any violator to attend. And, attendance might just help to remind you of traffic laws, defensive driving procedures, and lower your insurance premium if you have never attended: 
You do not have a valid CA driver's license (DL)
A "fix-it" ticket or non-moving violation
A commercial driver's license (CDL) holder ticketed in a commercial motor vehicle (CMV)
Speeding over 100 mph (speeding more than 25 mph over the limit must have the approval of a traffic court judge)
Major infractions, misdemeanors, and felonies
You were under the influence of alcohol or drugs
The court should indicate on the traffic court reminder whether you are eligible to attend, unless you recently attended and it has not been entered in the system. If you do not receive a reminder, you can call the court clerk (in Bakersfield, 661-868-2382) to verify eligibility. To get the number of other traffic courts in Kern County, check the Kern County Superior Court Traffic Court page.
Traffic School Costs & Procedures
In Kern County, as in most CA counties, you must pay $64 in addition to your fine for the privilege of attending traffic school, plus the tuition. Online courses start at around $20 and in-class courses, $50 to $75. Unless prescribed by the court, you can choose the most convenient method. However, you must complete an open-book test in either forum, and some online courses charge extra to have the test proctored, so the price could be higher. 
Whichever forum you choose make sure it is a state-approved course. The California Traffic Safety Institute (CTSI) maintains a list of state-approved courses, here. You must complete the course and pass the final exam before the court-ordered completion date, usually within 60 days. Most DMV approved courses send the completion certificate to the DMV, but it is wise to keep a copy of the certificate for your records.
It is advisable to consult with a traffic ticket attorney before taking traffic school, as sometimes it may not be beneficial to use traffic school, mainly if you have two tickets within a short timeframe.   
Kern County Traffic Ticket Defenders
Call Bigger & Harman, (661) 349-9300,  to discuss any traffic ticket you receive. CA traffic law can be complicated, and the use of traffic school to mask a traffic ticket should be discussed thoroughly to realize the best benefit. 
This is especially true if you have two or more tickets that have not been resolved. If one of those tickets has a higher probability of getting dismissed by the court because of a technicality, you would not want to use traffic school for that ticket. If you can get one ticket dismissed in court and the other masked from your insurance company, you realistically save $1000 or more by keeping your insurance premium the same. When your insurance premium goes up due to a traffic ticket conviction, it will stay up for a minimum of three years that the ticket will stay on your record.  
Bigger & Harman only practice traffic law and spend a great deal of time in traffic courts in Central Valley, so they know how judges have ruled on traffic infractions.    
Send an email, attorney@biggerharmanlaw.com and include a summary of the events and we willreply with the details of your options.
Bigger & Harman's Facebook page has updated traffic information and links to various items of interest for drivers in the Central Valley/SoCal area. 
Visit their Avvo, Nolo,or Yelp websites and read their client feedback and comments. 
Se habla Español 661.349.9755.
References:
The 2018 CA Driver Handbook .pdf
California Traffic Safety Institute (CTSI) website
AB 2499, Vehicles: Traffic Violator School Program
CVC 1808.7, Traffic Violator School Program and CVC 42005, Penalties and Disposition of Fees, Fines, and Forfeitures