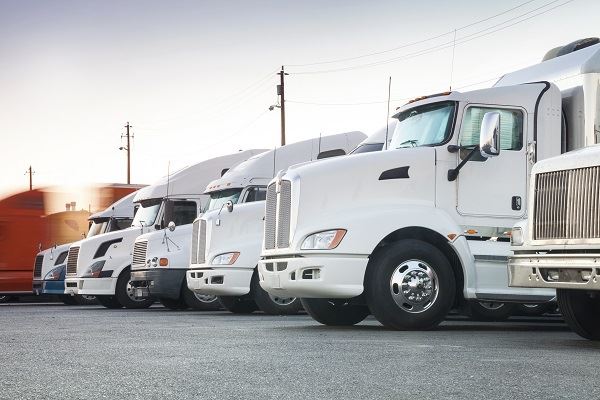 This article about America's truckers was inspired by the National Public Radio (NPR) article written by Scott Simon, "Below A Michigan Overpass, Truckers Make A Safety Net." The article focuses on a suicide attempt on an overpass somewhere in Michigan and the efforts of thirteen truckers and local law enforcement officers. When asked by LEO to move their trucks up under the overpass to shorten the distance the young man would fall to five or six feet from 15 or 16 feet, thirteen drivers did just that. Michigan state police officer Lieutenant Shaw said, "It provides a safety net for the person in case they happen to lose their grip and fall or if they decide to jump."
This story had a happy ending due primarily to the quick thinking of the LEOs present and the selfless acts of those thirteen truckers. Those thirteen strangers showed that young man on the bridge there are people who care.
This story took place on highway 696 in Michigan, but it could have been anywhere. According to the article and the Center for Disease Control (CDC), suicide is up nearly 24 percent during the 15-year period between 1999 and 2014.
NOTE:The National Suicide Prevention Lifeline is 1-800-273-8255, and the Veterans' Crisis Line is 1-800-273-8255.
Truckers, America's Silent Heroes
Many of us pay little or no attention to the daily heroics of America's truckers. Unless there is an incident like this on a Michigan overpass or some other incident that attracts media coverage, truckers are mostly unsung heroes. Particularly, over-the-road (OTR) truckers who spend days upon days and sometimes even weeks at a time out on the road, away from home, delivering America's goods. From ports like the ones at LA, Long Beach, and Oakland, these men and women brave boredom out there on the highway and significant penalties when they go astray of the law.
The Federal Motor Carrier Safety Administration (FMCSA) regulates the hours a trucker or other commercial driver's license (CDL) holder can spend behind the wheel. While that's smart because some of these trucks weigh up to 80,000 pounds, and we don't want the driver falling asleep behind the wheel, episodes like this suicide attempt and other traffic jams can put truckers behind schedule. Their efforts to catch up and meet their obligations may jeopardize their career.
Violations of the Federal Hours of Service (HOS) rules, taking the wrong routes with hazardous material (HazMat) onboard, permits, and broken or missing equipment could get you a ticket for a misdemeanor. Truckers know they must fight every traffic ticket because their livelihood is at stake. However, a misdemeanor charge threatens not only a trucker's career but their criminal record as well. Can you imagine facing a misdemeanor charge every time you go to work?
CA Vehicle Code 34506, Safety Regulations, makes it a misdemeanor for failure to comply with the following regulations:
A driver's HOS
Transporting HazMat
School bus construction, equipment, design, color, maintenance, or operation
Tour bus equipment, operation, or maintenance
Violators convicted under CVC 34506 face a $2,125 fine, 10 Compliance, Safety and Accountability (CSA) points, and 1.5 Negligent Operator Treatment System (NOTS) points.
Also, CVC 21702, Additional Driving Rules, stipulates that it is a misdemeanor offense to drive longer than the allowed HOS. When transporting people for compensation, you can drive no more than ten hours within a 24-hour period without a consecutive eight-hour break. When transporting merchandise or property for compensation, you can drive no more than twelve hours within a 24-hour period without a consecutive eight-hour break.
Violators convicted under CVC 21702 face a $485 fine, 10 CSA points, and 1.5 NOTS points.
Misdemeanor convictions can be a career-ender. Truckers who receive a citation for any misdemeanor offense must consult a traffic ticket defense attorney immediately.
According to CVC 12810.5, you are only allowed four NOTS points per year before getting a DMV Order of Suspension/Probation. If upheld, this is a six months suspension and a concurrent 12 months of probation.
Shafter Court Traffic Ticket Defenders
Truckers who receive a citation on I-5 or Highway 46 and ordered to appear in Shafter should call Bigger & Harman, (661) 349-9300, before making a statement to law enforcement or any court officials. A conviction for a misdemeanor violation of the HOS or HazMat transportation regulations means massive fines and a criminal record. Don't go it alone. Consult with Bigger & Harman; your initial consultation is free.
After our initial phone or in person consultation, we can communicate by email, attorney@biggerharmanlaw.com. Send us a photocopy of the ticket and everything you recall about the incident. This will be more convenient for both of us, as we spend a lot of time in traffic court and you spend a lot of time on the road.
Visit the Nolo, Avvo, or Yelp websites to get feedback and comments left by other Bigger & Harman clients, endorsements, and biographic information about Paul Harman and Mark Bigger.
Se habla Español 661.349.9755.
References:
The 2018 CA Commercial Driver Handbook .pdf
NPR article titled, "Below A Michigan Overpass, Truckers Make A Safety Net" by Scott Simon
CVC 21702, Additional Driving Rules & CVC 34506, Safety Regulations
The 2018 California Superior Court Bail Schedule for Infractions and Misdemeanors.pdf