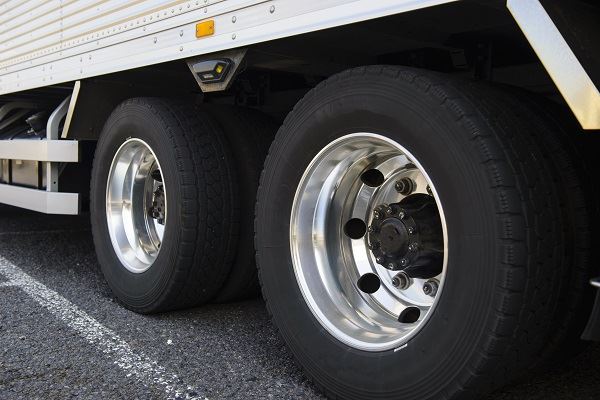 Many non-commercial driver's license (CDL) holders are surprised to find they must stop at weigh stations in their Ryder, U-Haul, or other rental truck. Even some CDL holders are surprised by the necessity to stop when they have a PrePass and receive a green light coming up to the "chicken coop" with an overweight truck, overlength truck, or they're hauling hazardous material (HazMat), with or without a permit. 
An Overweight Truck: Not an Honor System
It's up to you the driver to make sure you do not drive an overweight truck. No matter who loads it, check it before you roll. That's right; there is no "honor system" with California coops. If the weigh station is open and you're required to stop, better roll on in or take your lumps. CHP officers will follow you and pull you over. And, if they must pursue you, the inspection will quite likely be more rigorous than if you pulled in on your own. Hauling an overweight truck could cost a dollar for every pound over. If your thousands of pounds over, which if you didn't check is very likely, you might have to cancel Christmas and take out a second mortgage just to keep rolling.
Things to Consider to Avoid an Overweight Truck
One thing to consider is if you have a tri-axle orspread axle trailer that is more than eight feet from the midpoint of the forward axle to the midpoint of the rearward axle. If this is the case, your trailer axle weight can be up to 42,000 pounds. However, in CA they round to the closest whole foot. Therefore, if it is eight feet and five inches, they will round up the distance to nine feet so that you are good for 42,000 pounds. But, if it is eight feet and four inches, you are limited to 34,000 pounds because they will round downward. They will not check every time but beware because they might. Four inches could mean an $8000 fine, don't risk it. 
Some of the highest trucker fines come from an overweight truck. And, a severely overweight truck is considered a misdemeanor and requires a mandatory court appearance for the driver or their attorney.  Hundreds of truckers in CA lose their lives because of an overweight truck or an unbalanced load.  The truck has too much weight resting on one axle, which can cause a tire to blow. 
When someone else loads your truck check the load and the weight. For many truckers that's standard, but some rookies who don't have a good mentor might not know, or the clock's ticking and they rush to make their deadline.  
According to CA Vehicle Code (CVC) 35550-35558, Axle Limits, the tires on "one axle of a vehicle shall not exceed 20,000 pounds,"and the "gross weight upon any one wheel, or wheels, supporting one end of an axle shall not exceed 10,500 pounds." However,"the load limit established by the tire manufacturer, as molded on at least one sidewall of the tire" is the maximum tire load and must not be exceeded. Check the CVCs listed above or the 2018CA Commercial DriverHandbook page 1-17, Weight Limits—General for more specific information about your situation. 
WARNING:Drivers in the Lamont area are getting ticketed while sleeping in idling trucks at truck stops.
Kern County Traffic Ticket Lawyers
Call Bigger & Harman, (661) 349-9300, if you receive a ticket for an overweight truck. As you know, an overweight truck bears an expensive fine. Make the state prove their case against you. Many technicalities apply to weigh station inspections, and the state must prove every element of the CVC, or the case must be dismissed.  While it's true not all traffic tickets will get dismissed or reduced, if you just pay the fine, you will be assessed Negligent Operator Treatment System (NOTS) points and Compliance, Safety, and Accountability (CSA) points, which will put your job and possibly your career at risk. Don't risk it and don't go it alone.     
Email Mark or Paul, attorney@markbigger.com, and tell us about your situation. We will reply with suggestions for fighting your ticket.   
Alternatively, you can send a private message to our Facebook page. While you're there check out the links to ELD and traffic information updates around the ports. 
Visit Avvo, Nolo, or Yelp to read client feedback and comments, plus endorsements of our legal services. 
Se habla Español 661.349.9755.
References:
The 2018 CA Commercial Driver Handbook .pdf

The Coopsareopen.com article California Weigh Station & DOT Information Check link, this one takes you to the Commercial Driver Handbook