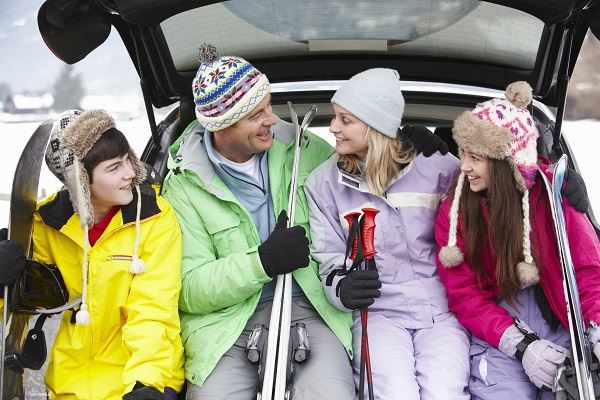 Don't let this be your story. Although the following story is fictional, the area and traffic ticket resolution are very real. Call us when you need legal advice regarding a real-life ticket occurrence.
The weekend in Mammoth had been spectacular, except the speeding ticket on the way home. The average temperature over the weekend was 32-35°F, which is kind of warm for skiing. At June Mountain, the snow's base depth was reportedly around 80 inches, and there was 3 and ½ inches of new powder. The sun was shining all day Saturday and Sunday; and although the wind was a little brisk, it seemed to push you down the slope rather than blowing in your face.
Us and another couple decided to drive up in the pickup and tow the recreational vehicle (RV) trailer rather than spending big money at one of the area lodges. Lessons and lift tickets are bad enough without paying for expensive rooms you can only sleep in. With the RV, we could cook what we wanted when we wanted.
We stayed at an RV park close to June Lake, which worked out great. Although we spent most of our time on the slopes, morning kayaking on the lake was quite a thrill too. The scenery up there is just breathtaking.
Our Surprise Speeding Ticket on I-395
We were headed back to Edwards AFB. You see three of the four of us are US Air Force and stationed at Edwards, and we had just stopped at Tom's Place on I-395 for some picture taking. It's a roadside turnout with great views of Tom's Mountain and the Owens Valley. If you ever get up that way, it's a must stop for picture taking or just to take in the view of the Eastern Sierra Nevada area. So, anyway, we're coming down Sherwin Grade, almost into Inyo County, when we saw the lights and heard the siren. It took us a minute to stop because we really didn't think they were meant for us.
The law enforcement officer (LEO) asked for license, registration, and insurance, just like on TV. I asked why we were being stopped. The LEO informed us we were speeding, doing 62 in a 35-mph zone. I was astounded! I knew I was doing around 60 mph, but I thought the speed limit was 65. Then, the LEO filled me in on a couple of things I didn't know. First, the speed limit for any vehicle towing a trailer is 55 mph statewide; and because of the 6% grade, the speed limit changes to 35 mph. We must have missed that sign. Therefore, we were speeding by 27 mph over the limit, which he said would cost us around $500, and I could pay my speeding ticket at Mammoth Lakes Courthouse or online.
CA Speeding Ticket Fines
When we got back to Edwards, I did a little research and found out why the speeding ticket was so expensive. Even though the base fines in CA are quite reasonable, $35 for 1-15 mph over, $70 for 16-25 mph over, and $100 for 26+ mph over up to 100 mph. Anything over 100 mph is $500 a max fine. However, the state and counties add ten separate surcharges. Those additional penalties make a $35 fine, $230-250; a $70 fine, $350-380; our 27 mph [need price of their ticket] and a $100 fine, $480-500. And, the DMV would assign a negligent operator treatment system point to my driving record. Plus, since the citation was for more than 25 mph over, I was not eligible for traffic school. Which means my insurance premium would increase significantly.
While I was online, I decided to find a traffic ticket attorney and possibly save some money. Even if an attorney couldn't get the ticket dismissed, they might be able to get traffic school permitted, which would mask the ticket from my insurance company. I already pay over $2000 a year for insurance because I am a young male; I can only imagine what it would be after a ticket.
I found Bigger & Harman, APC on Yelp. Most of the comments there were favorable, so I gave them a call. I spoke with Paul Harman, who was straightforward about my chances and how much it would cost. I was surprised that it was about the same as the fine, but there was always the chance they could get the fine reduced or dismissed. It will be great if they can just get traffic school, which will save me a bunch on insurance.
Consult with a Traffic Attorney for Mono County
When you receive a speeding ticket, whether you're eligible for traffic school or not, call Bigger & Harman, (661) 349-9300, to discuss your options. Bigger & Harman are ticket defenders who regularly appear in Mono County traffic court and other courts throughout Central California. Or send them an email: attorney@biggerharmanlaw.com.
Read comments and reviews left by their clients on Avvo and Nolo. Nolo.com and Avvo are legal websites that specialize in rating legal professionals to help people find attorneys.
Se habla Español 611.349.9755