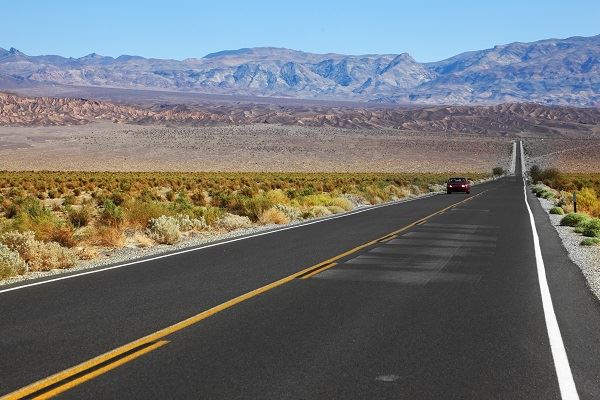 Out-of-State Ticket Trouble in Inyo?
There is so much to see and do in Inyo and Mono Counties in California. Driving along Interstate 395, either north or south, you will see some of the most beautiful scenery anywhere in the world, let alone just the United States. The valleys between the Sierra Nevada Mountains to the west and the White and Inyo Mountains to the east form some of highest highs (Mt. Whitney, 14,000 feet above sea level) along with the lowest lows and hottest hots (Death Valley, Bad Water Basin is 282 feet below sea level), anywhere in the continental US. However, something you'll want to avoid seeing here is traffic court, either in Bishop, Independence, Bridgeport, or Mammoth. You do not want to take home an out-of-state ticket as a souvenir from Death Valley or Yosemite.
The Courthouse at Bridgeport, CA
The courthouse at Bridgeport in Mono County is a rare architectural find, built in 1880 it features some distinctive Italianate-style architecture, and is listed on the National Register of Historic Places. It is not, however, a place you want to spend the day while waiting for your name to be called to clear an out-of-state ticket. Although you could discharge your ticket by paying your fine online here, where you can find all the information about how much to pay and other FAQ, some tickets have a mandatory court appearance. However, if you pay your fine online you are pleading guilty to the offense and CA DMV could notify your state under the Non-Resident Violator Compact (NRVC) or the Drivers' License Compact (DLC), which could negatively affect your driving privileges and insurance premiums back home. Additionally, you can mail a check or money order to, Mono Superior Court, P.O. Box 1037, Mammoth Lakes, CA 93546. Consult the bottom of your ticket to find the address of the Mono, Inyo, or other County Court and Google where to pay for other locations in CA. If you have a mandatory appearance or want to fight your ticket, contact a local traffic ticket attorney.
Failure to Appear/Failure to Pay (FTA/FTP) an Out-of-State Ticket
The NRVC and DLC are interstate alliances to ensure travelers do not ignore the traffic laws of other states and just move on without paying. Member states of the NRVC or DLC obligate each other to inform the home state of a motorist who does not pay, appear for court, or those convicted or traffic tickets. It is up to the home state to decide what additional measures might they may take, such as assessing points and notifying the driver's insurance company.
If you FTA or FTP an out-of-state ticket, chances are the DMV will notify your home state DMV and if you don't appear or pay another charge will be added, a bench warrant issued, and then if you still don't pay, a civil penalty will be added to your already overpriced fine. All CA municipalities employ a credit reporting and collections agency to secure payment.
A recent case in Los Angeles showed a driver who had received a ticket several years before and ignored it. The motorist received a job offer in LA, which he accepted. Upon moving to CA, he applied for a CA driver's license and that old ticket showed up, a 12 -year-old cell phone ticket with additional penalties was $772.00.
Unlike other bad credit incidents that just drop off your record after seven years, a traffic ticket will not just disappear. Your ticket will incur additional charges with non-payment and even a civil penalty of $300 if not paid within a given time. And then, a bench warrant could be issued, so if you ever get stopped for another offense in CA, it will show up when the law enforcement officer calls it in for a records check. Instead of chancing a scar on your driver's record and increased insurance premiums, contact a local traffic ticket attorney to handle your out-of-state ticket.
Talk to an Inyo or Mono County Traffic Attorney
Call Bigger & Harman, APC to handle that out-of-state ticket and will represent you in court if necessary. Bigger & Harman represent their clients in traffic court or negotiate reduced charges and outright dismissals. Bigger & Harman handle traffic tickets throughout Central Valley in Kern, Kings, Fresno, Tulare, Inyo, Mono, and even Los Angeles or Riverside.
Check their Facebook page for more details and answers to your questions, or send them a private message if you need legal assistance.
You can also read the feedback received by former clients on Avvo, Nolo, or Yelp. Avvo and Nolo are prestigious law websites that give attorneys a rating. One of the founders of Bigger & Harman has a 9.8 rating out of a possible 10 on Avvo, and the firm has a collective 4.7-star rating on Nolo.com. Call before you pay, (661) 349-9300, or send an email with the details and location of your incident, attorney@markbigger.com.
Se habla Español 661.349.9755