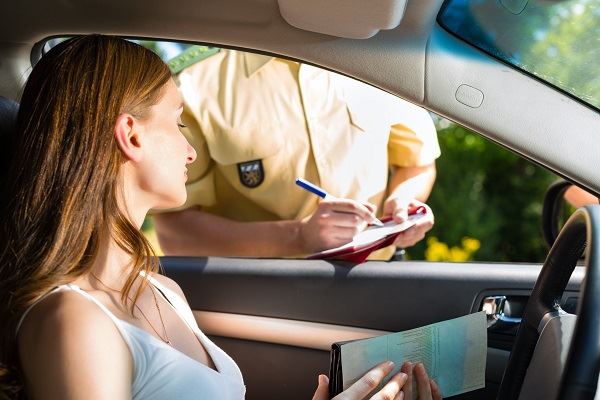 The CA Vehicle Code (CVC) 23103, Driving Offenses, defines reckless driving as, driving with "…willful or wanton disregard for the safety of persons or property…" A driver going too fast in the rain might be guilty of driving too fast for conditions when the car hydroplaned and hit another vehicle, but a law enforcement officer who cited the driver for reckless driving could have used a faulty interpretation of the CVC. The state must prove "beyond a reasonable doubt" the driver acted with "willful or wanton disregard."
Charges and Punishment
The defendant charged with reckless driving should hire a traffic defense attorney before making any statement to law enforcement or the DA. Just as in a criminal arrest, the defendant has "the right to remain silent" and not incriminate themselves.
If convicted, a driver faces a fine up to $1000 plus state and county surcharges, fees, and penalties, which can double or triple the fine. In addition, a conviction carries a sentence of up to 90 days in the county jail, and the jail sentence could be in addition to the fine. And, because the DMV assesses two negligent operator treatment system (NOTS) points, which will stay on your driving record for seven years, it may be difficult to find auto insurance. If you can find auto insurance, it could be at a premium two or three times that of the price you were paying.
Fighting a Reckless Driving Charge
First, hire an experienced traffic defense attorney. Never face a criminal offense without an attorney. Just any lawyer will not do. If you have a friend who is a lawyer for family court, and they offer to give you a discount, think of how much it could end up costing you for that "discount."
Traffic defense attorneys spend many hours a day in traffic and criminal court defending traffic infractions, misdemeanors, and felonies. They know what has worked for others, what elements the state must prove, and have worked with judges who have tried multiple reckless driving cases.
Second, tell your attorney everything you can remember about the incident, leaving nothing out, and surely don't lie about anything. Some factors your attorney might consider as your defense are:
● Did you make a defensive maneuver to avoid a possible accident?
● Were you rushing because of a medical emergency of yours or that of a loved one?
● Were you speeding because you were in fear for your safety because of another driver's action?
● Did another driver's action cause you to lose control of your vehicle?
Remember, the state must prove your guilt; you do not need to prove your innocence. Therefore, you must give your attorney all the facts.
Consult a Traffic Attorney in Kern County
If you or a family member were charged with reckless driving in Kern County, call Bigger & Harman, (661) 349-9300, before giving a statement to the police or DA. Bigger & Harman are traffic defense attorneys experienced and knowledgeable in defending clients against charges of reckless driving and many other traffic violations. You can also send them an email with the details of your situation, attorney@biggerharmanlaw.com.
Reach out to them on their Facebook page with a private message. When you have used their legal services, leave a comment to tell your relatives or friends about your experience.
Make Bigger & Harman your choice for legal assistance. Read reviews written by their clients on Avvo or Yelp. Avvo and Nolo.com are well-known websites providing background information and star ratings for law professionals. The Bigger & Harman traffic defense team has a 4.7-star rating out of possible 5-star rating on Nolo.
Se habla Español 661.349.9755.
Reference
CVC 23103, Driving Offenses