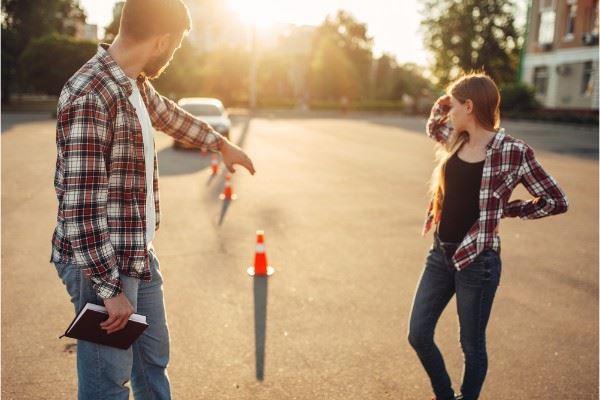 Driving without a license is a misdemeanor crime. According to CA Vehicle Code (CVC) 12500, Issuance of Licenses, Expiration, and Renewal, a person may not drive a motor vehicle or combination of vehicles that is not of a type for which the person is licensed. A person should not drive any motorized vehicle that requires a driver's license on public roadways without a valid license for that vehicle.
However, driving without a license could also be what is known as a "wobbler" offense, meaning that a judge could reduce the charge from a misdemeanor to an infraction when it is apparent there was no criminal intent or at the request of a lawyer. Also, if you had a valid CA driver's license at the time of the stop, but it was not in your possession, it could get dismissed as a "correctable" offense by showing your license and paying a fee. Likewise, if you physically lost your driver's license, you could receive a temporary one from the DMV to show the court you had a valid license.
Driving Without A License
Driving without a license can result in a misdemeanor ticket. The primary way to avoid a ticket would be to only drive with a license. If the person doesn't have a license, they should try to get a ride from someone who has a valid driver's license. A friend or family member for example. They shouldn't risk driving without a license. If no one is available to give them a ride, they could rely on public transportation. If they live in Los Angeles, San Francisco, or another large city, walking or riding a bicycle are options.
If they have a license from another state, they have ten days to transfer their license to a California license. Once you become a resident of CA, you must transfer your driver's license. Actions seen as an establishment of residency are accepting in-state tuition, voter registration, or requesting a homeowner's exemption for property tax. You will need to take a written exam and pay the $35 fee to transfer your license.
A Correctable or "Fix-it" Ticket
A correctable or fix-it ticket is usually for broken vehicle lights and other mechanical malfunctions and damaged components. However, this can also apply to a failure of the driver or owner to show proof of insurance, registration, or driver's license when they do have it.
When stopped by a law enforcement officer for another reason, the first request by them is usually for your license, registration, and insurance. Correcting your error after the fact will not negate the violation but it may lessen the penalty. If you did not have a driver's license, it is wise to get one before your court date, but it will not change the fact that you did not have one at the time of the request. Therefore, you were driving without a license.
But, if you did have one and forgot it elsewhere, that is correctable. Take your DL to the police station in the municipality where you were stopped and ask to see the LEO who stopped you. The LEO will sign off on your tickets "Certificate of Correction" portion. You can then take this corrected citation, before your court date, into the court clerk's office, pay the fee (normally around $75, but you can call, (661) 868-5800 to make sure you have enough). This is also true about vehicle malfunctions or broken lights. But, you must have a repair receipt to show the LEO unless you fixed it yourself.
Having an Attorney for Misdemeanors
Getting a ticket for driving without a license can result in a criminal record. There's the possibility of going to jail and having to pay a fine of up to $1000 or both fine and imprisonment. That criminal record will follow you for life and affect your auto insurance premium for seven to ten years.
Unless you have a fix-it ticket, you should consult a traffic defense attorney. Although it is not always possible for them to get the ticket dismissed or reduced, many drivers incorrectly believe because they are guilty of the ticket, they must pay full price. That is rarely the case when you hire a traffic ticket attorney. The courts are overcrowded. Since driving without a license is a criminal offense, if you plead not guilty, you will tie up the court with your case rather than a more important trial.
When you hire a traffic ticket attorney to represent you, they can negotiate directly in couft, request a dismissal or a reduced charge, and keep you out of court. Consulting with an attorney is better and more convenient in several ways. Not all tickets will get dismissed. However, a reduced charge means less money to be paid, no missed work sitting in the courtroom waiting for your case, and there is always that chance of a technicality that results in a dismissal. When you represent yourself, these things are almost impossible to make happen on your own.
Misdemeanor Traffic Defense Attorney for Lamont, CA
Call Bigger & Harman, (661) 349-9300, when you have a misdemeanor ticket for driving without a license and must appear in Lamont Superior Court of Kern County. We only practice traffic law because we believe that gives us a broader knowledge base in this area of law. This, in turn, allows us to give our clients the best possible opportunity to get the results they deserve.
Also, we use only a flat fee to represent clients. By using a standard fee instead of an hourly wage, our clients know exactly how much they will pay regardless of how many hours we devote to resolving their ticket or how many court appearances we must make.
Se habla Español 661.349.9755.
Send an email to attorney@biggerharmanlaw.com.
References:
CVC 12500, Issuance of Licenses, Expiration, and Renewal
The 2018 CA Driver Handbook .pdf
The 2018 California Superior Court Bail Schedule for Infractions and Misdemeanors.pdf